Charlotte Goes to Washington
Next year the White House will come to Charlotte for the Democratic National Convention, but this year, some Charlotte business owners have been heading there— and not for your basic tour.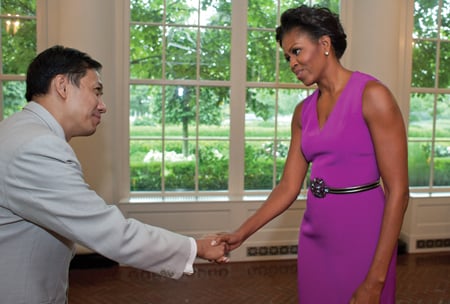 Philip Maung, president and founder of the Charlotte-based sushi company Hissho Sushi (right), sat next to Michelle Obama when her hubby first asked Congress to pass his jobs bill in early October. A White House official had been calling him for days. "I was kind of suspicious," he says. "I thought it was a scam." A representative from the Department of Commerce told Maung the administration liked his way of doing business (he started the sushi company in 1998 on his dining room table and now has 400 locations in twenty-eight states) and flew him to D.C. for the president's speech. Maung was so popular that he was invited back for a business roundtable in November. But he'll be on vacation—one that doesn't include a tour of the Oval Office.
The owner of the popular Amelie's French Bakery got a similar invite and had a similar reaction. "I got the email and read it over word by word five or six times," says Lynn St. Laurent. "I thought it was multilevel marketing. It really did surprise me." She says the executive director of the White House Business Council invited her to the roundtable in hopes she'd share her recipe for success. That she's willing to give. But Laurent says she won't be giving out the secret ingredient in the bakery's famous salted caramel brownies. "Not even the White House can get that," she says.