Charlotte Haunts: The Spookiest Walks & Tours of Halloween 2015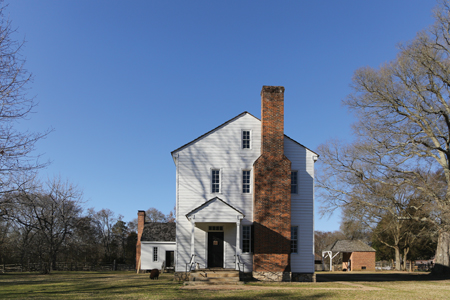 SURE, THERE'S plenty of spooky things to go watch this month. There's a stage version of Evil Dead in uptown. Dracula haunts Theatre Charlotte, too. Others may opt for that annual Friday the 13th marathon. But what about those who want to be participants in the creepiness of the season?
Thankfully, Charlotte has plenty of those options. Below, check out six opportunities to get freaked out, scattered across the region. Just remember: Proton packs aren't actually a thing.
---
Paranormal House/Grounds Investigations, Historic Rosedale Plantation
(through Oct. 31) There are multiple chances to get some fright at the 200-year-old Historic Rosedale Plantation, and it all depends on where you want to find it. Professional ghost-hunters will take you through the four floors of the main house—or walk through the grounds, if you feel up to it. There's also The Spirits of Rosedale, which takes a deep dive into "the spirits bound to the plantation."
Historic Latta Plantation in Huntersville
Confront the past in the creepiest way at Historic Latta Plantation. The event is called Ghost Walk: A Haunted Trail, running Oct. 23-24. Visit barns, the forest, and of course, a haunted house. The rustic backdrop is sure to add to the vibe.
Charlotte Haunted Carriage Rides
(through Oct. 30) Think a ghost walk is scary? Try sitting in a carriage with a driver in period clothing telling you (supposedly) real accounts of the old uptown morgue, executions, and more. Here's a chance to get a little Victorian this Halloween.
Ray's Halloween Carnival and Haunted Tour
(Oct. 30) One of the more kid-friendly offerings in this list, this tour takes place at Ray's Splash Planet. It's more of a carnival vibe in parts, along with some trick-or-treating. But when you take the tour, don't be surprised at how creepy the place becomes at night.
Dark History Tour
(through Oct. 31) In five blocks and one hour, let RaconTours introduce you to the ghosts of uptown, from the time of bootleggers and speakeasies. Creepy bonus: Hear about the famed ghost of Carolina Theatre.
Scarrigan Farms
(through Oct. 31) Carrigan Farms hosts a creepy "walk" through its 138-acre property in Mooresville, in which you snake and crawl your way through a half-mile trail. Parts of the event include a funhouse, maze, and spooky bus.
---