Charlotte Jewish Film Festival kicks off 7th year
What to see, and where.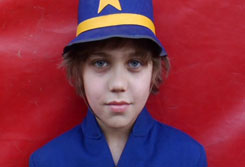 Oscar who? Charlotte has its own film celebration to to enjoy, and this one doesn't include Kirk Douglas delivering a death rattle of supporting actress nominees (mazel tov!). No, friends, we're talking about the Charlotte Jewish Film Festival, which, this past weekend, kicked off its 7th run. It began as a two-film event sponsored by the Charlotte Chapter of Hadassah and the Light Factory in 2005, and now includes more than ten films, shown at venues across town for ten days. Some films have already been shown, but you can catch these over the next week:
Tuesday, March 8: Circus Kids
In this circus documentary (more subtle than the Cirque show you may have seen this past weekend), a St. Louis-based youth troupe travels to Israel and performs with the Galilee Circus, a group of budding contortionists, clowns, and jugglers from Israel and Arab territories. As the young acrobats learn to bend and fly, barriers break and bonds form. $5. 7 p.m. at the Sam Lerner Center for Cultural Arts, 5007 Providence Rd. TRAILER BELOW!
Thursday, March 10: Breaking Upward
From director Daryl Wein, Breaking Upward follows a young couple that decides to see how far they can push their relationship with an experiment. For a few days each week, they drop their relationship's monogamy and are free to explore other options. This goes about as smoothly as you might think. It's a coming-of-age romantic comedy that's as sweet as it is quirky. $10. 7 p.m. at the Patricia McBride and Jean-Pierre Bonnefoux Center for Dance, 701 N. Tryon St.
Saturday, March 12: Eli and Ben
This foreign drama from 2009 is about a young boy, Eli, and his father, who's a fun-loving, hands-off dad until he's arrested for taking a corporate bribe. Though every adult around him assures him that his father's guilty, Eli begins to unravel the scandal and, in the process, find out a little more about the kind of man his father is. $12. 7:30 p.m. at Ballantyne Village Theatre, 14815 John J. Delaney Drive.
Sunday, March 13 (matinee): The Golem
A relic of the silent film era, The Golem (made in 1920) harkens back to Jewish mysticism, and tells the story of a clay figure found by an antique dealer. Centuries earlier, the figure had been brought to life by a Rabbi who wanted the Golem to protect Prague Jews, and though the dealer hopes he can get some free labor out of the Golem, his plot turns sour when the Golem falls for his wife. The film will be accompanied by live music from local pianist Ethan Usland and clarinetist Gene Kavadlo. $8. 3 p.m. Sam Lerner Center for Cultural Arts, 5007 Providence Rd.
Sunday, March 13 (evening): Where I Stand: The Hank Greenspun Story
Anthony Hopkins narrates this documentary about Hank Greenspun, the former publisher and columnist for the Las Vegas Sun who died in 1989. Greenspun was known for writing provocative, pointed articles, particularly during the McCarthy era, and for his friendship with Texan bajillionaire Howard Hughes, who, after moving to Las Vegas at Greenspun's urging, began purchasing vast quantities of land and casinos in the region. $10. 7 p.m. at the Sam Lerner Center for Cultural Arts, 5007 Providence Rd.