Charlotte Knights Become Charlotte Pitmasters Saturday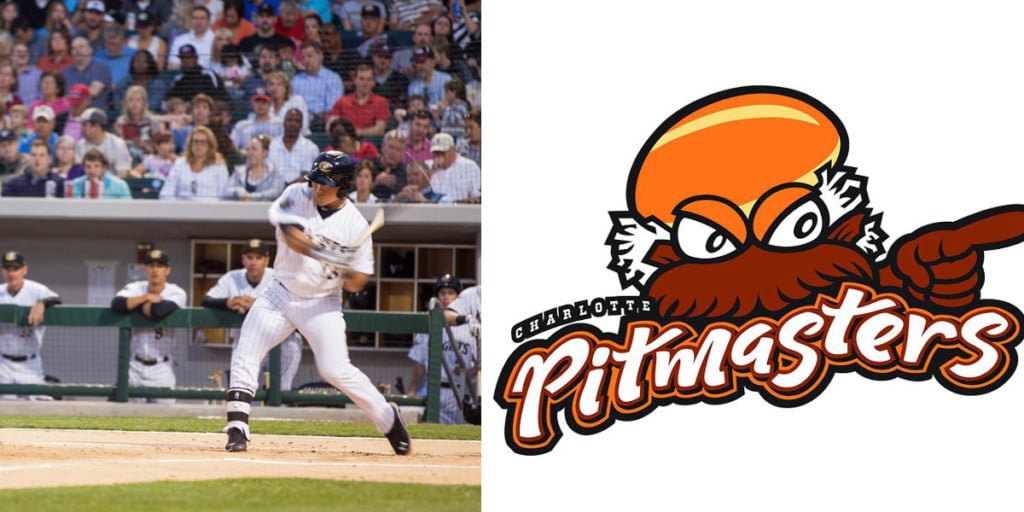 THIS WEEKEND, Charlotte Knights take on a new (but temporary) name: The Charlotte Pitmasters.
The moniker is inspired by the history of BBQ in the city, and it'll be used for their game against the Gwinnett Braves. "Like so many ideas developed in our thinktank of Minor League Baseball, we decided to take something that has been done and put our own unique spin on it," says Knights general manager Rob Egan. "Seeing the success fellow teams had with rebranding their teams for a day around food items famous in their regions, we thought, Why not us? From there, our VP of entertainment, David Ruckman, thought that barbecue was the most fitting for Charlotte and the Carolinas and he developed a terrific brand and promotional theme night. The Charlotte Pitmasters are born."
The Pitmasters' uniform is adorned with Smokey, a pulled pork sandwich, as the logo. The new colors are BBQ Sauce Brown, Pulled Pork Brown, Sandwich Orange, and Sandwich Gold. The logo and branding design was created by David Ruckman, vice president of entertainment for the team.
The team store has the newly branded merchandise available for purchase, ranging from T-shirts to hats. The jerseys worn by the players will be available through an auction beginning at 10 a.m. Saturday on the Knights' website. The game-worn jerseys will be autographed by the players and will be given to the winners on the field after the game. Proceeds from the auction will benefit Charlotte Knights Charities.
Queen City Q, the official BBQ of the Charlotte Knights, will have three sliders available for $13 and fans will have the chance to vote for their favorite on Instagram and Twitter. Tickets are available by phone, online, or at the box office.