Charlotte Lawmaker Carney Announces Breast Cancer Battle
Veteran Charlotte legislator has fought health problems during her tenure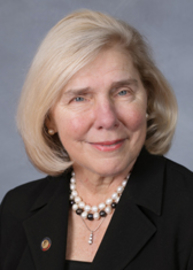 Becky Carney, who's represented a significant portion of south Charlotte in the N.C. House since 2003, has endured a pair of major health scares during her tenure in Raleigh. Most notably, Carney collapsed at her desk in the Legislative Building in April 2009 and had to be rushed to the hospital, where doctors implanted a pacemaker. Six years later, out of town for the wedding of one of her sons, Carney was again hospitalized with heart failure; this episode led doctors to install a portable electronic device that, essentially, does the work of her damaged heart, pumping blood throughout her body. Carney carries the device in a bag she wears on her back.
On Wednesday afternoon, Carney, 73, announced from the House floor that she's undergoing treatment for another threat to her health—Stage 2B breast cancer, an early stage that's usually treated successfully. She was diagnosed after a mammogram in March, underwent a lumpectomy in April, and has begun chemotherapy treatments. "It is not a death sentence," she told her colleagues, and she intends to continue serving in the House and campaigning for re-election in November. Carney handily won the Democratic primary in May and faces Republican Tyler Norris, who had no primary opponent, in the general election.
According to her fellow Charlotte lawmaker, Kelly Alexander Jr., the House responded to her announcement with a round of applause.