Charlotte named among the Top Shopping Cities in the US—Tell us something we don't know, Forbes.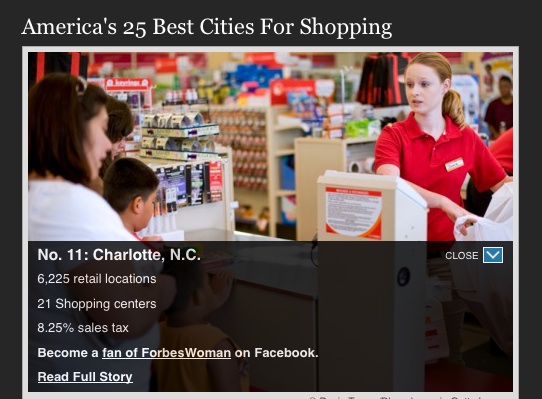 Have you heard? Forbes magazine named Charlotte the 11th best city in the U.S. for shopping. Sure, it's a bummer that we didn't break the top ten, but guess who else didn't? New York, San Fransisco, Los Angeles and Atlanta. Our plethora of spacious malls, luxe shopping centers, and unique boutiques and retail spaces has earned us better ratings than any of those urban locales.
Why did we beat out the Big Apple? You can read the whole story here.
If you were ranking cities in the U.S. based on your own shopping experiences, who would be in your top spot? I have to say, I'd knock a few points off of Charlotte's score for the lack of an H&M alone. Sigh.