Charlotte Native to Lead Wing Haven
New executive director will further gardens' mission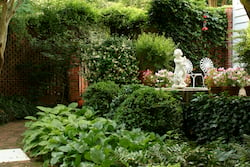 Wing Haven Gardens & Bird Sanctuary announced Barrett Ranson as its new executive director last week. Ranson, a Charlotte native, will start at Wing Haven later this month.
"We were looking for somebody who knew how special Wing Haven is as a site," says Kathy Ridge, interim director for the gardens. Long-time executive director Dia Steiger retired in 2012. Ranson is a graduate of UNC-Chapel Hill and has worked for the Charlotte Convention and Visitors' Bureau, First Union Corporation, and most recently as a sales and marketing executive.
Wing Haven, located at 248 Ridgewood Avenue in Myers Park, began as the personal gardens of Edwin and Elizabeth Clarkson in 1927. The Clarksons gave the gardens to the Wing Haven Foundation in 1970, and the board of directors has cared for the property ever sine. In 2008, the Wing Haven Foundation purchased the property of Elizabeth Lawrence. Lawrence, the first woman to graduate from the landscape architecture program at North Carolina State University in 1932, was an author of numerous works about gardening, including the book A Southern Gardener and more than 700 gardening columns for The Charlotte Observer.
The Wing Haven Foundation, a nonprofit organization, now oversees both properties. Its mission of "cultivating sanctuary" encourages visitors to be at peace while in the garden.
"It's a chance to connect with nature, with themselves, with family members," Ridge says. "A chance to get outdoors." One of her favorite parts of her term as interim director has been interacting with the more than 60 volunteers who help maintain the property.
"They are the most committed group of people I've ever worked with," Ridge says.
One challenge for the garden is communicating its message to a broad audience. Due to its location in the heart of Myers Park, it doesn't get as much passerby traffic as attractions located on interstates or main thoroughfares. But for those who seek it out, Wing Haven's seclusion is part of its charm.
Wing Haven Gardens & Bird Sanctuary
248 Ridgewood Avenue Charlotte, NC 28209 704-331-0664
Winter hours: Friday and Saturday, 10 a.m.-3p.m.
The gardens have an ongoing Winter Lecture Series continuing into March. For topics, dates, and times, click here.