Charlotte Pride, Bachata and Salsa Festival, Saved by the '90s Bar Crawl and More, Aug. 18 to Aug. 21
It's Pride Week in Charlotte, which means kickoff and after parties galore (plus a whole lot more).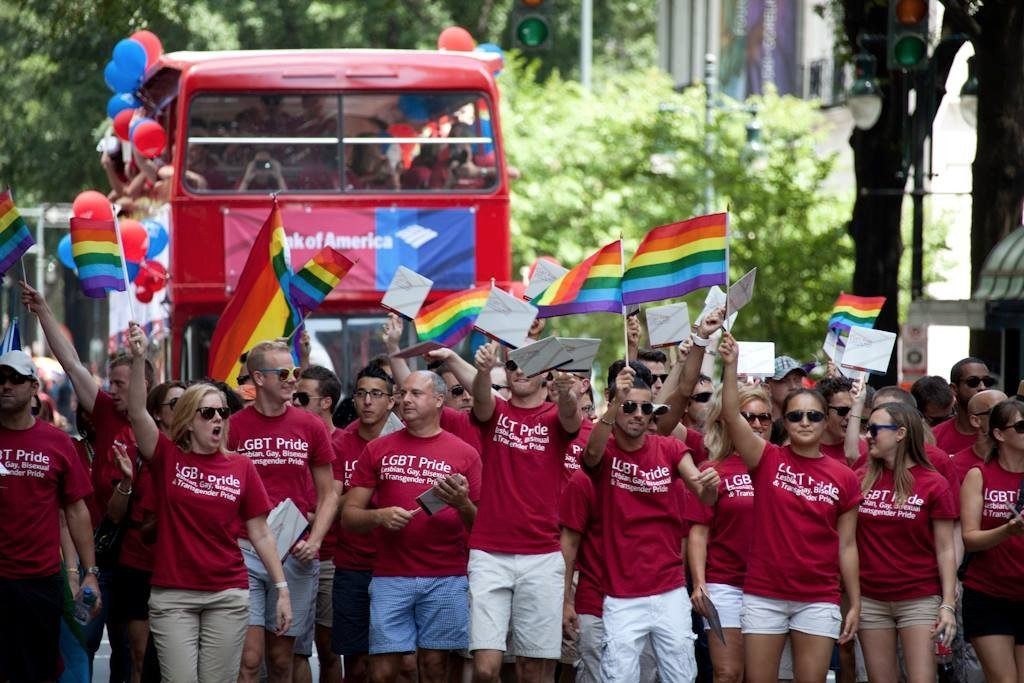 It's Pride Week in Charlotte, so that means a slew of kickoff parties and after parties centered around the annual two-day street festival. Crowds are estimated to be in the hundreds of thousands this weekend, so plan accordingly. See y'all out there!
Thursday, Aug. 18
Shiprocked! Charlotte Pride Kickoff Party
Start your Pride weekend off with this annual party. The headline at this year's party is the "gaylebrity" Big Dipper. There will also be a few other incredibly named bands and musical acts (Your Fuzzy Friends, Sext Message, Bethann Phetamine). The pride-filled party at Snug Harbor (1228 Gordon St.) starts at 10 p.m. and has a $10 cover at the door.
Charlotte Bachata and Salsa Festival
It's the five-year anniversary for this festival, which brings bachata, salsa, mambo, cha cha and kizomba dance workshops from expert instructors to the heart of Charlotte. This three-day festival at the Sheraton Charlotte Airport Hotel starts today and lasts through the weekend. Ticket prices and times vary, but go here for more information. The Sheraton Charlotte Airport Hotel is at 3315 Scott Futrell Drive.
Friday, Aug. 19
Charlotte Pride Kickoff Cookout Party
Like we said, it's Pride Week at Charlotte, so the Queen City is going all out this weekend. The Bar at 316, 316 Rensselaer Ave., hosts this Friday night cookout tonight, starting at 5:30. This free evening features hamburgers and more on the grills, games of Beer Pong, Flip Cup, Jenga and more. Happy Pride, Charlotte!
Saved by the '90s Bar Crawl
Charlotte's throwing it back to the Spice Girls, boy bands and mood rings tonight for this bar crawl to Blackfinn, Suite, Bubble, StrikeCity, Tin Roof and Vida Vida. Registration begins at 7 p.m. at Rooftop 210, 210 E. Trade St. Tickets cost about $12 and include your '90s T-shirt that gets you free admission into each participating bar. Buy your ticket here.
Back-To-School Sexy Schoolgirl Party
Leave it to event organizers to find a way to consistently objectify women (back-to-school even!). This event, which encourages women to dress as a "sexy schoolgirl" (that means with a diploma, right?), features $3 Corona and Corona Light. The party starts at 9:30 p.m. at Mona's Lounge, 138 Village View Drive, in Mooresville.
Saturday, Aug. 20
Triple C Brewing Co. Four-Year Anniversary
This South End spot turns four today, and you're invited to the party. The taproom is open from noon until 9 p.m. with at least four food trucks on site and live music beginning at 2:30 p.m. There is no admission fee to the party at 2900 Griffith St.
Charlotte Pride After Party
The two-day street festival for Charlotte Pride starts today, but it's this after party that will really steal the show. Jujubee from Rupaul's Drag Race is the guest of honor tonight at Chaser's, 3217 The Plaza. The party starts at 10 p.m.
Great Cookie Crumble
For the 14th year, this annual cookie competition pits chefs from across the city in making Charlotte's best cookie. You get to be the judge. Don't miss out on the chance to try some of the city's best desserts. The free sampling for People's Choice and Kids' Choice is from 11:30 a.m. until 12:30 p.m. at the 7th Street Public Market, 224 E. Seventh St.
The Rainbow Party
Cathode Azure, another of Charlotte's gay bars, is throwing this Pride after party tonight. The bar is going all out with eight bartending stations (eight!) to accommodate for the large crowds at Charlotte Pride. The party starts at 10 p.m. at 1820 South Blvd. Tickets cost about $14. Buy them here.
Sunday, Aug. 21
Charlotte Pride Parade
The parade is this festival's annual draw, and it begins today at 1 p.m. from Ninth Street and North Tryon Street. (The street festival itself starts Saturday afternoon.) Experts estimate crowds to number in the hundreds of thousands, so come early if you want a good view. There is no admission fee to watch the parade. For more information, go here.
South End Social and Craft Market
This monthly market features live music, breweries, about a half dozen local vendors, bar games and more. The event is free and runs from 2 p.m. until 6 p.m. at Craft Tasting Room and Growler Shop, 1320 S. Church St.
Verify dates, times, prices, and other info at the web addresses listed for each event.
Be sure to bookmark www.charlottemagazine.com/Blogs/Dusk-Till-Dawn to stay plugged into Charlotte's nightlife and social scene. Click here to sign up to receive the weekly Dusk Till Dawn e-newsletter.
Want your event featured in Dusk Till Dawn? Follow me on Twitter @Jared_misner and let me know about your event, or send me an email at dusktilldawnblog@gmail.com.