Charlotte Protests: How We Got Here
A timeline, from the late 1800s to today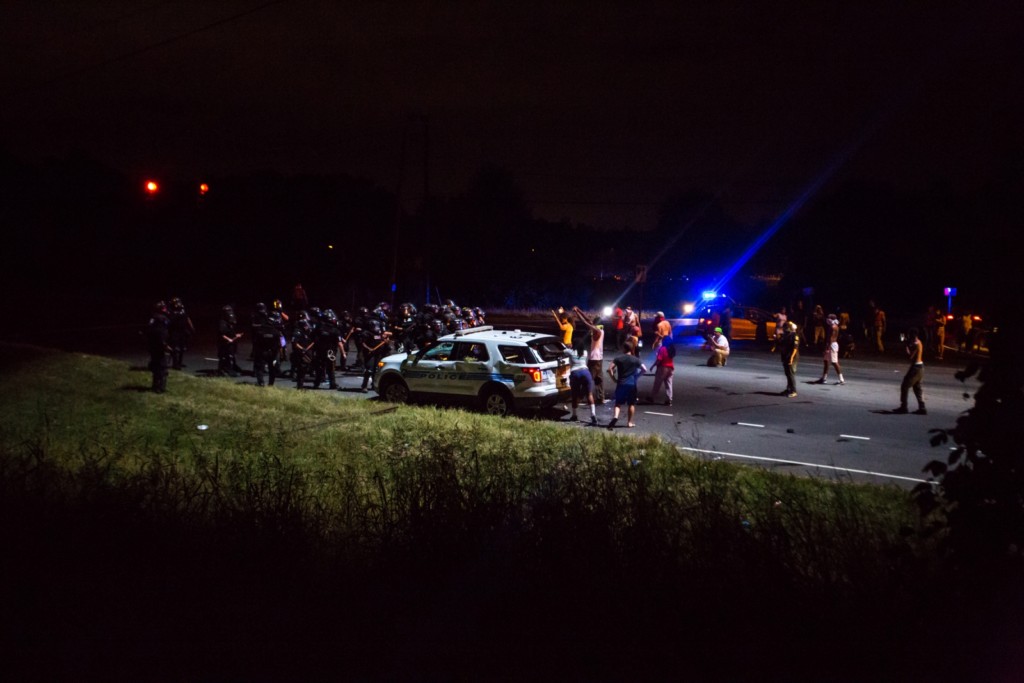 Late 1800s: Charlotte experiences a post-Civil War population and economic boom, and black people flock to the city for jobs. By 1900, roughly 40 percent of the city's population of 18,000 is black. That percentage drops as black residents move to Northern cities for industrial jobs during the early years of the Great Migration and as Charlotte continues to grow, but the city retains a substantial black population into the 1930s.
1937: The federal Home Owners' Loan Corporation (HOLC), established by Congress to help prevent foreclosures during the Depression, begins appraising Charlotte neighborhoods to determine credit risk for mortgages. The appraisers rate white neighborhoods east and southeast of Uptown, such as Myers Park, Eastover, and part of Dilworth, A and B for lowest credit risk. Poor white neighborhoods are rated C and D for higher credit risk, and neighborhoods with black residents—mainly west and due north of Uptown—are automatically rated D, making it virtually impossible for people who live there to obtain mortgage loans.
"(T)he system explicitly rewarded segregation," writes Charlotte historian Tom Hanchett in Sorting Out the New South City: Race, Class, and Urban Development in Charlotte, 1875-1975. HOLC uses the same practice, known as "redlining," in cities throughout the nation. In Charlotte, the practice sets a template for concentrations of wealth and poverty that remains largely intact today.
1960s: Charlotte acquires more than $40 million in federal Urban Renewal funds "to flatten inner-city neighborhoods and replace them with glistening new developments," Hanchett writes. Among the neighborhoods: Brooklyn in Second Ward, the hub of black cultural life in Charlotte, which is demolished in phases from 1960 to 1967 to make way for government and private office buildings and widened roads. The project destroys 1,480 structures; officials build no housing units to replace them. Most Brooklyn residents relocate to the Belmont and Villa Heights neighborhoods just east of Uptown or to the west side.
The Brookshire Freeway, completed in 1971, displaces other black residents near the city center and slices between the historic west side black neighborhoods McCrorey Heights and Biddleville, home to Johnson C. Smith University.
April 20, 1971: The U.S. Supreme Court rules in Swann v. Charlotte-Mecklenburg Board of Education that the school system must use busing to achieve racial integration. The landmark ruling opens the door for busing as a tool for public school desegregation throughout the United States.
Mid- to late 1980s: The crack cocaine epidemic hits. Charlotte is the largest city between Atlanta and Washington, D.C., and the drug trade begins to sweep through poor and minority areas—especially public housing projects such as Piedmont Courts in Belmont and Boulevard Homes near Charlotte Douglas International Airport on the west side. The homicide rate begins to soar, from 48 in 1988 to 80 in 1989.
October 5, 1993: Officers John Burnette and Andy Nobles are shot and killed by a robbery suspect at Boulevard Homes. During a chase into nearby woods, the suspect, Alden Harden, knocks Burnette's gun loose and shoots both officers.
December 31, 1993: Charlotte concludes its deadliest year on record with 129 homicides. The record still stands.
May 1994: The city hires Chicago police veteran Dennis Nowicki as chief of the Charlotte-Mecklenburg Police Department, a joint city-county agency established the year before by merging the Charlotte Police Department and the law enforcement arm of the Mecklenburg County Sheriff's Office. CMPD officially adopts Community Problem-Oriented Policing (CPOP) as an operating philosophy, committing itself to working with residents and neighborhood leaders to identify and solve community problems that lead to crime. The approach shows signs of working; overall crime rates begin to drop.
November 19, 1996: CMPD officer Michael Marlow, a white man, shoots and kills 19-year-old black motorist James Cooper after Cooper refuses to get out of his car during a traffic stop. Cooper's four-year-old daughter is in the back seat. Marlow says he believed Cooper was reaching for a gun, and the district attorney doesn't pursue charges.
April 9, 1997: CMPD officers Shannon Jordan and Donn Belz shoot a combined 22 times at a moving car, killing 33-year-old Carolyn Sue Boetticher, a black woman. Jordan, a white man, is fired, and Belz, also white, is suspended 30 days before being returned to duty. The department goes 11 years without disciplining an officer for an unjustified shooting, until officer Jenny Curlee loses her job for firing into a car on Central Avenue.
Read more here: http://www.charlotteobserver.com/news/local/article8993519.html#storylink=cpy
August 1999: The city hires St. Petersburg, Fla., Police Chief Darrel Stephens to take over for Nowicki, who has left for a consultant's job. Stephens says he plans to retain CPOP as the department's operating philosophy.
September 11, 1999: U.S. District Court Judge Robert Potter orders Charlotte-Mecklenburg Schools to end its 28-year busing program, ruling that the institutional discrimination that made busing necessary no longer exists. In the coming years, CMS will become increasingly segregated by race and class.
The 2000s: Charlotte's population and economy explodes, but the growth brings rises in overall crime, including increased gang activity. Increasingly, city leaders and residents sour on Stephens' professorial demeanor and adherence to the CPOP philosophy, which they perceive as too passive in fighting crime.
April 1, 2007: CMPD Officers Sean Clark and Jeff Shelton die of gunshot wounds they had sustained late the previous night when they responded to a call at an east Charlotte apartment complex.
June 2008: The city hires Washington, D.C., Metro Police Deputy Chief Rodney Monroe as its first-ever black chief of police. Monroe retains some aspects of community policing but emphasizes enhanced street patrol and data-driven targeting of repeat offenders as crime-fighting tools.
2009: Killings in Charlotte fall to a 21-year low.
September 30, 2010: The killer of Clark and Shelton, Demeatrius Montgomery, is convicted and sentenced to life in prison without parole.
September 2012: Charlotte hosts the 2012 Democratic National Convention. Despite large protests, Charlotte remains largely peaceful throughout, and Monroe and CMPD earn praise for their management of the protesters.
September 14, 2013: CMPD Officer Randall Kerrick shoots and kills 24-year-old Jonathan Ferrell, a former Florida A&M University football player, after Ferrell wrecks his car near a northeast Charlotte subdivision. Ferrell had pounded on a resident's door at about 2:30 a.m.; terrified, the woman called 911. Ferrell, unarmed and on foot, rushes Kerrick, one of the responding officers, and the two struggle in a ditch. Kerrick fires 12 shots at Ferrell, hitting him 10 times. Later that day, Monroe decides to charge Kerrick with voluntary manslaughter.
August 9, 2014: Officer Darren Wilson of the Ferguson, Missouri, Police Department shoots and kills 18-year-old Michael Brown, an unarmed black man. Brown's body remains in the street for four hours, touching off several days of civil unrest. Three months later, a grand jury chooses not to indict Wilson.
Ferguson, a majority-black suburb of St. Louis, has a majority-white police force, and a later U.S. Justice Department report highlights city officials' pressure on the Police Department to generate money for the city through fees and fines in code enforcement. The shooting touches off a series of tense and sometimes violent responses to similar episodes of police killings of unarmed black men throughout the United States and gives birth to the Black Lives Matter movement.
May 18, 2015: Chief Monroe announces his retirement, effective July 1.
June 15, 2015: The city names Deputy Chief Kerr Putney, a 23-year veteran of the department, as Monroe's successor. Putney is the first internal hire as chief in more than 20 years.
August 21, 2015: A jury in Superior Court in Charlotte deadlocks 8-4 in the Kerrick manslaughter trial, and Robert C. Ervin declares a mistrial. Protesters take to the streets for several hours afterwards, but the demonstrations result in no serious injuries and little property damage.
August 28, 2015: Prosecutors dismiss the manslaughter charge against Kerrick.
July 2016: Police shootings in Louisiana and Minnesota ignite protests against real and perceived police brutality throughout the nation, including Charlotte. At a news conference, Putney delivers a statement that goes viral, acknowledging the long history of racism and brutality in his profession and his own complex history with law enforcement. "Anything that happens nationally has an impact locally," he says. "We hide behind, 'Well, we don't know all the facts.' Well, I don't need to know the facts to see another dead black body in the street and say, 'That hurts me. That disappoints me. We have more work to do.'"
August 2016: Putney begins a series of community gatherings throughout Charlotte intended to help bridge the gap of trust between police and the communities they serve, especially minority areas where residents historically have had reason to fear and distrust law enforcement.
September 20, 2016: Brentley Vinson, a black CMPD officer, shoots and kills 43-year-old Keith Lamont Scott in the parking lot of an apartment complex near University City, leading to consecutive nights of protests and rioting that leave police officers and protesters injured, businesses vandalized and looted, and another man dead on the streets of Charlotte.
November 30, 2016: From Adam Rhew's story: District Attorney Andrew Murray said his office determined Officer Brentley Vinson "acted lawfully" when he shot Scott four times during a confrontation outside a University City apartment complex. Scott's death set off protests and unrest that thrust Charlotte into the global spotlight. At a news conference, Murray meticulously outlined the conclusions drawn from a 15-person probe into the shooting. "All of the credible, available, and believable evidence supports the conclusion that Scott was armed with a gun," Murray said.