Charlotte Restaurant Week, Common Market Season Finale, Christmas in July and More, July 21 to July 24
Rest in peace, Common Market South End. Hello, Thirsty Nomad Brewing! Happy anniversary, Red Clay Ciderworks! There's much to celebrate this weekend, Charlotte (except for, of course, that whole closing of Common Market).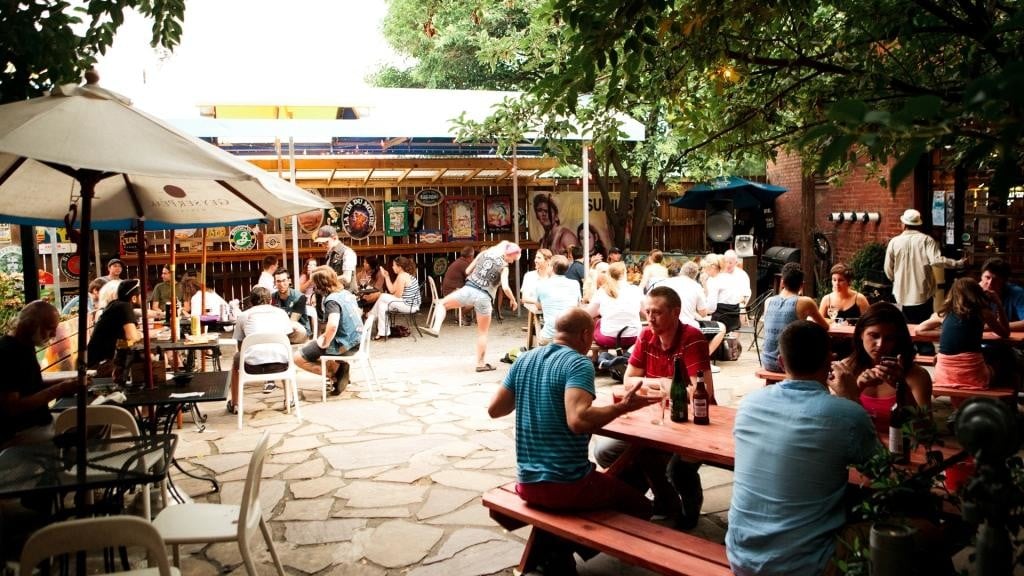 We say goodbye to Common Market this weekend. Another victim of Charlotte's explosive growth, the popular South End spot officially closes July 30, but the funky bar and deli is throwing a "season finale" party Friday night. As we bid adieu to a favorite, we welcome a new brewery to town and celebrate our first cidery's first anniversary. With the ebb and flow of our growing city, c'est la vie. See y'all out there!
Thursday, July 21
Ales and Tails Summer Brew Tour
In only the first of the dog-designated parties of the weekend, Birdsong Brewing hosts this Thirsty Thursday event. The party features a dog photo booth, adoptable dogs, a dog-painting artist, a food truck and more. The event is from 5:30 p.m. until 8:30 p.m. at 1016 N. Davidson St. There is no admission fee.
Republican National Convention Watch Parties
Attention political junkies: Charlotte's hosting at least two different Republican National Convention watch parties as the Grand Ole Party's convention comes to a close. The Rusty Rudder, in collaboration with the North Carolina GOP hosts a party from 6:30 p.m. until 9:30 p.m. at 20210 Henderson Road in Cornelius. RSVP to Jessica Marinaccio at Jessica.marinaccio@ncgop.org. Selwyn Pub hosts the second from 7 p.m. until 10 p.m. at 2801 Selwyn Ave. RSVP to Sean Kilbane at sean.kilbane@ncgop.org. Hopefully, these speeches aren't plagiarized, too.
Friday, July 22
Queen's Feast Charlotte Restaurant Week
The semi-annual celebration of Charlotte's food scene is back for the summer edition, so let's break it down for those of you who haven't joined the party before. For either $30 or $35, you get three courses (from a fixed menu) from one of more than 130 restaurants. The celebration lasts until the end of the month, and do make reservations. Things will be busy. Find more information on participating restaurants, their menus and more by going here.
Common Market Season Finale
It's the end of an era, and today's a sad, sad day for Charlotte's nightlife scene. First, the powers that be took away Food Truck Friday from us and splintered it into, what seems like, eight different rallies around town. Next, they took away Common Market's South End location. What next? Jackalope Jack's? Oh, yeah, that site was finally approved Monday night to be redeveloped, too. So come join the good people of our city who hold this gem in South End in such high esteem. We're supposed to get another Common Market location sometime in the future, but for now, it's goodbye. The party at 1515 S. Tryon St. has no admission fee.
500 Years of Reinheitsgebot
Don't worry about pronouncing it. Just know Reinheitsgebot is a German regulation that stipulates the ingredients in beer. Olde Mecklenburg Brewery brews its beers the Reinheitsgebot way, with only water, malt, hops and yeast. The three-day celebration starts today from 3 p.m. until 7 p.m. with the Mecklenburger release and 106.5 broadcasting live from OMB. Live music continues throughout the weekend at 4150 Yancey Blvd, and there is no admission fee.
Charlotte Gets Weird
You pretty much know what you're getting yourself into with the name of this event. Featuring a blend of all sorts of dance music, this wild night of partying and raving also includes free pizza throughout the evening. The "weird" party is at the Visulite Theatre, 1615 Elizabeth Ave., from 9 p.m. until 2 a.m. Tickets cost about $23. Buy them here, you weirdo.
Christmas in July
Blackfinn threw a Christmas in July party last weekend, but if you missed it, Rooftop 210, 210 E. Trade St., is throwing another tonight. Come dressed in your best Christmas attire (Don't blame us if your Santa suit gives you heat stroke. It's July, after all) and prepare for a night of Christmas music, prizes and more. The Christmas party starts at 7 p.m., and there is no admission fee.
Saturday, July 23
Thirsty Nomad Brewing Co. Grand Opening
If you thought Charlotte was at capacity for breweries, well, you were wrong, of course. The Queen City's newest brewery opens at 4402 Stuart Andrew Blvd from 2 p.m. until 10 p.m. today with at least nine original brews. There is no admission fee to this event.
Country Bar Crawl
Billed as the "nation's largest country crawl," (our eyebrows are raised in suspicion with that one), this bar crawl begs you to bring out your boots, hats and Daisy Dukes. Registration is at 2 p.m. at Whisky River, 210 E. Trade St. From there, you'll do-si-do on over to Blackfinn, Connolly's on Fifth, Fitzgerald's, SIP, Tilt on Trade. The Local and more. A $27 tickets buys you free entrance to all the bars on the crawl, a T-shirt and a bar crawl mug. Buy your ticket here, cowboy.
Nerdathon
Amid the peak of Pokemon Go, Charlotte brings you Nerdathon, which is exactly what it sounds like. A $25 ticket gets you a lunch and dinner buffet and access to Magic The Gathering tournaments and both board and video games. And, of course, costumes and cosplay are encouraged. Buy your $25 ticket here, nerds.
Red Clay Ciderworks One Year Anniversary
Charlotte's first cidery turns 1 today, and you're invited to the party. Red Clay is releasing special ciders throughout the day along with live music and food. Tickets, which are redeemed for one drink, cost about $6 and can be bought here. The party is from noon until 11 p.m. at 245 Clanton Road.
Pokemon Go Party
This is a real thing, and it makes us question what has happened to the world. Dress up as your favorite Pokemon and prepare to catch as many fictional monsters as you can because that's what civilization has come to now. There's free entry with RSVP before 11 p.m., and after that, you're paying almost $12 to catch pictures of make believe creatures. RSVP and buy a ticket here. Label is at 900 NC Music Factory Blvd.
Sunday, July 24
South of the Bully Benefit
The dog days of summer are taken literally at this event. Benefitting South of the Bully, a pit bull rescue organization, this "pawty" features prize giveaways, a dunk tank and a puppy kissing booth. The event is at The Blind Pig, 453 E. 36th St., from 4 p.m. until 8 p.m. There is no admission fee.
Verify dates, times, prices, and other info at the web addresses listed for each event.
Be sure to bookmark www.charlottemagazine.com/Blogs/Dusk-Till-Dawn to stay plugged into Charlotte's nightlife and social scene. Click here to sign up to receive the weekly Dusk Till Dawn e-newsletter.
Want your event featured in Dusk Till Dawn? Follow me on Twitter @Jared_misner and let me know about your event, or send me an email at dusktilldawnblog@gmail.com.
Send Jared an email at DuskTillDawnblog@gmail.com, or send him a tweet @Jared_Misner.

Also by Jared Misner:

→This Weekend's Social Events
→Bowling For Books, First Friday Fort Mill, Electric Luau Party, Soulmatic Carolina Music Fest and More, Aug. 6 to Aug. 9
→The Moon Walk, Candy Fest, Silly String Party, Booze Cruise and More, July 30 to Aug. 2
→Christmas in July, More Christmas in July, National Dance Day, National Tequila Day and More, July 23 to July 26