Charlotte Sports Teams Are Celebrating the '90s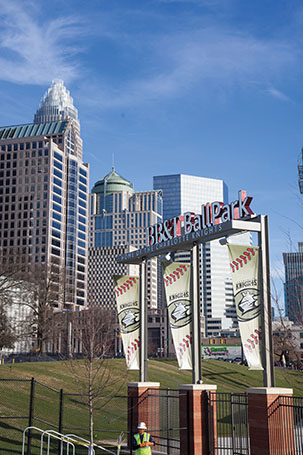 IN 2016, the 1990s prevail as the go-to decade for inducing nostalgia. Listicles count the ways you know you're a '90s kid. Cinema is rife with throwbacks and remakes of films such as Point Break and Jumanji. And if you take a look at the schedules for the Charlotte Hornets and Charlotte Knights, you'll want to break out some flannel and tie it around your waist, too.
Take the Hornets' '90s Nickelodeon Night (March 1). As the Hornets host the Phoenix Suns at Time Warner Cable Arena, a Double Dare halftime show, photo opportunities, mascots, and contests bring you back to the days of VHS tapes and Furby toys. Artifacts slated for the show include Slime, classic tunes, and Kel Mitchell. (I'm not kidding. The Good Burger-slingin' personality will be there, along with Jeff Sutphen.)
But the arena isn't the only venue to get wistful over the '90s this year. Charlotte Knights games at BB&T Ballpark also offer a heavy dose of '90s pop culture. A game against the Scranton/Wilkes-Barre RailRiders offers an opportunity to meet the famous Soup Nazi of Seinfeld. Actor Larry Thomas comes to Charlotte for Festivus in July Night (July 18), which has soup specials and other Seinfeld-specific treats.
Later on this summer, Back to School Night (Aug. 10) hosts everyone's favorite school administrator, Mr. Belding. Actor Dennis Haskins, who portrayed the fictitious principal on Saved by the Bell, will be there to field questions like, "Just how good were the burgers at The Max?"
Finally, A Tribute to Space Jam Night (Aug. 21) brings in former Hornets star Muggsy Bogues to throw the first pitch and take part in a meet-and-greet with fans. Bogues was one of the NBA stars who had a role in the 1996 movie Space Jam, which certainly should have nabbed an Oscar for "Best Film to Feature Michael Jordan & Looney Tunes Characters Playing a Heated Basketball Game Against Space Aliens."
That's a lot of nostalgia for one city. But here's the real question: Do I wear my Hornets or Knight attire or do I go as a Blue Barracuda?
UPDATE: The Knights' social media folks have informed me that a Nickelodeon Day (July 10), during which players will wear Slime jerseys, is also on the schedule.