Charlotte Streets Show Signs of the Times
A documentary about the city's street-renaming campaign captures history in progress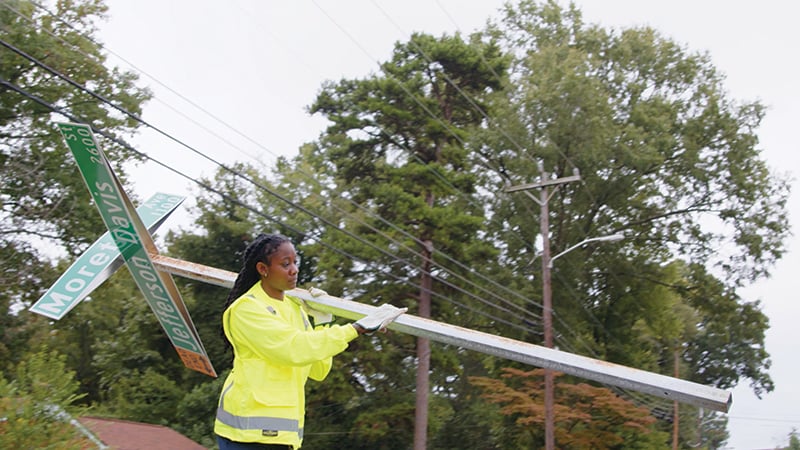 In May 2020, nationwide protests after George Floyd's death prompted organizations from Apple to the Sierra Club to interrogate and try to atone for past racism. Just weeks after protests began, Mayor Vi Lyles convened a group of 15 historians, journalists, and government staff to compile "a list of street names, monuments, and other markers in Charlotte that honor Confederate soldiers, slave owners, and segregationists." This Legacy Commission would also recommend which streets to rename.
They found that the only Confederate monuments on city land were at Elmwood Cemetery and suggested installing a historical marker there to provide context. For street renaming, the commission recommended that the city start with those that "honor Confederate leaders and officers, and figures who actively fought against equality."
A year later, the city hired Loyd Visuals, a local video production company, to document the process of changing nine street names. Initially, the city tasked the team, led by brothers Khaleel, Maleek, and Najm Loyd, with creating a five-to-seven-minute video. But as they researched local history and collected footage, the scope ballooned. "We really took it on as a passion project, to be able to extend the story," Khaleel says, "because we realized that there was so much there that we just didn't want to go by the wayside." On Feb. 28, at the Charlotte Museum of History, the city premiered the result: a 25-minute documentary that marks an inflection point as Charlotte bends away from racist legacies and makes good on its inclusive rhetoric.
Emily Zimmern, chair of the commission, explains at the documentary's outset, "Charlotte has touted itself as a New South city since the 19th century, but as we learned, Charlotte, despite that reputation, is very much tied to the Old South."
The documentary, The City of Charlotte's Legacy Commission, zips through this history. It deftly links Charlotte's legacy of slavery with modern-day Black Lives Matter protests, then delves into the nitty-gritty of the yearslong name-change process, from community forums to sign production. What unites these threads into a moving narrative are the testimonies of those who can now see their oft-overlooked personal histories reflected in the fabric of the city.
Maleek, 25, who directed, cites his interview with "Ms. Carouthers" as among the most memorable and rewarding. Lallage Carouthers, 86, graduated from the nursing school at Good Samaritan Hospital, a pillar of the Black community, where she went on to work. Toward the end of the film, Carouthers, using a walker, visits what was once Hill Street, where the hospital stood before it was razed to make way for Bank of America Stadium. Daniel H. Hill, the street's namesake, was a local Confederate officer whose service to the rebel states included taking over Charlotte's branch of the U.S. Mint. The documentary captures Carouthers' emotion as she gazes up at the street's new name: Good Samaritan Way.
"This has grown a lot," someone offscreen remarks.
"A lot," Carouthers says, "is a mild word."
The Loyds themselves are a story of New South vision and ambition. Khaleel, 31, moved from Greensboro to attend UNC Charlotte and was the first in his family to graduate college. He worked as a health care consultant for three years. "I had this idea of getting a salary and the salary changing my life and being able to take care of my family and people that I cared about," he says. But he soon realized that dream would only be feasible if he sacrificed more and more to his corporate career. "For me personally, it just wasn't really enticing and appealing. I've always had a desire to be an artist and entrepreneur."
Khaleel wanted both: a comfortable income and the freedom to work creatively and independently. He recruited his two younger brothers, and they took stock of their skills: Khaleel had the entrepreneurial vision; Maleek, then a student at Appalachian State University, had filmed video since high school; and Najm, 29, had a talent for brand design and social media. The trio launched Loyd Visuals in 2016 and began recruiting corporate and nonprofit clients.
In 2020, the company produced a video for Historic West End Partners to highlight Black-owned businesses in the Beatties Ford corridor. "The city found that video," Khaleel says. "They were really inspired by it and felt like we would be a good company to be able to tell the story of the Legacy Commission."
The project resonated. "We find a strong connection to the plight of, obviously, being Black here in America," Khaleel says, "and understanding the hurdles and obstacles that we've had to face since the inception of this nation."
But it was a good fit for other reasons, too. Loyd Visuals reflects the values of its founders, as brothers and as young entrepreneurs. Khaleel has consciously distanced the company from the profit-over-people ethos he'd witnessed in a corporate environment. They've prioritized work with nonprofits and seek to strengthen community bonds.
"We really get a jolt out of being able to tell these stories, especially in documentary form," Khaleel says. "In this long format, we're able to really make sure that the mayor is able to give her perspective but also the city workers that are actually making the signs, the workers that are responsible for changing out the street names also were able to give their perspective. Because everybody is affected, even the folks in the neighborhood."
The team also gave voice to those with reservations about the name changes. The documentary includes footage from a community meeting where a business owner speaks about the hassle of changing his address on letterhead and company paperwork, and a city representative addresses his concerns. The filmmakers' humane approach yields an intimate look at the civic process in action and how the city, through the efforts of its staff and leaders, comes to reflect and serve its citizens.
"This gave us an opportunity to not only kind of flex our muscles in terms of our storytelling and documentarian abilities," Khaleel says, "but it also gave us an opportunity to go a bit deeper and become a part of Charlotte's history as well."
As the film concludes, Lyles reflects, over solemn violin strains, on the historic moment that Loyd Visuals captured. "Many people say, 'Well, that's just the street name change,' but what it represents is a willingness for this community to embrace change," she says. "We are a diverse city—and we want everyone to feel respected."
Michael Torres, labor crew chief for the Charlotte Department of Transportation, recaps it slightly differently as he swaps out a Jackson Avenue sign for a newly fabricated Cross Trail Drive sign in the Belmont neighborhood. The city, he says, realized, "Wait a minute, we got an influx of people, and the city ain't built for that. So we're trying to do a rapid change. And then they realized that a lot of the street names or certain streets—like this one, Jackson—is not conducive to the image they're trying to present, so we're not trying to have that as we move forward. 'Cause come on now. We're in 2022. That relic should have been gone a long time ago."
Allison Braden is a contributing editor.