Charlotte Symphony Orchestra: The Royal Treatment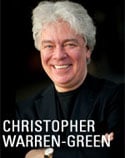 Christopher Warren-Green may be a native of the U.K., but Charlotte can claim him now. The maestro is the director of our very own Charlotte Symphony Orchestra. But, he has royal credentials.
The classical-music loving Prince Charles selected him to be the musical director of the nuptials of the future King of England of his stunning bride, the former Kate Middleton. But, Warren-Green has traded Westminster Abbey for the Blumenthal Performing Arts Center and, this weekend, opens the CSO's new season.
Mussorgsky's Pictures at an Exhibition marries the musical and visual arts; it's a piece of music that depicts an imaginary tour of an art collection. Titles of individual movements refer to works by the composer's late friend, the artist and architect Viktor Hartmann. Get the royal treatment this Friday or Saturday night. Details here.