Charlotte vs. America
He's been all over the country, taking in everything that's beautiful and everything that's not-so-beautiful about our great land. So, Mr. Columnist, how does Charlotte stack up?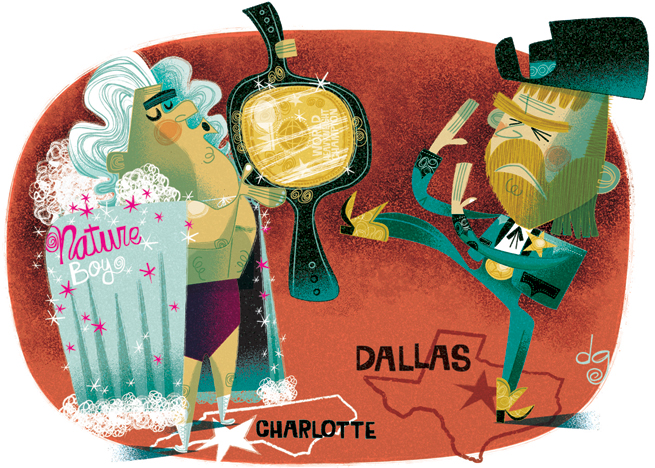 As your faithful city magazine columnist, I'd like to say that I've been hanging around town every weekend, ferreting out insights, drinking Cheerwine, and complaining about property taxes. Alas, that hasn't been the case. Weddings, work trips, and family gatherings have shown me life beyond Charlotte this year. Here's where I've been, and how it compares to home:
Asheville: (120 miles from Charlotte) A burgeoning granola-opolis containing a good number of restaurants and drum circles and breweries. The Biltmore Estate is Downton Abbey with a gift shop. You are guaranteed to meet a guy with a beard.
vs. Charlotte: Charlotte has its s— together, while Asheville is the cousin who's constantly between jobs but still manages to be a locavore.
San Antonio: (1,230 miles from Charlotte) Most of my knowledge of this city comes from Pee-Wee's Big Adventure. The Alamo has no basement. There is a lot of adobe. Three locals at a bar bought me a shot after a long conversation about firing guns in the desert.
vs. Charlotte: It is perfectly acceptable to wear a cowboy hat in San Antonio when Kenny Chesney is not in town.
Philadelphia: (540 miles from Charlotte) You know where you can park your car in south Philly? Right in the middle of the damn street. Or in the median. Or on top of your least favorite athlete. There is a statue of Rocky with an art museum behind it.
vs. Charlotte: Philadelphia is hundreds of square blocks of Plaza Midwood with more Cheez Whiz for sale.
Dallas: (1,025 miles from Charlotte) Constantly engaged in a contest to build the world's most luxurious highway flyover. Stupefyingly hard to leave the airport in a rental car.
vs. Charlotte: We have Ric Flair, they have Walker, Texas Ranger. It's a tie.
Raleigh: (170 miles from Charlotte) A place where you can instantly be the executive director of a whim-driven political action group. Want to form North Carolinians For Mopey Circus Lions? Bam. Done. Don't let Barnum & Bailey beat you to it.
vs. Charlotte: Bless our hearts, we've been hissy-fitting for years to finish I-485, while Raleigh has highways with lanes as wide as Cosmo Kramer's comfort lanes on Seinfeld. Our former mayor went up there and appears lost.
Youngstown, Ohio: (505 miles from Charlotte) Bruce Springsteen wrote a song about Youngstown that makes you want to sit inside a dark room with the lights off. Youngstown once (seriously) tried to lure film crews with the promise that they could blow up dormant steel mills free of charge. I grew up a few miles away, near the shores of (seriously) Mosquito Lake.
vs. Charlotte: You can buy a house in Youngstown for the price of a car. The World's Most Magnificent McDonald's is nearby in Warren. Take that, Allen Tate and Del Frisco's.
Tampa: (580 miles from Charlotte) Pastel and centipede grass everywhere. At spring training, somebody near the ballpark wants $10 to park your car in his driveway. I ended up at a Jamaican joint, and the proprietor wouldn't let me leave until I sucked the juice out of a tiny, fleshy fruit I'd never heard of.
vs. Charlotte: Stop complaining about how hot and muggy it is in Charlotte over the summer. Stop it right now.
Charleston, S.C.: (210 miles from Charlotte) A city with a bottomless supply of shop girls working in boutiques on King Street. One time, LL Cool J was supposed to fly to Charleston, W.Va., for a show and ended up here by mistake. We called a taxi at Folly Beach, and some guy showed up with his conversion van.
vs. Charlotte: Charleston shows up for a party, and Charlotte is all like, "Ohmygawd, what are you wearing? I. LOVE. IT."
Cincinnati: (480 miles from Charlotte) My brother and I played laser tag up there once, and it was awesome. Some people ask cab drivers how much of Cincinnati is in Kentucky. Your phone autocorrects the spelling of this city more than you know.
vs. Charlotte: Both are Queen Cities. They lost Chiquita and opened a casino. We should probably give up on trying to make superior chili.
Charlotte: (0 miles from Charlotte) A suburb of Buffalo and Cleveland. Closes at midnight. Constantly warned by the doctor to cut back on sweet tea, lest she tempt diabetes.
vs. Charlotte: (Can't stop looking at herself in the mirror.)