Charlotte vs. Raleigh: Are We Rivals or Friends?
North Carolina's two largest cities have grown up and become peers now. Cohorts! Friends! But sometimes old rivalries rise again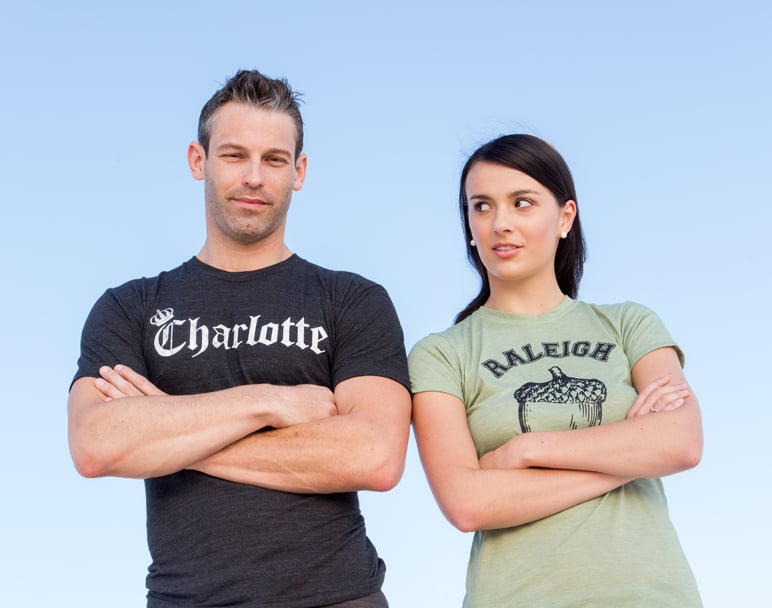 A FRIEND passing through Raleigh-Durham International Airport recently saw a souvenir coffee mug for sale at the Starbucks "You Are Here" section.
The mug said, "Charlotte."
This may be the most instructive thing for anybody in either Raleigh or Charlotte to keep in mind as they consider the personalities of the two areas, and whether their residents experience feelings of rivalry. That is, most people outside North Carolina don't know the difference. To most people outside the state, Charlotte and Raleigh are just kind of … you know, down there in Carolina. They have other cities, too—Wake, um, Salem? Greens … ville? Ashe … something? Anyway, they have tobacco down there, and subdivisions, plenty of those, and sweet tea and probably some other stuff, too. But as for individual cities, they barely know the difference. They rarely even know which Carolina they're talking about.
I urge you to keep that in mind not because it's humbling—which it is—but because unless you live in a city, you can't really know a thing about it anyhow. So to address the rivalry that may or may not exist between Raleigh and Charlotte, let me share my own story.
I moved to Raleigh in 1992 and quickly came to learn two things: First, Raleigh was part of a region, the Triangle, and regionalism was the Very Next Big Thing. Second, according to some perception or other—not according to any actual persons, mind you—Raleigh was terribly jealous of Charlotte. Which was in turn terribly jealous of Atlanta, which yearned to be like D.C., which cast aspiring eyes at New York, which was of course jealous of London, which envied Paris, which competed with Rome, which wanted to be Jerusalem, which itself was just the first big city to compete with the Fertile Crescent, itself a region, which brings us back to Raleigh.
The point is that every city—just like everybody—has someplace it looks at with envy, reasonable or not. But from what I can tell, I don't see anybody in Raleigh paying much attention to Charlotte as a rival. As for Charlotte, though occasionally one of its newspaper columnists drops his trousers in the hope that somehow he will embarrass Raleigh (some Charlotte columnist, twitching with fury, expressed such scorn about the Carolina Hurricanes' 2006 Stanley Cup that Raleighites considered sending bran muffins), in my experience Charlotte doesn't spend much time worrying about Raleigh, unless the legislature tries to take over the airport.
OK, the legislature. A column this past March in The Charlotte Observer, written by someone who evidently had not been to Raleigh in decades, made fun of Raleigh for, among other things, hosting the state legislature. Which brings up the first of two central points about Raleigh that Charlotteans need to know.
Point 1: State legislators do not come to Raleigh and become crazy. They bring the crazy with them and we try to put up with it as long as they're here. Raleigh is taking one for the team. Try to think of what Charlotte would be like if half of every year it had to put up with out-of-town legislators, tramping mud all over the carpets and slashing the paintings with broken bottles because they can and because, well, that's what legislators do. I'm not saying that we can't—and don't—rise above. I'm just saying: You're welcome.
Point 2: Charlotte is one city; Raleigh is one of anywhere between three and a dozen, depending on who's counting. Both regions have the same two-million-or-so people, but Charlotte gets to focus on a single downtown, which means one stadium and one arena and one each of venues of various descriptions and a transit system that makes sense. Raleigh has to play nicely with Durham and Chapel Hill and Cary and the Research Triangle Park and Carrboro and don't even get me started. Charlotte is like an only child, the apple of its corporate helicopter parents' eye: It has everything it needs, and often a little bit more, and if it has a fault it may be that when other children get recognition it can occasionally get a little snippy.
Meanwhile, Raleigh has no corporate helicopter parents. It's a regional headquarters town, which means no CEO puppet-master says, "Public transit! Get on it!" Our region's various managers are almost never on the same page, so Raleigh needs to work doubly hard to get anything done. Far from an only child, Raleigh is like a kid from the family down at the end of the street, where they have a bunch of kids, and you think you know the parents but you're never quite sure who's in charge. That's kind of weird but can be kind of cool, too. The city gets a little tougher for having to fight for anything it gets. And recovering from the various indignities visited upon it by its parent-of-the-moment— city government, county government, regional partnerships, the legislature—renders it capable and responsive.
That's not to say that Raleigh is some variation of "Charlotte's hipper, cooler cousin," which is the kind of claptrap you get from convention and visitors bureaus. Each city has anything you're looking for— clubs, restaurants, sports, music. Nonetheless, its various masters have left Raleigh with a what's-around-this-corner weirdness.
Charlotte profits from its centrality, with its various stadia, arenas, halls of fame, and museums all placed lovingly downtown where they belong. Meanwhile, Raleigh in 1999 had its sports arena placed out on the highway, where other cities around the country realized arenas didn't belong in the 1970s. Even the North Carolina Museum of Art, a fabulous museum for the people of the state, was removed by the legislature from downtown and stuck out on the edge of town, so nobody actually had to visit Raleigh to see the pictures, and because, well, that's what legislators do.
But Raleigh has responded to both insults. The sports arena still does a fine job hosting the NHL Hurricanes and North Carolina State Wolfpack, though because its surroundings offer people nothing to do before or after the games, it has been no help developing nearby areas as Charlotte's arenas do. On the other hand, Raleigh shrugged its shoulders and built a convention center downtown, which brought with it a 5,000-seat outdoor concert venue and a new street-fair tradition that ended up with the annual International Bluegrass Music Association convention, which has blown minds and reminded people that bluegrass has Carolina as a home. As for the North Carolina Museum of Art, Raleigh simply took the bleak surrounding acres forced on it by sneering legislators and turned them into an art campus full of sculpture and performance spaces and landscape art and greenway trails. That turned out to actually be the next big thing in art, so Raleigh ended up looking prescient, which it was not: It simply made the best of a bad lot and got lucky.
As for cool and hip: I live in Raleigh, and I can promise you that the constant accolades have merit. Raleigh, a city of 450,000, is amazingly diverse, and its arts, music, drama, literary, and scientific communities are thrillingly accomplished. And it has two bean-to-bar artisanal chocolatiers. Regarding food and drink, I'll again plead residency: I've spent time in Charlotte's South End and uptown and seen (and loved) the obligatory raft of microbreweries and galleries opened throughout the city by ex-bankers and other businesspeople. I live in Raleigh, though, so the three microbreweries that have opened within walking distance of my house strike me as better. Because I can walk to them.
Now, small businesses? There you might find a real difference. Charlotte profits from its corporate headquarters. But if you get laid off from Bank of America, you're unlikely to start an artisanal bank. Raleigh's academic and tech companies, on the other hand, expect their employees to open their own competing businesses after 10 years or so; it's in the life cycle. So we get things like the IBM escapee who created the successful micro-social-network app WedPics in his basement. Its owner also recently founded a bicycle-based taco vendor, based on something one of his co-owners saw growing up in Mexico City. Raleigh also has the same beer trolley Charlotte has—though it started its North American life in Raleigh. Raleigh is more of a bottom-up town.
And, significantly, Raleigh's more town than city. Walk the center of Charlotte, and you're in the Carolinas' only genuine big city. That's fact: Don't even try to argue. Skyscrapers everywhere, with the 60-story Bank of America building and no fewer than six with 40 stories or more. Meanwhile, Raleigh's tallest is 33 stories and wears a triangular hat that makes it look like the Tin Man. No comparison: Charlotte is prosperous and growing and deserves its reputation as the Carolinas' big-league town. Raleigh is more like one of our countless small towns that has found a way first to hold on and then to prosper
I've wandered, but my point is simple: I believe the Raleigh-versus-Charlotte feud is mostly made up. I've never heard an actual Raleighite express anything like jealousy of Charlotte; nor has an actual Charlottean ever told me he or she envied Raleigh, though I have heard many from each city accuse the other of envy. I have heard Charlotte called "car lot" by the uninspired, and the old Andy Griffith chestnut about Raleigh being "where Barney went to party" never gets tired, though I think Raleigh actually likes it better than anybody else.
Charlotte started as a crossroads town, and business and exchange are forever in its makeup; Raleigh started as a land boondoggle, and that persists in its DNA. People who read Kiplinger's Guides to This or That can probably go on for months about how the two cities compete, but I see only learning. The Charlotte region clearly would like to emulate the success of the RTP model with the North Carolina Research Campus in Kannapolis; Raleigh would clearly like to follow Charlotte's lead on transit and center city development. Both cities are filled currently with cookie-cutter, five-story, stick-built, infill-o-matic apartment and condo developments, just as 15 years ago they both sprawled with McMansions.
The cities are relatives, to be sure, and they differ—but think less city mouse-country mouse than different high schools, which have pretend rivalries until everybody graduates and recognizes that the whole thing was actually kind of stupid.
In fact, that might get to the heart of the thing.
When I moved to town in 1992, Raleigh had cracked the 200,000-population barrier and was just beginning to think of itself as something other than a sleepy state capital. Charlotte, meanwhile, was twice that size, had a new NBA franchise, and was just finishing the Bank of America building. That's like having a 15-year-old and a nine-year-old in the same household. Each will spend hours, days, explaining what is wrong with the other. And when Aunt Somebody says, "Oh, they look just like each other," you brace for the explosion.
But add 20 years, and at 35 and 29 the two are peers, cohorts, and probably friends. Not that the old competition never rises, but it's no longer the point. To me, that's Raleigh and Charlotte now. They're brothers—or, OK, cousins—who have gone through their years of forced distinction. Nobody confuses them any longer, and when they look at one another, they no longer see what they refuse to be, or, worse, a reflection of what they actually fear they are. Charlotte once looked at Raleigh and saw the sleepy little town it hoped it had left behind; Raleigh looked at Charlotte and saw the soulless big city it feared it might become.
Funny thing, though. Charlotte—big, glitzy, professional Charlotte—still has the crossroads heart it's always had. And Raleigh—funky, weird mess of a city—is still a sleepy little burg trying to shake off a bad case of the legislators. Charlotte now actively seeks its soul; Raleigh builds skyscrapers. That is, the cities need only learn from each other now. And good thing, too: As legislators openly declare war on cities, Raleigh and Charlotte have gotten over their rivalry at just the right time.
They need each other.
Scott Huler is the author of six books of nonfiction. He is at work on his seventh, about the journey through the Carolinas of adventurer John Lawson in 1700-1701. You can follow that journey at lawsontrek.com. Follow him on Twitter: @huler.
---
This article appears in the September 2015 issue of Charlotte Magazine
Did you like what you read here? Subscribe to Charlotte Magazine »