Charlotte vs. Raleigh: People & History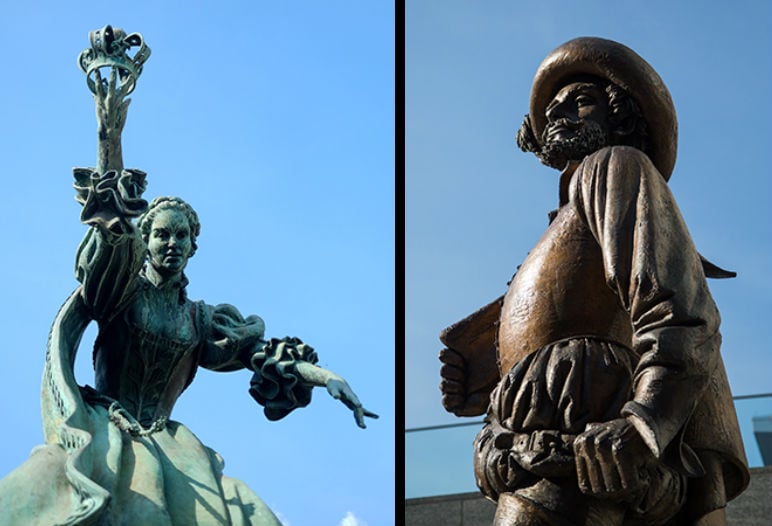 Which City Has More History?
That depends on how you measure it
YOU WOULDN'T THINK IT, comparing Charlotte's glass skyscrapers to Raleigh's museums and old, granite statehouse, but the Queen City is a few decades older than the "City of Oaks." Both started as crossroads towns better known for their taverns (Colonel Joel Lane's Tavern in what would become Raleigh; James Jack's in Charlotte) than anything else.
Neither city started out with a great reputation. George Washington famously called Charlotte a "trifling place" during his stay here in 1791. A year later, when the North Carolina government announced plans to buy 1,000 acres from Lane to create a state capital in what is now Raleigh, other North Carolinians balked. "The town, when established, never can rise above the degree of a village," wrote petitioners from Fayetteville, of all places.
The legislature met every year in Raleigh, and the town's population grew steadily throughout the 1800s. Charlotte experienced a few booms, gold-mining in the 1830s and the arrival of the railroad in the 1850s, but it wasn't until the 1900 census that Charlotte's population exceeded Raleigh's (18,091 to 13,643).
In the late 19th and early 20th centuries, Raleigh became a government and educational center with the establishment of N.C. State in 1887 and James Buchanan Duke's 1924 investment in Trinity College (now Duke University) in neighboring Durham. Then came the growth of Research Triangle Park in the 1960s and 1970s. Charlotte, meanwhile, made up for lost time, becoming first a textile center, then a financial powerhouse.
During all this time, Wake County racked up 83 state historical markers while Mecklenburg has only 39.
"There would be some in the historical community that say Charlotte has been too busy to take care of its historical resources," says Michael Hill, a research historian with the North Carolina Office of Archives and History. "The other reason [for the discrepancy] is because these markers have to be of statewide significance. Raleigh has the state capital, schools, and professional organizations."
It doesn't hurt that the archives and history office is in downtown Raleigh, either. Lately, though, Charlotteans have gained some ground. Earlier this year, a marker commemorating writer and activist Harry Golden went up near Independence Park. Next year, a marker for the Mecklenburg Resolves will go up on The Square in uptown, honoring the call for independence from Britain drafted by Mecklenburg County colonists in 1775, back when nobody could've imagined what these towns would become.
---
Where We're From
THE CITY OF CHARLOTTE had 792,862 residents in the most recent census report (2013). That's nearly twice Raleigh's 431,746. But Mecklenburg County (546 square miles) and Wake County (857 square miles) have about the same amount of residents, with about a million people in each. Here are all the stats you need to know about where we're from.
Out-of-Starters
From 2008-2012, an average of 50,000 people a year moved from other North Carolina counties to one of the state's two urban centers. Of the other 49 states, South Carolina provided Mecklenburg County with more new residents than any other, and New York was Wake County's top donor.
Also, each county has seen a major influx of foreign-born residents in the past 25 years. In fact, as much as people joke that Charlotte is the Ohio of the South or that Cary stands for "Containment Area for Relocated Yankees," it's worth noting that more Asians than Ohioans moved to Mecklenburg County in 2012, and more Asians than New Yorkers moved to moved to Wake County in 2012.
---
Namesake Knowledge
QUEEN CHARLOTTE
BORN: Sophia Charlotte, May 19, 1744
DIED: November 17, 1818, in Richmond, England
BIRTHPLACE: Mecklenburg-Strelitz, northern Germany
CHILDREN: 15
WHY CHARLOTTE'S NAMED FOR HER: In short, colonists were kissing up to the king. After a series of small rebellions and land disputes in the North Carolina Piedmont during the 1750s and 1760s, area landowners wanted to prove their loyalty to England. Naming their new county after the queen's birthplace, Mecklenburg, in 1763, and a new town after the queen herself (Charlotte was chartered in 1768), seemed like an easy way to score some points with the crown.
HOBBIES: Botany, music, and raising animals. Queen Charlotte was laid-back compared to Sir Walter Raleigh. She preferred rural environments and the outdoors, something that irked England's more sophisticated socialites after her marriage to King George III in 1761. Over the years, Queen Charlotte helped support and promote German musicians, including Johannes Sebastian Bach and a young Wolfgang Mozart, who performed for Queen Charlotte at eight years old. Queen Charlotte's most lasting contribution is her development of the Royal Botanical Gardens at Kew Gardens in London.
TRIBUTES IN CHARLOTTE: Visitors to Charlotte's airport have been greeted by a 15-foot statue of Queen Charlotte holding a crown in what appears to be strong wind. Another statue on College Street near 5th Street shows Queen Charlotte in a more familiar scene, surrounded by beds of flowers as two small dogs jump at her feet.
(IN)FAMOUS FRIENDS: Marie Antoinette. Charlotte and French Queen Marie Antoinette exchanged letters for years. When revolutionaries threatened to overthrow the monarchy in France in the early 1790s, Queen Charlotte prepared rooms for Antoinette as part of several plots to help French royals escape. It was too late, though, and Marie Antoinette was captured in 1791 and executed two years later.
ON THE AMERICAN REVOLUTION: "This diabolical war will continue to cost a lot of blood. Cursed be those who encourage the rebels." — July 28, 1775.
SIR WALTER RALEIGH
BORN: 1554ish
DIED: October 29, 1618, in London
BIRTHPLACE: Devon, England
WHY RALEIGH'S NAMED FOR HIM: Sir Walter Raleigh sponsored two British expeditions to Roanoke Island in present-day North Carolina in the late 1580s. Raleigh never set foot in the state himself, and the infamous "Lost Colony" vanished mysteriously. Still, the expeditions brought the first European settlers to North Carolina. When officials needed to name a new state capital in 1792, "Raleigh" seemed fitting.
HOBBIES: War, tobacco, and poetry. In his younger years, Raleigh traveled to France to fight for an ill-fated Protestant uprising. He was more successful in Ireland, where he helped English forces put down a Catholic rebellion and confiscate hundreds of thousands of acres of land. After earning knighthood around his 30th birthday, Raleigh preferred to stay in England, hanging around Queen Elizabeth's court. Always a trendsetter, Raleigh's habit of smoking tobacco from a pipe, which he had picked up on an earlier voyage to the New World, caught on with the royals and noblemen around the court. Around 1595, Raleigh set off for South America to look for gold. In the middle of all of this, he somehow found time to write a few dozen poems with memorable titles, such as The Nymph's Reply to the Shepherd and A Prognostication Upon Cards and Dice.
HOME AWAY FROM HOME: The Tower of London. First, an allegedly jealous Queen Elizabeth imprisoned Raleigh and his new wife, Bess Throckmorton, here for several months in 1592. Elizabeth eventually got over it, but it wasn't Raleigh's last brush with the law. Raleigh faced a longer sentence in the Tower after Queen Elizabeth's death, when newly crowned King James accused Raleigh and others of attempting to overthrow him. Raleigh had plenty of time to write over the next 13 years, churning out more poetry and a book with the modest title A History of the World. King James released Raleigh in 1616 and sent him back to South America to establish a gold mine. When that mission failed, the king sentenced Raleigh to beheading.
LAST WORDS: "Strike, man, strike," to his executioner in 1618.
---
This article appears in the September 2015 issue of Charlotte Magazine
Did you like what you read here? Subscribe to Charlotte Magazine »
---