Charlotte vs. Raleigh: Shopping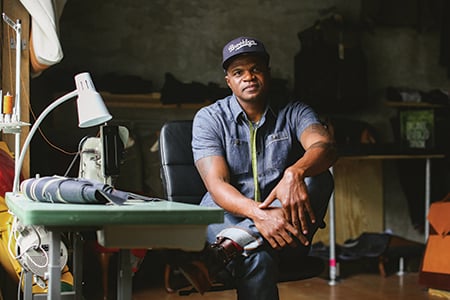 Buying Local
Both Charlotte and Raleigh have well-known designers of clothing and jewelry
JEANS // CHARLOTTE
Anarke Jeans
Stan Fraser started Anarke Jeans Co. 11 years ago in New York, where he grew up. When he moved to Charlotte in 2005, he decided to bring the company with him to a less competitive market that would appreciate the innovation. "I always knew what Charlotte didn't have," he says.
Fraser has long enjoyed the freedom of designing his own pieces. Inspired by his mom, who worked in fashion, and his yearning for clothes that emulated the high-end designer jeans other kids in school wore, he found himself at the sewing machine as a child, designing and making his own jeans. And he has successfully been doing so ever since. For the basic, clean look of his handmade denim, Fraser uses a minimalist approach. "I let the fabric speak for itself," he says. 601 S. Cedar St., Ste. 205E, 704-350-5685
JEANS // RALEIGH
Raleigh Denim Workshop
"To be rather than to seem." The North Carolina state motto is written in huge, bold letters across this Raleigh factory. Husband and wife Victor Lytvinenko and Sarah Yarborough started making jeans as a project in their apartment in 2007. Now, they've been accepted into the Council of Fashion Designers of America.
"Sarah and I have both been designers and have always been interested in the way things were made, from as far back as we can remember," Lytvinenko says.
Each pair of Raleigh Denim jeans, which can be found in major retail stores such as Saks Fifth Avenue and Nordstrom, is hand-stitched and signed by the Raleigh craftsman who made it. 319 W. Martin St., 919-917-8969
---
JEWELRY // CHARLOTTE
Melvin Jewelry
Martha Clifford is an entrepreneur who started making handbags in 2007. But when the economy went south, she turned to a new design project and asked her niece, Morgan Walker, to join her. The duo has been collaborating ever since, designing and creating jewelry pieces with wooden beads, metal pieces, and handknotting for their line, Melvin. Melvin was one of the first jewelry lines to bring the tassel bracelet and necklace to popularity more than three years ago. Celebrities such as Lena Dunham and Taylor Swift have worn their pieces. 228 E. Kingston Ave., Ste. G, 704-363-7590
JEWELRY // RALEIGH
Moon and Lola
Kelly Shatat launched her jewelry line, Moon and Lola, in 2003 after a successful career in pharmaceuticals. She has always had an affinity for fashion, jewelry, and all things sparkly. Moon and Lola, a name that originated from nicknames Shatat and her best friend gave one another in college, has what Shatat describes as "elements of lightheartedness and joy."
nd joy." The pieces in her collection—including acrylic monogrammed cuff links, chandelier earrings, statement necklaces, charm bracelets, and a multitude of personalized pieces—are ontrend, affordable, and addictive. In 2014, O, The Oprah Magazine selected the acrylic cuff links for its list of "Oprah's Favorite Things."
"It was one of the biggest honors in my life and something I can cross off my bucket list," Shatat says. "Oprah and her team were a dream to work with. I still get goose bumps when I think about it." 208 S. Wilmington St., 919-306-2257
---
ACCESSORIES // CHARLOTTE
Enemy to Fashion
About a decade ago, Caleb Clark, a California-born NoDa resident, created a fashion blog and started manufacturing bags in his spare time. Not long after that, Clark was selling these bags and other merchandise online. Demand grew, and he began shipping globally to places as far away as Japan. "I made one to 10 bags and then had 1,500 bags ordered," Clark says.
What started as a part-time gig turned into Enemy to Fashion, a Charlotte-based brand that sells throughout the world. This online shop carries merchandise from candles to hats and sunglasses, as well as "performance fashion" clothes such as yoga leggings and tees with the words "positive vibes only" boldly written on them. 3202 N. Davidson St.
ACCESSORIES // RALEIGH
Holly Aiken Bags
"Every bag is made in North Carolina and is lovingly constructed with precision and care to withstand the daily grind," says Holly Aiken, owner and designer of Holly Aiken Bags, a brand that started in 2002 in Raleigh.
When Aiken first started making bags, they were just for her friends. Then, she decided to quit her job as a graphic designer to start her own business. She describes her work as uncomplicated, with bags made from distinctive, indestructible materials—primarily vinyl and bold black webbing trim. Her designs are influenced by colors she's seen in dime store aisles and on vintage racing jackets. Most of the bags are accented with stripes or crisp geometric patterns, and then are sent to more than 30 wholesale accounts across the United States, in addition to being sold at the Holly Aiken flagship store in Raleigh. "Raleigh is and always will be home to me," she says. "I can't imagine a better place to do what I love." 20 E. Hargett St., 919-833-8770 —Emma Rosenberg
---
This article appears in the September 2015 issue of Charlotte Magazine
Did you like what you read here? Subscribe to Charlotte Magazine »
---