Charlotte vs. Raleigh: Sports
Charlotte has nine pro sports teams and two major events coming in 2017; Raleigh sits in the heart of ACC country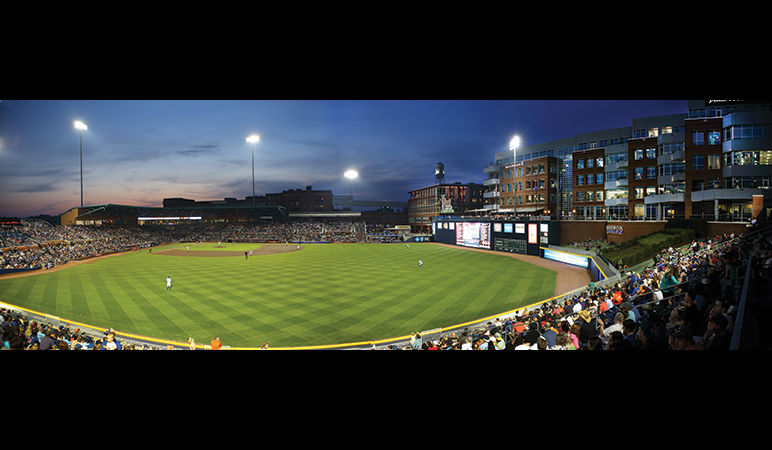 Top Five Athletes of All-Time from Charlotte
We asked eight writers who cover or have covered sports in North Carolina to vote for the best athletes from Mecklenburg and Wake counties. Rankings were determined by number of votes.
1. Stephen Curry
Basketball
You know about his family, about what he did at and for Davidson College. You probably know he led his NBA team to the title while earning the league MVP award. You know he shoots like a dream and dribbles like a magician. But get this: Steph Curry is the most popular basketball player in the world. He got more votes, worldwide, for the NBA All-Star Game than anyone else. He sells more jerseys, worldwide, than anyone else. We love you, Steph.
2. Bobby Jones
Basketball
In more recent years, kids around Charlotte know him as "Coach," as Jones coaches at Charlotte Christian. But the former South Mecklenburg High School standout was one of the best defensive players in history. He starred at UNC from 1971-1974, and then was a four-time NBA All-Star, winning the NBA title with Philadelphia in 1983.
3. Hoyt Wilhelm
Baseball
The Huntersville native and World War II veteran is in the National Baseball Hall of Fame. His best pitch was a knuckleball, and it was so good the teams he played for introduced a larger catcher's mitt to the sport. He set a then-Major League record with 1,070 games pitched, one of which was a no-hitter against the Yankees in 1958, all while carrying the nickname "Ol' Sarge."
4. Jim Beatty
Track and Field
By the early 1960s, the Charlotte Central High School and UNC Chapel Hill graduate was the best middle-distance runner (mile and two-mile events) in the country. And on February 10, 1962, he ran the mile in three minutes, 58.9 seconds, making him the first person to break the four-minute mark in the mile on an indoor track.
5. Walter Davis
Basketball
"Sweet D" was his nickname, and he was one of the smoothest players to ever play the game. The youngest of 13 children, Davis won three state championships at South Mecklenburg High School and twice was named the most valuable player of the state tournament. He went to UNC and played on the 1976 U.S. Olympic team, then became the 1977-78 NBA Rookie of the Year and a six-time all-star.
Honorable mention:
* Chris Leak, Independence High School, record-setting quarterback
* Charlie Sifford, first black PGA tour member, awarded Presidential Medal of Freedom in 2014
* Andrea Stinson, basketball player, North Mecklenburg High School, N.C. State, WNBA
Top Five Athletes of All-Time from Raleigh
1. Pete Maravich
Basketball
OK, so Maravich, one of the greatest showmen who ever dribbled a basketball, wasn't born in Raleigh. But his nickname, "Pistol Pete," was born when he was at Broughton High School and averaging 32 points a game in the mid- 1960s. Maravich left Raleigh and went to LSU, where he averaged an incredible 44.2 points per game in three years. A five-time NBA all-star considered incomparable in terms of creativity, he died during a pickup basketball game at age 40 in 1988.
2. Josh Hamilton
Baseball
"He was bigger than life," a longtime Raleigh sports writer once told Sports Illustrated of covering Hamilton at Athens Drive High School in the late 1990s. Hamilton was picked No. 1 overall in the 1999 draft. But he had constant struggles with drugs and alcohol. Then, in 2007 and 2008 he got clean. He returned to the game and, for a period, was arguably its best player. In 2010, 11 years after he was drafted, Hamilton was voted American League's most valuable player.
3. Julie Shea
Distance runner
A standout distance runner from Cardinal Gibbons, Shea went to N.C. State and won seven national titles in track and cross-country in the late 1970s and early 1980s. She was awarded the 1980 Broderick Cup as the top female athlete in the country, and later served on the Raleigh City Council.
4. Webb Simpson
Golf
At Broughton High School, he won the state golf championship in 2004. At Wake Forest University, he was a three-time All-American. And in just seven years as a professional golfer, he's already won the U.S. Open and been a member of the Ryder Cup team. There's one thing about Raleigh's golf golden boy, though—he now lives in Charlotte.
5. Scott Hoch
Golf
Thirty-one years before Simpson starred at Broughton, Hoch led the same high school to a state championship in 1973. Thirty-one years before Simpson went to Wake Forest, Hoch went to Wake Forest. As a pro, he won 11 times on the PGA tour.
Honorable mention:
* John Wall, Word of God Christian Academy, first overall pick in the 2010 NBA draft
* Nate McMillan, Enloe High School, 12 seasons with the Seattle SuperSonics, NBA coach
* Willie Burden, Enloe High, ACC football player of the year in 1973
---
Pro City vs. College Town
On St. Patrick's Day weekend 1985, Charlotte's professional baseball stadium went up in flames. Crockett Park in Dilworth had been the city's home to minor-league baseball for more than 40 years. But after the fire and a couple of seasons in a makeshift replacement stadium, the team moved to Fort Mill, and for the next quarter-century, Charlotte baseball was played in South Carolina.
In 2014, though, construction crews finished work on the sparkling BB&T Ballpark in uptown, and suddenly the Knights went from one of the worst-attended teams in the minor leagues to the best.
Raleigh is where Charlotte was. The iconic Durham Bulls, made famous by the movie Bull Durham, are 25 miles to the west. And the Carolina Mudcats play in Zebulon in a stadium set among trees and farmland about 25 miles to the east.
The only high-level baseball played within the Raleigh city limits, then, belongs to the N.C. State Wolfpack. That's fitting when talking about sports in the two cities: Charlotte is known as a professional sports town, while Raleigh is known more for being a part of the college sports hub in the Triangle—along with Durham's Duke and Chapel Hill's UNC.
That N.C. State baseball team, by the way, is usually pretty good. Just last year, in fact, the Wolfpack's best pitcher, Carlos Rodon, was drafted third overall by the Chicago White Sox. Rodon quickly advanced through the minor leagues, and by the end of the season he became a starting pitcher in Triple A for … the Charlotte Knights.
---
Pro Sports Breakdown
Charlotte
Carolina Panthers (NFL)
Charlotte Hornets (NBA)
Charlotte Knights (International League)
Charlotte Hounds (Major League Lacrosse)
Charlotte Checkers (American Hockey League)
Charlotte Independence (United Soccer League)
Charlotte Express (American Ultimate Disc League)
Charlotte Roller Girls (Women's Flat Track Derby Association)
Charlotte Elite (Tobacco Road Basketball League)
Recurring sporting events:.
CIAA Tournament (basketball)
Wells Fargo Championship (PGA)
ACC Football Championship
Belk Bowl
NASCAR Sprint All-Star Race
NASCAR Coca-Cola 600
NASCAR Bank of America 500
Upcoming major sporting events:.
2017 PGA Championship
2017 NBA All-Star Game
Raleigh
Carolina Hurricanes (NHL)
Carolina RailHawks (North American Soccer League)
Raleigh Revolt (Tobacco Road Basketball League)
Cary Invasion (Tobacco Road Basketball League)
Raleigh Flyers (American Ultimate Disc League)
---
Prep Powerhouses
How do Mecklenburg County's high school sports teams stack up against Wake's?
On a Friday in early June, the baseball team from Charlotte's Providence High School lost the first game in the best-of-three state championship series against Raleigh's Millbrook High School. The loss forced the Panthers into a position where they'd have to win two games in one day.
They did just that. They pounded Millbrook 10-0 in the afternoon game that Saturday, and in the winner-take-all final that night, they put a 10-2 whipping on the team from Raleigh, giving Mecklenburg County its 13th North Carolina High School Athletic Association state baseball championship.
Charlotte's high schools have competed against Raleigh's for state supremacy since before World War I, back to when there was actually a Charlotte High School and a Raleigh High School.
In the chart to the right, we look at how many state championships have come from Mecklenburg and Wake counties in sports tracked by the NCHSAA. Over the years, some trends emerged: Mecklenburg County schools have 32 football championships, compared to 11 from Wake County. In fact, no football team from Wake has won a state title since Garner in 1987, and no team from inside the Raleigh city limits has won one since Broughton in 1970.
On the other hand, there's golf: Since 1976, Wake County has claimed 22 golf titles, while Mecklenburg County has just three.
Some numbers are inflated because of dynasties. For instance, Cary High School's wrestling program owns 20 of Wake County's 23 championships, boosting Wake's numbers in a sport that's otherwise dominated by schools in rural areas of the state. No dynasty is more impressive, though, than Independence High School's football run from 2000-2007. The Patriots won seven consecutive state championships and put up the longest winning streak in America with 109 straight victories. Think about that: They didn't lose a game for seven years.
Visit North Carolina Sports Hall of Fame
Third floor of the N.C. Museum of History
5 E. Edenton St., Raleigh, 919-845-3455
Open Mon-Sat, 9 a.m.-5 p.m.; Sun noon-5 p.m.
Free admission.
---
This article appears in the September 2015 issue of Charlotte Magazine
Did you like what you read here? Subscribe to Charlotte Magazine »
---