Charlotte vs. Tampa: DNC vs. RNC
We've got the DNC. They have the RNC. So how do the cities stack up?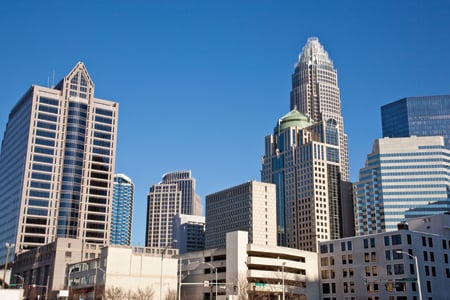 Tampa, Florida's official population is about half the size of Charlotte's, its metro pop is bigger. We don't have a waterfront, but Tampa envies our light rail. The Panthers lead the series with the Buccaneers twelve wins to nine coming into this season. And, oh yes, Charlotte is hosting the 2012 Democratic National Convention a week after Tampa hosts the Republican National Convention. Here's how the two mega-political events stack up.
DNC Charlotte 2012
Dates: September 3-6
Obama's margin of victory in
state, 2008: 0.33%
Electoral votes for N.C.: 15
Delegates expected:
5,500-6,500
Journalists expected:
15,000
Volunteers sought: 10,000
Hotel rooms to be filled: 15,000
Amount host committee seeks
to raise: $37 million
Price for an official convention
T-shirt: $30
Projected economic impact:
$150 million-$200 million
Federal government's
contribution to security costs:
$55 million
Average high and low temps
in September: 81, 61
Number of teams in the Major
League Baseball playoffs: 0
RNC Tampa 2012
Dates: August 27-30
Obama's margin of victory in
state, 2008: 2.8%
Electoral votes for FL: 27
Delegates expected:
5,000-6,000
Journalists expected:
13,000-15,000
Volunteers sought: 7,500
Hotel rooms to be filled:
15,000
Amount host committee seeks
to raise: $55 million
Price for an official convention
T-shirt: Not yet on sale
Projected economic impact:
$175 million-$200 million
Federal government's
contribution to security costs:
$55 million
Average high and low temps
in August: 90, 76
Number of teams in the MLB
playoffs: 1