Charlotte Wedding Venue: The Mint Museum UPTOWN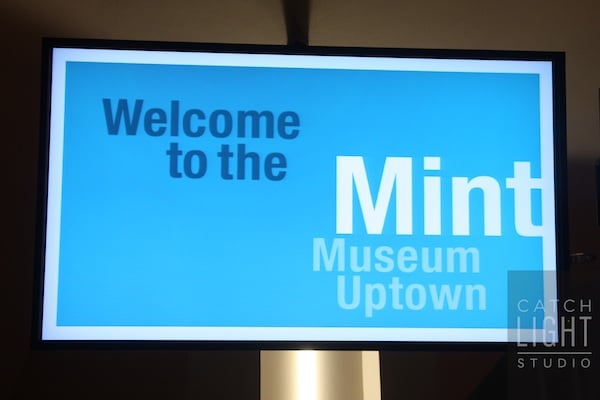 The day is finally here. The Mint Museum UPTOWN is O P E N as of 5 p.m. today! I had the opportunity to check it out on Wednesday night at a VIP Preview Party prior to its grand opening and my-oh-my is this space FABULOUS.
Before I show you all the fun pics, here's a quick run-down of the event space options for an engagement parties, rehearsal dinners, weddings, vow renewals, and receptions. Here's the rundown:
Robert Haywood Morrison Atrium
A multistory atrium with a 60′ by 60′ glass wall that overlooks First Street and the Knight Theatre. (And at night, the lights look amazing!)
The Mattye and Marc Silverman Grand Room and Trustees Terrace
A large, (4,009 square foot large to be exact) open room with the whitest walls that pretty much make this space a blank canvas for your event. It will accommodate up to 225 people for a formal dinner or 400 people for a standing reception so it's a great space for larger events. The adjoining Trustees Terrace has some ridiculously cool 5th floor views of uptown and its buildings.
The Board Room and the Conference Room
This is the spot for receptions or events with smaller numbers between 60 and 80, while the Conference Room only holds about 10. Have the exhibition galleries opened after hours to allow your guests to tour the facilities and you've got quite the party.
Wedding vendors from all over Charlotte were in attendance on Wednesday night sipping champagne, wine, and cocktails while noshing on bites from Something Classic, La Tea Da's, Best Impression's Caterers, One Catering, Delectables by Holly, Carpe Diem, Armin's Catering, Porcupine Provisions, Dean & Deluca, , Creative Catering, Granny Lucy's, and Plate Perfect Catering. (In other words, there was plenty of deliciousness to go around.)
A big thanks to George from Catch Light Studio for sharing some of the pics he snapped with me for the Bride + Groom blog!