Charlotte Won't Get Major League Baseball Anytime Soon
The city is decades away, despite the MLB commissioner's interest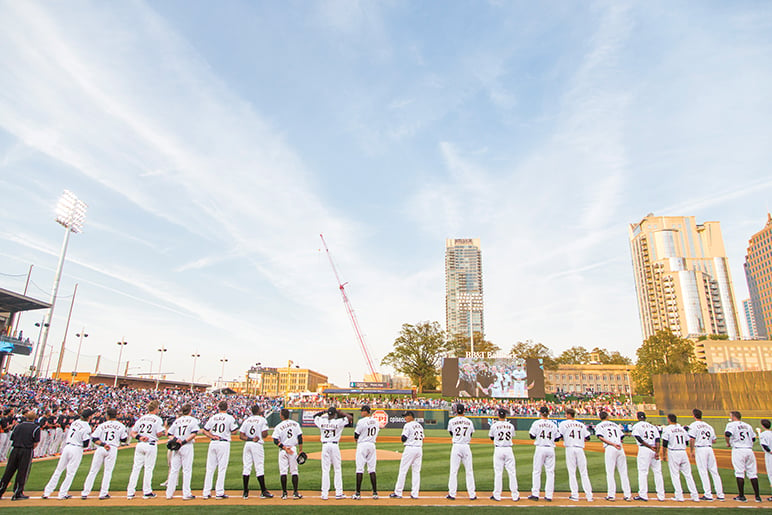 EVERY FEW SUMMERS, some executive at Major League Baseball rattles off a list of cities that could be attractive sites for an expansion team.
Every few summers, Charlotte makes the list.
Every few summers, local TV stations run breathless stories about the possibility of major league sluggers in uptown—complete with predictable one-liners about peanuts and Cracker Jack.
This year, the tizzy comes courtesy of MLB Commissioner Rob Manfred, who on Tuesday listed Charlotte—along with Montreal and Mexico City—as a "possibility" for a future team during an All-Star Game media blitz. Manfred acknowledged that any expansion to the major league's cohort of 30 teams is years away, until Tampa Bay and Oakland build new ballparks.
Could Charlotte be home to an MLB franchise? Absolutely, and it probably will. But the city is decades away from being ready, and what happens to our urban core in the interim will drive decisions about where a major league team could build a ballpark and, importantly, who would pay for it.
Supporters of MLB expansion point to the success of the Triple-A Charlotte Knights' move from an exurban stadium in Fort Mill to BB&T Ballpark in uptown as proof Charlotte could support a major league team.
But there are fundamental differences between the two enterprises.
Major League Baseball's 162-game season is longer than AAA baseball's and typically has more games on weekdays. Drawing fans for day games will likely be a challenge, even with the Knights' attendance track record.
BB&T Ballpark's capacity—10,200, with 22 suites—is far too small to be a major league park. Most MLB stadiums are between 35,000 and 50,000 seats, with 60-90 suites. It is possible to expand BB&T, but not enough to make up the difference, and certainly not enough to add the number of suites that a MLB owner would require.
That means an expansion team would need a new ballpark, and space for an MLB-sized property in center city is running out. When the Knights moved uptown, they were able to take advantage of an underinvested Third Ward; the land where BB&T Ballpark is today used to be surface parking lots and vacant buildings.
As Charlotte's urban core continues to grow, land will be harder to come by and more expensive, likely pushing a ballpark farther from uptown, and inviting a new debate. The old Eastland Mall site will no doubt be considered, with the pros (available land within six miles of uptown) and cons (weak transportation infrastructure and little adjacent private investment) that have always been associated with the property. Sites outside of uptown will bring inevitable comparisons with the "old" Charlotte Coliseum on Tyvola Road, which was isolated for years and became a point of contention between then-Hornets owner George Shinn and city leaders. Shinn wanted a new uptown arena, didn't get one, and took the NBA team to New Orleans.
There are probably privately-owned sites closer to uptown with attractive skyline views, but that land will be inherently more expensive than city- or county-owned property.
Further complicating plans for a potential MLB ballpark is the current debate about bringing Major League Soccer to town. Plans to build a $175 million stadium near uptown—using tens of millions of dollars in county property tax revenue and city tourism tax funding—have divided taxpayers, politicians, and city officials.
A major league ball club owner would likely expect some kind of public investment, given Charlotte and Mecklenburg County's history of subsidizing sporting venues with taxpayer dollars. Such a request would be a political doozy, especially after a fight about paying for a soccer stadium.
Economic development leaders I've talked with acknowledge Charlotte will probably get a Major League Baseball franchise (and ballpark) one day. But that day is decades away—despite what the MLB commissioner might suggest.
ADAM RHEW is associate editor of this magazine. Reach him at adam.rhew@charlottemagazine.com or on Twitter: @AdamRhew.