Charlottean of the Year 2014 (Arts): Hugh McColl
As he closes in on 80 years old, a banking legend continues to show Charlotte the way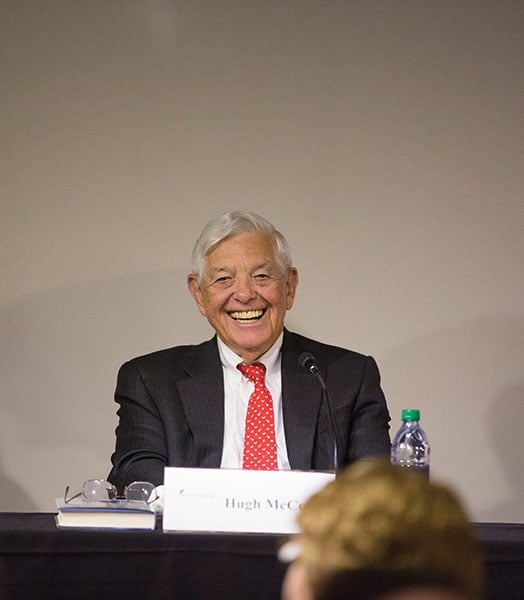 Hugh McColl wants to go home. He's spent the past hour talking about banking to a roomful of people who'd kill to know a cent of what he knows about banking, people who'd keep him here forever if they could, as if his next dash of wisdom will be a deposit toward their million-dollar future. In a panel-discussion setting, he covered everything from his philosophy on building skyscrapers—"If you spend millions of dollars on a building, you don't want the damn thing to be short"—to his beliefs about the future of Charlotte's leadership—"We'll never have five or six people running [Charlotte] again, mainly because the five or six of us who were running it are either dead or waiting." When the discussion is finished, there's no back door to leave through, so the only way out is through the crowd.
He was once the most powerful banker in a capitalist country, the man who added enough banks together to create something called Bank of America. In 1992, Bill Clinton met him at a hotel in Georgia, and the two stayed up "half the night talking about interstate banking," Clinton said later. Now, though, McColl is 79 years old and long retired from the bank and, on this night, he's walking with a slightly hunched back toward the exit.
He's hardly the only important person in the room. Harvey Gantt, Charlotte's first black mayor, is here. And the venue, the Levine Museum of the New South, offers plenty of other things to explore. But in any room in any building in any part of Charlotte at any point over the last half-century, McColl commands the most attention.
I stand at the end of the line, near the door, waiting to ask for a favor of my own. I'd like to talk to him, at some point, about Thrive, the $45 million fundraising campaign he's been secretly working on for two years, a campaign to save Charlotte's major arts organizations. My request isn't a small one, and I know that. Even now—or perhaps especially now—few things in this money-driven world are more valuable than Hugh McColl's time.
"Yeah," he tells me in his sharp South Carolina drawl. "I'll do that."
He gives me a phone number and I scribble it down, and then I look up to say thank you.
"Uh-huh," he says, looking over my shoulder to spot a museum employee. He reaches around me to tap her arm. He pulls a parking deck ticket from the pocket of his suit jacket.
"Excuse me," he says. And then, the only favor he asks of anyone else all night: "Are y'all validating these?"
***
HOW MUCH LONGER can we keep him in the room? How much more can we ask of him?
If we're fortunate, we get 50 years with our fathers, 50 years to wring everything we can from their instinctive love for us.
Charlotte's had McColl for 55 years. When he first moved here in 1959, the region's population was only slightly larger than Greensboro's. Now, it's three times the size. The city was only a little more than half the size of Birmingham; now, it's nearly four times larger. McColl built a bank, yes, and he built his personal wealth, yes. But for everything he earned, he gave. He built skyscrapers and transportation centers and museums. He built the city's identity. Have you ever heard someone say Charlotte's a great place to live? That it's on its way to being a first-class city? Hugh McColl helped install those phrases in conversations about our city. When someone says, "Charlotte is ____," chances are McColl filled in the blank.
"Can I think of a mirror of Hugh McColl in another city?" says Michael Marsicano, the president and CEO of Foundation for the Carolinas. "I cannot. There's nobody who's had such an impact on a city as Hugh McColl."
And still, we need him.
Three years ago, some of Charlotte's most notable cultural institutions—including the Charlotte Symphony—were on the verge of collapsing. Since then, McColl's helped raise nearly $40 million to keep them going, not just for now, but for years to come.
He's under no obligation to do any of this. He owns a ranch in southern Texas, about 65 miles north of the Mexico border, where he raises longhorns.
He could go there and watch sunsets as his ninth decade approaches, and he could tell us that we're on our own, and nobody would have any right to criticize.
So why doesn't he?
***
GO BACK 55 YEARS, and picture him as a young man. He'd just spent three years in the United States Marine Corps, and he was on a tour of Europe with a group of college students when he met a woman named Jane.
He'd grown up in Bennettsville, South Carolina, the son of a man who'd closed a bank to become a farmer. She'd grown up around the arts. When you're that age or any age, and whether you have lots of money or no money, whether you're the son of a farmer or the son of Jimmy Stewart, the only thing that matters is what she wants.
In London, McColl noticed that My Fair Lady was playing at the Drury Lane Theatre. He bought two tickets. As the original cast performed a classic, the young man from South Carolina didn't notice anything but the woman sitting next to him.
"I didn't know what I was looking at," he says now. "[The show] was interesting to me, but of course, Jane was more interesting to me at the time."
They were engaged by the end of the trip and married that fall.
McColl started a new job that year, too, going to work for American Commercial Bank in Charlotte. That bank merged with another bank, and seven years later, McColl became vice president of North Carolina National Bank. Seven years later, he became president.
In the mid-1970s, he was on his way to building the most powerful bank in the state when he realized that to recruit talented workers, he had to create ways for them to be happy living here. During one meeting, McColl was trying to convince an insurance executive to move his company to Charlotte. The executive brought his wife, and McColl remembers hearing her say she liked that Charlotte had a symphony.
"It matters to the CEOs," McColl says, "but it also matters to their families. If you're trying to get good people, you have to have a city that's interesting to people."
***
SOME PEOPLE WANTED to let the symphony die. They saw an institution that ran 12 straight years of deficits in the early 2000s, and they wanted to let it go.
Pat Rodgers, the president and CEO of Rodgers Builders, remembers hearing the calls. She was the chairperson of the symphony's board of directors from 2008 to 2010, the heart of the financial collapse. She watched as the workplace-giving model that funded the Arts & Science Council crumbled, and she was there when that council cut back its annual grants to the symphony by about $1.2 million. The symphony burned through its reserves, and by 2011 or 2012, it was on life support.
"There were a lot of people in town who said, 'Just let it go down,'" Rodgers says. "But he was not going to let it go."
When McColl learned the depths of the symphony's struggles, he called Marsicano, one of his mentees, and the two met at a restaurant one day to discuss options.
"How many times have we tried to save the symphony?" McColl asked.
"About six times since we've known each other," Marsicano, who arrived in Charlotte in 1989, replied.
"Well," McColl said, "we need to go about it differently this time."
***
THE BANK OF AMERICA corporate jet seats only about a dozen people, but it's clear who's in charge: the CEO sits in the front row.
In the late 1990s, Bob Stickler was in the back of the plane when he got called to the front to talk to McColl about a problem.
The two had met in the 1980s, when Stickler was a banking reporter with the Miami Herald and McColl was first looking to buy banks in Florida.
Stickler left the paper in 1990 to work in communications for Barnett Banks Inc., the biggest bank in Florida. In 1997, NationsBank, run by McColl, purchased Barnett. Stickler had a new boss, a new job, and he relocated to Charlotte. NationsBank soon became Bank of America.
Part of Stickler's job was to write speeches for McColl for investor relations meetings in New York.
In one of the first speeches, he made a mistake. A sentence cut in half. A copyediting error. McColl was a skilled speaker by then, and he was able to tiptoe through the trouble spot, but he wasn't happy.
On the plane trip home, McColl summoned Stickler to the front.
"Bob," he said, "I like things to be perfect. This was not perfect."
It took Stickler years to make up for it. One day in 2000, McColl wasn't crazy about the first draft of his CEO's letter to shareholders. He asked Stickler to fix it. Within a few hours, Stickler, sitting in his 56th floor office in the Bank of America building uptown, finished the letter and sent it upstairs to McColl's office on the 58th floor. A few hours later, a copy of the letter landed on Stickler's desk with McColl's handwriting.
"He'd scribbled 'Bob Stickler,'" Stickler remembers, "with a big smiley face."
***
NOBODY SAYS NO to McColl. A dozen years later, Stickler, a longtime fan of the arts, was named the interim executive director of the Charlotte Symphony. The organization's
financial troubles were growing more grim: What was originally believed to be a $2 million-a-year hole was actually closer to $3 million.
Stickler took the job believing he'd simply manage the situation until someone else was hired. But that spring, at a reception at a donor's house, Stickler was walking down the stairs with McColl when the former bank executive asked him to consider dropping the interim tag: "Bob, would you take this full-time?"
"I've never said no to him," Stickler says now. Stickler applied and was hired by the board of directors.
By the time Stickler was in place full-time, McColl had already started to work on his plan, along with Marsicano and former ASC president Scott Provancher. They would raise $25 million to help cover the symphony's gap for 10 years, giving the group the time it needs to find new ways to balance its budget.
Ten years, McColl believes, will solve the problem long enough "so I don't have to do it again," he says.
Because there's no saying no to McColl, he's made raising money look easy: Even without a formal name for the campaign, people gave. The fundraising went so well that Marsicano and Provancher talked him into changing the goal: Instead of $25 million for the symphony, why not $45 million for the entire arts scene, including the Charlotte Ballet and other major institutions?
They raised money for more than two years but didn't go public with the campaign until this summer, when they announced its name as Thrive. By October, Thrive had already raised $39 million of the $45 million goal.
The symphony, at least for the next decade, is saved. And in the front row of the grand tier, nearly every Friday night, a banker and his wife will be there listening.
"The symphony is the sound of the city," McColl says. "You have to have a symphony to be successful."
***
A FEW DAYS after the Levine event, I call the number McColl had given me. His secretary explains that he won't be in town much in the coming month. He's traveling.
Three weeks go by, but one day I come to work to a voice-mail message. "Michael, this is Hugh McColl. Sorry I missed you. Call me back."
Nobody says no to McColl.
When I call the number he left, a man answers. It sounds like him but I'm not certain, so I say, "I'm looking for Mr. McColl."
"Who's looking?" he shoots back.
"This is Michael with the magazine."
"Well, you got him."
He tells me to call him back that afternoon. When I do, the 79-year-old retiree is driving from one meeting to another. The reason he'd been out of town, he explains, as if Hugh McColl needs to explain anything, is that he went to Italy with Jane. This year marked their 55th anniversary. His voice rises and he laughs a lot when he talks about the vacation.
The more he talks about Jane, the more I wonder: What if he hasn't spent all of these years building and preserving Charlotte's arts scene for everybody else? What if it's just one big love poem to his wife, to give her the city she wants? Wouldn't that be something?
Or, what if it is, in fact, all for Charlotte, without a twitch of personal motivation? What if it really is all for us?
Soon, it becomes clear that his motivation contains a little bit of both. It's all part of building something he calls home.
During a 19-minute phone call, he uses the word "city" or "Charlotte" 26 times. In a town full of booster-ism, nobody's better at it than McColl. When he's in meetings to try to raise Thrive money, he says, "I'm really only talking about the city. It's not about the arts. It's about the city. … People can move anywhere in the world today, and they're going to come to cities where they can have a well-rounded life. You've got to care about the city."
But still …
The ranch …
More trips to Italy …
Why not relax and let someone else take care of Charlotte?
"I came here as a young man," he says. "I've been married here for 55 years. I've raised a family here. I've got grandchildren here. It's just a great place to live, and I want to keep it that way."
Then I make a mistake. I try to compare the city to the bank. I try to fumble through a question about how nice it must be to still be involved in the city, to still be able to shape it, as opposed to the bank, which he's had to observe while it endured a mortgage collapse and recession since his retirement in 2001.
"I don't want to comment on that," he says. "You're getting ready to lose me."
So I switch the subject back to Italy, just to keep him on the line a little longer.
For their anniversary, he and Jane went to cathedrals and art galleries and saw frescoes and ate local food and went to "every hilltop in Tuscany."
"It was 13 straight days of sunshine," he says. "But, of course, it's been nice in Charlotte, too."
Michael Graff is executive editor of this magazine. Email him at michael.graff@charlottemagazine.com, or reach him on Twitter: @michaelngraff.
---
Honorable Mention: Patricia McBride
AFTER SITTING at a small table in her office for a 45-minute interview with a reporter, Patricia McBride apologizes for standing up and putting on her ballet shoes. She doesn't usually sit for so long at one time, McBride explains, her leg sliding into place waist-high on a makeshift barre, and she likes to warm up before teaching class.
McBride gently bends her knees into plies and leans forward again, her dark-brown, bobbed hair sliding along her arm. Her grandkids' art is tacked to the wall. McBride, a living legend, whose name is on the Charlotte Ballet building facing North Tryon Street, is 72 years old.
She will be celebrated this month as a 2014 Kennedy Center Honoree alongside Al Green, Tom Hanks, Sting, and Lily Tomlin. The Kennedy Center, famously opaque on how it selects winning artists, calls McBride "one of the world's greatest ballerinas."
That's not an overstatement: New Jersey-born McBride moved to New York City at age 14 to study with famed choreographer George Balanchine.
She became a Balanchine muse, and at only 18, she was named principal dancer at the New York City Ballet. She'd perform with the NYC Ballet—hours of practice a day, multiple performances a week—until age 46. Performing on that stage for that long is a one-in-a-zillion feat for any athlete. Her final performance in 1989, hosted by then-New York mayor Ed Koch, included 13,000 roses and dance partner Mikhail Baryshnikov.
Where's Charlotte in all this? In 1996, the city lucked out when McBride and husband Jean-Pierre Bonnefoux came south to direct the North Carolina Dance Theatre, which this year changed its name to the Charlotte Ballet. One recent morning, at the ballet's studios on North Tryon, McBride ran a rehearsal for students appearing in the Nutcracker. In a soft, almost sing-song voice, she corrects the position of the students' elbows, heels, chins. She does not intend to criticize, she tells me, but to correct—to make the dancers the most precise, the most beautiful.
"The purity of ballet—it's the perfection of it," McBride says, and as the dancers begin again, this time incorporating her feedback into their movements, her face lights up as if illuminated by hundreds of footlights. — Emily Harris