Charlottean of the Year 2014 (Public Service): Anne Tompkins
She prosecuted the mayor. She investigated Saddam Hussein's regime. She can be stern. But for Anne Tompkins, bringing justice brings her joy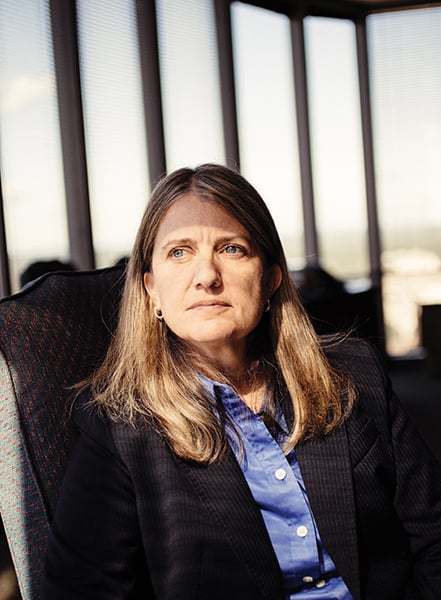 Only the judge and perhaps the deputies and the court reporter could see Anne Tompkins' face. Everyone else at the October sentencing of former Charlotte mayor Patrick Cannon—the friends and family crammed into the main courtroom, the roomful of supporters and journalists watching the proceedings on a television screen down the hall—could see just her long, straight hair, hanging below the narrow shoulders of her suit jacket.
But we all could hear her.
Facing the judge, Tompkins, United States Attorney for the Western District of North Carolina since April 2010, was refuting the defense's passionate claim that Cannon had, as all humans do at some point, slipped up.
"It's not a one-time lapse of judgment," Tompkins said. "We'd argue his acts became more brazen as time went on." Her tone was clear, steady, even cold.
A woman sitting near me sucked in her breath.
"This is a harm that will take a long time to heal," Tompkins continued. Cannon's case stunned a city that was accustomed to basking in its squeaky-clean image. She asked the judge to choose a sentence that would send a message.
"The message should be: Corruption within Charlotte's government will not be tolerated."
It was a huge moment, not just for Tompkins and Cannon but also for the city. His conviction came after a four-year, public corruption investigation that touched local business owners and developers. And the investigation is still open. Such things don't happen in Charlotte, people like to say. Tompkins loves Charlotte's image as much as anyone, but with this case, she proved everyone wrong.
United States District Judge Frank Whitney sentenced Cannon to 44 months in prison. The next morning, I meet Tompkins in her office. She seems remarkably relaxed. At her office building on West Trade Street uptown, a photographer takes her picture for this story and she compliments his shoes, sharing an anecdote about her own: "I call these my FBI shoes," she says, laughing, gesturing to her vintage black patent oxfords in the style of Eliot Ness, the legendary Prohibition agent.
She's comfortable and approachable, eager to listen and meet my gaze, more like a high school coach than an unflappable prosecutor. She doesn't think of her persona behind a podium and her personality over a cup of coffee as two different parts of herself.
She likes to attend Opera Carolina performances with her dad, and they study the opera together before each show. Her wife is a professionally trained chef who works as a landscape architect, and they recently took a wine-tasting class at The Fig Tree restaurant together. She has taught and advised law students and works on anti-bullying initiatives with Charlotte-Mecklenburg Schools. Perhaps the most remarkable thing about Anne Tompkins: She is a happy attorney.
***
BORN IN Waynesboro, Virginia, Tompkins moved with her family to Charlotte in 1971, when she was 10. She attended West Charlotte High School during the decade when it became a national model for racial desegregation in schools. And although she didn't take a direct route to a legal career, the profession was in her blood. Her great-grandfather was a city prosecutor in Philadelphia, and his daughter, Tompkins' maternal grandmother, graduated from Temple University's law school in 1924, four years after women won the right to vote.
Tompkins chose to major in political science at UNC Charlotte. She went on to work as a budget adviser for the city of Charlotte and earn a master's in public administration at UNC Chapel Hill. While doing all of that, she took the LSAT in secret and told her family only after being accepted to law school at Chapel Hill.
After she graduated from law school in 1992, she headed back to Charlotte to work as an assistant district attorney, and by 2000, she was a prosecutor for the federal government. Colleagues call her focused and intense. That's an understatement. In 2004, she spent eight months assisting the special Iraqi tribunal investigating Saddam Hussein's regime. All part of the job, she says. Her blue eyes twinkle, but she doesn't brag about herself, even when she can.
***
THE DAY CANNON was sentenced, after the TV helicopters circling the federal courthouse flew away, after the dozens of microphones and cameras went back into their cases, and after the necessary paperwork was filed at the courthouse, Tompkins got into her car. But she didn't go home to drink wine with her wife or celebrate with her friends and family. Instead, she drove north to UNC Charlotte, where she had a standing date to speak to the pre-law club.
"I'd made the commitment," she explains. "And didn't want to cancel on them."
The students greeted her with a few questions about Cannon's sentencing, but they were more interested in discussing the TV series How to Get Away with Murder.
Tompkins shrugs at the memory of ending a big day at work with … more work. "I get fueled by work," she says.
It remains to be seen if other public officials are creating more for her.
Emily Harris writes for the New York Times and Reuters, among other publications, and is a frequent contributor to this magazine. She can be reached at esabaum@gmail.com.