Charlotteans of the Year 2015: Amy Hawn Nelson
Half of our schools are segregated by race. Nelson, a researcher and CMS graduate, uses a passion for children and powerful data to show why that needs to change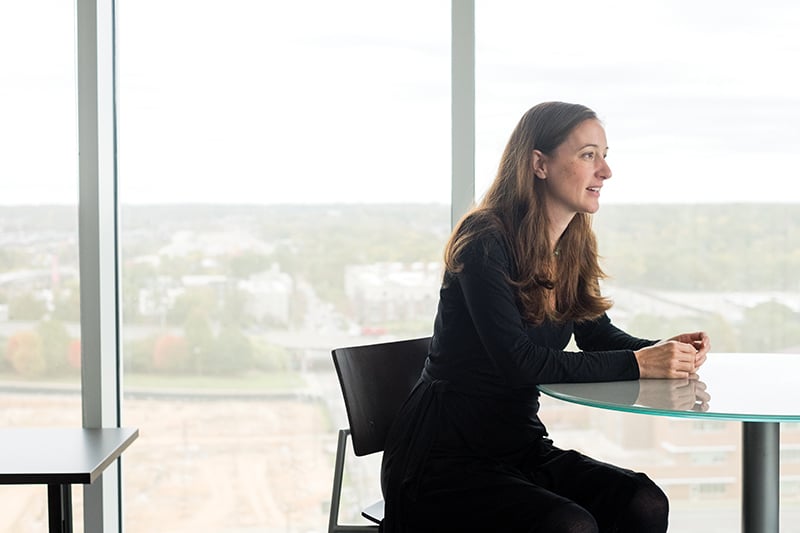 NEARLY EVERY time Amy Hawn Nelson gives a speech—and she gives a lot of them—she talks about her daughter. Fincher Louisa Nelson is a blond, smiling toddler who's often seen in photos wearing a sticker that says, "CMS Class of 2032."
For such a small person, Fincher has a big legacy. She's named after the first female resident at Carolinas Medical Center, Dr. Louisa Littleton, who happens to be her great-great-aunt. Her great-grandfather founded Trinity Presbyterian Church on Providence Road. Both of her parents attended Charlotte-Mecklenburg Schools from kindergarten through 12th grade. Her mother is one of the proudest CMS graduates you'll ever meet, and she's upset about what's happened to the school district in the past 15 years.
"Are we a community where we are OK with having segregated schools?" Amy Hawn Nelson, 36, asks one October afternoon in her cramped office at UNC Charlotte Center City. "Is that OK for you? It's not OK for me."
The question, which Hawn Nelson poses again and again in speeches around town, is a personal one. She graduated from South Mecklenburg High School in 1997, when the school district was still under a court-ordered desegregation plan that earned it a reputation for being a national model of racial integration. In the 16 years since the court order ended in 1999, much of that integration has been reversed.
Today, half of CMS schools are segregated by race—meaning at least 80 percent of their student population is one race—and a third are segregated by poverty. The long-term consequences of such isolation are dire. Residential segregation and struggling elementary schools contribute to Charlotte's lack of economic mobility. Studies show that students who attend racially isolated schools are more likely to be arrested and land lower-paying jobs. Those who attend diverse schools develop more complex thinking skills and are better prepared to work in an increasingly multicultural society.
"The data and the research is really clear that diverse schools benefit all children," Hawn Nelson says. "White children, middle class children—there's disproportionate benefit for poor children and for children of color, but they benefit all children."
She knows this because she has spent years analyzing the data. As an educational researcher, her mission is to help people make decisions based on numbers, rather than perceptions. Her approach is especially powerful this year, as Charlotte and cities around the country struggle to address the inequity in their neighborhoods and classrooms. Sometimes her data contradicts long-held beliefs about what's best for kids. When she presents her findings in churches and lecture halls around Charlotte, people gasp.
Hawn Nelson is deeply invested in this quest. Charlotte's schools educated her, her husband, and her parents, and they will shape the future of the little blond girl who's smiling in all of those photos.
***
THE SCHOOLS HAWN NELSON ATTENDED as a child looked very different from CMS classrooms today. Beginning in the 1970s, Charlotte-Mecklenburg was forced to comply with a federal desegregation order. Prominent white leaders such as the billionaire C.D. Spangler, who lived in Eastover, voluntarily sent their children to formerly all-black West Charlotte High School. In most other areas of the city, black schools were shut down and the children who attended them were bused to formerly white schools.
By the time Hawn Nelson entered kindergarten in 1984, diverse schools were embedded in Charlotte's landscape. Even her mother, who attended all-white Myers Park High School in the 1950s, didn't question it. "It was just what you did," Hawn Nelson recalls her mother saying. "It never dawned on me not to send you."
Hawn Nelson rode the bus for 45 minutes to attend Barringer Elementary near West Boulevard and Clanton Road. She did this for three years before returning to her south Charlotte neighborhood for middle school and high school. Meanwhile, many of her black classmates rode the bus for 45 minutes for 10 years, leaving their west Charlotte neighborhoods to attend school with her.
She and her friends had no idea they were participating in a court-ordered policy. Hawn Nelson performed in a play with students from West Charlotte High School and attended that school's prom. She graduated from college at North Carolina State University and joined Teach For America. Through it all, she thought diverse schools were the norm.
Then Teach For America placed her in a second-grade classroom in Baltimore. On her first day with students, she was shocked by what she saw: All of the children in the room were black. "How is this legal?" she thought.
That question would shape her career. Over the next 11 years, while teaching, working as a school administrator, and earning graduate degrees, she gathered data. All of her personal research, from her PhD dissertation to the book she recently co-edited, focuses on Charlotte-Mecklenburg Schools. She studies students who grew up during desegregation. She knows what the experience meant to them, and how much it benefitted both white and black kids. She also knows that it was controversial—many parents didn't like busing their kids, and black children often had to ride the bus for longer distances over a longer period of time than their white classmates. "Although it wasn't perfect and there are lots of issues with it," she says, "it's better than anything else we've done."
---

2015 Charlotteans of the Year Award Luncheon
December 18, 2015
11:30 a.m. – 1:30 p.m.
Tickets on sale now!

---
TODAY, SHE'S A NUMBERS-CRUNCHER. Her job titles are a mouthful: director of social research at UNC Charlotte's Urban Institute and head of the university's Institute for Social Capital, Inc. By day, she manages a database, facilitates research, and helps people in the community share data. But in her free time, she's always pushing for better schools.
For much of the past year, she's been presenting data about the re-segregation of Charlotte's schools to civic leaders and church groups. She's worked with Sandra Wilcox Conway, a local business consultant and public school advocate with marketing expertise, to hone the message and build media coverage. Their efforts were timed to coincide with the school board elections in November and next year's scheduled revision of the district's student assignment plan. The more community leaders learn about how segregated the schools have become, the more inclined they are to take action.
"I think a lot of people end up being shocked," says Justin Perry, co-chairman of OneMECK Coalition, a newly formed group that advocates for more diverse schools. "Denial can be a comfortable place. It's harder once you become aware of it."
Hawn Nelson knows the city can't return to the 1970s. Although she'd love an "audacious" change, she's not counting on it. Instead, she believes the district will make some improvements—whether it's lowering the concentration of poverty in some schools from 99 percent to 90 percent, or deciding that no school should have more than 80 percent of one racial or economic group. "That would still be such an improvement for that school and for those children," she says.
School board members are already discussing incremental changes in magnet programs and attendance zones that could help some kids become less isolated in high-poverty, segregated schools.
"There's a million ways to reduce concentrated educational disadvantage, and I am confident that we'll do something other than what we're doing," she says.
" 'Cause we gotta do something."
Lisa Rab is the articles editor of this magazine. Reach her at lisa.rab@charlottemagazine.com or on Twitter: @lisayrab.
AMY HAWN NELSON'S RECOMMENDATIONS FOR CHANGE
1. Hire someone to revise the CMS student assignment plan. There are national experts in this field.
2. Take a hard look at the placement of magnet schools. Most of the full magnet schools are located within a few miles of center city, which limits school assignment options for families in those inner-ring neighborhoods.
3. Look at pairing schools again. During desegregation, majority white schools were paired with majority black schools, and students were bused from one area of town to another. However, long bus rides are not required. Today, some schools of concentrated wealth are right next to schools of concentrated poverty.
4. Let's build some political will here, people, and let's re-draw some boundaries."
FAST FACTS
1 in 2: CMS schools are segregated by race
1 in 3 are segregated by poverty
It's not about busing. We bus more miles now than we did at the height of desegregation.
Read more: Yesterday, Today, and Tomorrow: School Desegregation and Resegregation in Charlotte, edited by Roslyn Arlin Mickelson, Stephen Samuel Smith, and Amy Hawn Nelson.
Online: Read Charlotte magazine's 2014 series on school segregation, "In the Rearview Mirror," here.
---
This article appears in the December 2015 issue of Charlotte Magazine
Did you like what you read here? Subscribe to Charlotte Magazine »
---