Charlotteans of the Year 2015: Cops & Barbers
Incidents involving police officers and young black men dominated the news locally and nationally in 2015. One Charlotte program, started by a barber with a hard past, aimed to bring the two together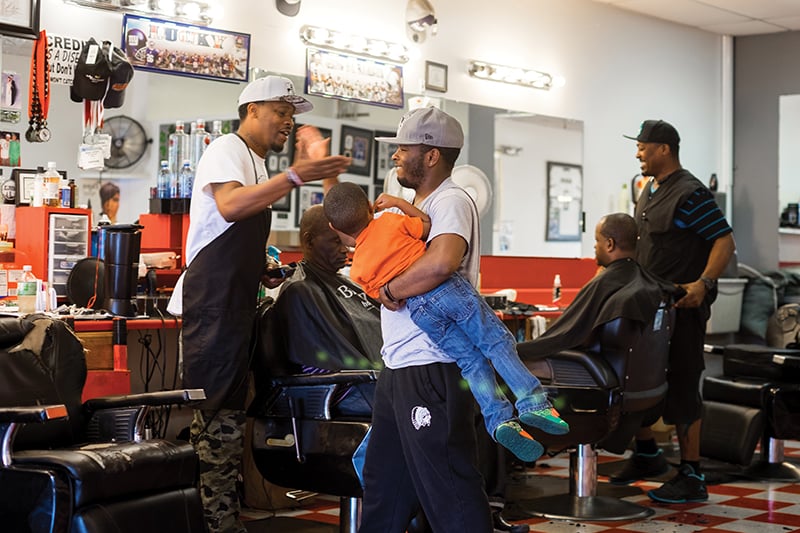 THE BOY WALKS IN, only now he's a man, and locks eyes with his barber.
"Well, look who it is," the barber says.
Lucky the barber has worked the same chair for nine years, giving haircuts and guidance to boys from the Sugaw Creek neighborhood. Lucky hits a button and his clippers stop buzzing. It's been a year since he's seen the young man standing in his doorway, Dez. The barber wipes his hand over a proud smile.
"Look at this man," Lucky says, slapping Dez's hand and pulling him in for a hug.
Dez has been in Afghanistan. All the way from here, this neighborhood off North Tryon Street, where nearly half the children are born into poverty, where one in every six households has a single mother, where many boys grow up selling drugs and breaking and entering—the same area of town that gave birth to the notorious Hidden Valley Kings gang. This is Dez's first time back in town since being deployed. The barbershop is his first stop. He's wearing a tight-fitting T-shirt to show off his Army muscles. "Dang, man, you doing like 500 push-ups a day?" Lucky asks.
The barbershop television is tuned to ESPN—hot takes about whether Lakers star Kobe Bryant still has any game dominate the conversation—and it's in surround sound. Lucky is wearing camouflage pants and a flat-brimmed Brooklyn Nets hat. He owns about 40 hats, one to match whatever outfit he wears that day. A tattoo on Lucky's neck reads "Lucky." His 12-year-old son Samire is here, too, doing homework in the corner, trying to keep his four-year streak on the honor roll intact.
"Hot over there?" Lucky asks Dez.
"Pssh," Dez says, "like 130 or something sometimes."
Across the room, a four-year-old boy named Jeremiah puts a plate of McDonald's hotcakes to the side, wiggles down from his chair, and runs toward Dez. He smashes face-first into the soldier's leg and latches on. Jeremiah is the grandson of one of the other barbers in the shop, but everyone seems like family. Dez pulls Jeremiah up and onto his shoulders, and promises to take him around town for the day.
Then they leave, one boy from the neighborhood all grown up, another boy from the neighborhood on his shoulders, walking out of Da Lucky Spot. Lucky picks up his clippers and gets back to work.
A little more than a year ago, on these same red-and-gray checkered floors, Lucky had a different feeling watching young boys and men walk out the door. The television was tuned to the news then, and the surround sound was blasting reports from Ferguson, Missouri, after Michael Brown's death. Lucky thought about his oldest son, Khalil, just 18 and with a new car, and he pictured him leaving the shop and getting pulled over for having a headlight out.
He thought about his own life, checkered in its own way. Lucky, now 36, grew up in Brooklyn, New York, when crack was really good business. He never knew his father. He hated cops. He was 10 years old when N.W.A.'s "F**k Tha Police" was one of the most popular and controversial songs in the country. He was 12 when he first sold weed. Almost as soon as he was old enough to drive, he started shuttling small amounts of drugs from New York to Charlotte, where his mother had moved. He was 18 when he was arrested for carrying a concealed weapon and resisting an officer. He was 19 when he began an eight-month sentence in the Mecklenburg County Jail for breaking and entering, and 21 when he served six more months for a DWI.
A year later, in late 2001, he was in a car that was pulled over. He stuffed a bag of cocaine in the seat to hide it, but the cops searched the car. He was arrested and faced significant prison time, but the charges were dropped because the search was deemed illegal. After that, he says, "I decided I didn't want to throw my life away."
Lucky tried to get a job honestly, always checking the box that said yes, he was a convicted felon. Nobody called. Filling out papers at a discount store called Value City, he left the box blank. He got an interview. He told the manager face-to-face about his record, told him he'd never had a steady job before, but he promised he wouldn't let the man down. He was hired. Customers came to know and love seeing him as the face of the store; Tammy Faye Messner was a regular. When Value City closed, Lucky went to Family Dollar as an assistant manager. His boss was caught embezzling money, and the store fired the whole team for it. That was July 2005.
A few weeks later, Lucky applied to No Grease barber school and got in. To pay his way through school, Lucky took a job at Fuel Pizza uptown. On Saturdays, he'd work in barber school from sunup to sundown, cutting hair for credit. Then he'd change clothes and serve pizza to drunk people leaving the uptown bars until 3 or 4 a.m. He cleaned the dishes and scrubbed the floors and was off by about 6 a.m., a 24-hour workday.
His old friends made fun of him. Called him Pizza Man, Pizza Boy, Mr. Pizza. Told him that there were far easier ways to make money. But he shut them off, didn't even dabble in the game they proposed. "As a person who's done damage to communities," Lucky says, "there's got to come a point in time where you have to make it right."
He landed his first barber job in 2006. Four years later, in 2010, he bought the shop where he worked. He started a back-to-school book bag drive for needy kids; a Thanksgiving turkey drive that serves hundreds of turkeys to people who wouldn't otherwise have them, a coat drive in winter, a wellness drive in spring. He gives free haircuts at each event. He's become the man kids in the neighborhood seek for guidance. People who sit in his chair include everyone from dealers to cops, from men on food stamps to athletes who play for the Carolina Panthers.
"Most of the people in my neighborhood don't have fathers, so they look up to him," says Kyerra McCallum, who once asked Lucky for career counseling and landed a full-time job as a bus driver a few months later. "Why not come up to the barbershop to hang out with Lucky? Lucky's gonna give you advice."
But when he saw the news out of Ferguson last year and looked at Khalil and Dez and all the other boys who were close to Brown's age, Lucky knew there was one thing he still couldn't teach them—how not to get shot by cops.
Lucky has a saying: "If you sit in the barbershop long enough, eventually you're going to get a haircut." He let that question of how to keep his son safe sit in his head, and eventually he came up with an idea, an idea that would become a program President Obama's office would recognize as a model for fostering relationships between cops and young black men, an idea that would help keep Charlotte calm after a controversial court case this summer, an idea that would become something known as Cops & Barbers.
---

2015 Charlotteans of the Year Award Luncheon
December 18, 2015
11:30 a.m. – 1:30 p.m.
Tickets on sale now!

---
YOU HEARD IT all around the country this year, after Ferguson, after Baltimore, after Charleston: We need to talk. Not through social media. Not behind protest signs. Not from pulpits with God and everybody watching. We need to talk, face-to-face, about race relations, about relationships between police officers and underprivileged communities, about any number of issues that are born out of the growing gaps in the country, the racial ones and the economic ones and the ones that cross both. What we're actually saying is that we need to live in the same room for a few hours.
In Charlotte, we had our own reason. Two years ago, CMPD officer Randall Kerrick, who is white, shot 24-year-old Jonathan Ferrell, who is black, 10 times in the middle of the night on a quiet street in eastern Mecklenburg County. Ferrell didn't have a gun, but Kerrick and his attorneys maintained that the killing was justified. During the buildup to the officer's trial this summer, the question became cliché: Would Charlotte become Ferguson? Or Baltimore? Would the city erupt like the others did?
Shaun Corbett was worried about that, too, when he came up with his idea. That's Lucky's given name, the name that once appeared on arrest warrants and convicted felon searches, the name that the White House now uses. In the fall of 2014, Corbett approached the N.C. Local Barber Association with an idea to develop forums in which cops and young black people talked, using barbershops as a place to rally kids to attend. The association's president is Gene Winchester, who happened to be the barber who cut then-CMPD chief Rodney Monroe's hair. Winchester told Monroe, and the next thing Corbett knew, he, a felon, was in meetings with people who had stars on their uniform collars.
"I can remember one of my closest homeboys, telling him, 'I just sat down with the police chief, and they're not only listening, they're asking me questions,' " Corbett says now. "Man, we laughed for like five minutes. He had tears coming out of his eyes."
In early January, Corbett and Winchester met with retired CMPD homicide detective Garry McFadden at a restaurant in Fourth Ward. They developed a plan, gave each other responsibilities, and never formally met again. Initially, the name of the town hall meetings was, "Hands Up, What Now?" But some people found that cold. McFadden suggested Cops & Barbers.
They unknowingly scheduled their first meeting for Super Bowl Sunday, February 1. "We had already sent the flyers out when we realized it," McFadden says. "So we kept it. And about 250 people came out. At that moment, we said, 'Well, if it worked on Super Bowl Sunday, this will work.' "
They quickly scheduled the next one for March 8. In the weeks in between, something terrible happened.
***
ON FEBRUARY 18, Paris Bey was asleep in her home off of Albemarle Road when her mother texted: "Your cousin got shot." Bey has multiple cousins in Charlotte, and one immediately came to mind. She got up and drove toward the hospital. Her phone rang. "It's Janisha," her mom said. Bey pulled over. Janisha Fonville wasn't the cousin she was thinking of.
"Who shot her?" Bey asked.
"A police officer shot her," her mom said.
The next day, Bey rounded up her family and tried to find out what happened. She talked to Fonville's girlfriend, Korneisha Banks. Banks said she and Fonville had been in an argument. Fonville, who'd been diagnosed with a mood disorder, took a knife and threatened to hurt herself. Banks had her sister call the police. When they arrived, Banks said, she met the officers outside and told them that Fonville had mental health issues. Minutes later, Fonville was dead, shot and killed by officer Anthony Holzhauer. Later, Banks would say that Fonville didn't have a knife in her hand when Holzhauer went in the house. Holzhauer's attorneys say she did.
Two months later, the Mecklenburg County District Attorney's office elected not to press charges against the officer.
Bey, who was a model and personal stylist at the time, became a full-time advocate for her family and people with mental illnesses and others who've been killed by police officers. She went to that March 8 Cops & Barbers meeting. She went to every one after that. The first few times, she was a silent protester, holding "Justice 4 Janisha" signs. She confronted then-Chief Monroe, who retired at the end of June. In early July, Bey went to a peace rally at Freedom Park. New CMPD Chief Kerr Putney approached her and told her he wanted to meet with her.
Two weeks later, they met in his office. Bey told Putney her story. She said her father was a police officer for 30 years in Columbia, South Carolina, and never shot anyone. She told him about Janisha, and how when she was feeling well, she was the funniest person in the family. Then Putney told his story.
Putney grew up in Roanoke Rapids, a small, poor, rural interstate town in eastern North Carolina. On October 20, 1979, Putney was 10 years old when his father's body was pulled from the Roanoke River. Thirty-six years later, Putney still believes his father was murdered, that the local sheriff's office didn't try hard enough before classifying it as an accidental drowning. "I thought they did a shoddy job," Putney says now. "I thought they didn't care about the value of a black life." He was raised by his five sisters and mother, along with a brother-in-law who still takes care of Putney's mother's yard in exchange for supper. Putney calls his brother-in-law his hero when he talks about him now.
Bey listened to the police chief 's story and choked up. She thought of her son, five years old. Although she maintains that Fonville's death was unjustified, Bey kept going to Cops & Barbers meetings—not as a protester anymore, but as an advocate for the program.
"I don't want my son growing up in a society where he can't trust a police officer," she says. "I don't want him being scared and running away and the cops thinking he's guilty because he's running, and then have him get shot. I couldn't handle that. I'm just trying to stop the next cop from killing the next person."
***
IN JULY, Corbett made two trips to Washington, one to the White House for the president's panel on 21st Century Policing, and one to a conference for police chiefs with Putney.
At the White House, he hustled from one room to the other, telling people about Cops & Barbers in short, small meetings. Lunch was a turkey sandwich in a box. At the police luncheon, so many people wanted to talk to him, he almost didn't eat. The first time he went through the buffet line, he filled up, put his plate down at a table, got tapped on the shoulder, turned around and talked, and by the time he turned back, his plate was gone, taken by the catering staff. He went back and got another plate and hid in the corner to eat. He and Putney still laugh about that one.
Putney says Corbett is "like a brother to me now." The chief even wrote a recommendation letter for Corbett's son for his college application. "He had the same passion I did," Putney says of Corbett. "I'm all in or I don't want to be bothered with it. I'm not in the middle."
Some people are skeptical of Cops & Barbers. Charlotte NAACP president Corine Mack has been to every meeting and says she would like to see the program expand to include more organizations around town. "The concept is a good concept," Mack says. "I don't think it's as far-reaching as they thought it would be. … Some young people feel like it's just propaganda for the police department. Obviously it is. And black people are still getting killed by police.
"It's a surface program. It's putting a Band-Aid on a deep stab wound."
Cops & Barbers has, in fact, evolved in its short life. This fall, the Sunday forums stopped and CMPD started Cops & Kids, a program in the schools. Cops & Clergy brought in religious leaders. Books & Barbers is a program where a barber can buy or find a bookshelf, snap a picture of it sitting empty, and send the photo to McFadden, the retired CMPD detective. McFadden will call the nearest library, and soon the shelf is full.
Corbett, who hasn't been paid anything for the work he's done with Cops & Barbers—"I wouldn't want to," he says—is using the success to work on other programs. First up is his Thanksgiving turkey drive. He's partnering with CMPD this time, and the goal is 400 turkeys. "You really don't know how many turkeys 400 turkeys is until you see it," he says.
He's also working to start a program to help get kids more involved in their neighborhoods. Part of that, he says, is encouraging young black middle and high school students to become police officers. Just 18 percent of the CMPD force is black.
"The problem isn't CMPD; the problem is that young black men aren't showing up," Corbett says. "Instead of talking about it, we're just doing it. These kids don't understand: You do this, you come up making 30, 40 thousand [dollars a year]. This is a career. This isn't just some gig at Bojangles'. This is a job that's going to break that generational curse."
***
LATE ON A FRIDAY AFTERNOON IN AUGUST, the Randall Kerrick case came to an end: the jury was deadlocked, with no chance of it breaking. Kerrick was a free man.
Protesters immediately began marching through uptown, block to block. The Knights were playing. Restaurants were filled with Friday night dates. Uptown life was happening. The protesters reached Trade and Tryon and lay down in the road. For seven hours, officers on bikes and in cars moved along with the protesters, blocking streets and opening them again. Putney was among the officers on the street. A protester stood up in the chief 's face. "I got my tongue-lashing," Putney says.
Two people were arrested all night. Putney, who went back and forth from the street to the control room, stayed around to meet with the officers early the next morning. He praised their work and gave them a grade of "a solid A."
"They were the most professional, composed heroes I've ever worked with," Putney says. "I was humbled by their restraint."
That same afternoon, Shaun Corbett, Lucky, was preparing for one of his most important days of the year. His book bag drive was on Saturday. For the first time, he partnered with CMPD's North Tryon Division. When he saw the news that the mistrial was official, he wondered how it would affect his drive. "I said, pardon my language, but, 'You've got to be f**king kidding me,' " he says now.
"Y'all couldn't wait till Monday?" He and a crew of volunteers filled book bags with supplies anyway. They took them to Sugaw Creek Recreation Center, and on Saturday morning Lucky waited and wondered what would happen.
Sugar Creek Road would shut down that day, but not because of protesters. The line of cars for the book bag drive started at the rec center and stretched back about a mile to the east, past a Baptist church, past a gas station, past the Hidden Valley apartments with the same name as the notorious gang, and past a funeral home, all the way to Tryon Street. Car after car, and not one protester, pulled in to get school supplies.
"Nothing but peace," Lucky says.
Five years ago, at his first book bag drive, he gave away 150 book bags. This year, he gave away more than 2,000.
Thing is, it was his second-biggest accomplishment of the week. On Thursday, two days before the book bag drive, one day before the trial of an officer who killed a young black man ended, Lucky's oldest son, Khalil, started his freshman year at Johnson C. Smith, where he'll major in criminology.
Michael Graff is the executive editor of this magazine. He can be reached at michael.graff@ www.charlottemagazine.com or on Twitter: @michaelngraff.
---
This article appears in the December 2015 issue of Charlotte Magazine
Did you like what you read here? Subscribe to Charlotte Magazine »
---