Charlotteans of the Year 2015: Dale Mullennix
Powerful words from the man who's trying to end homelessness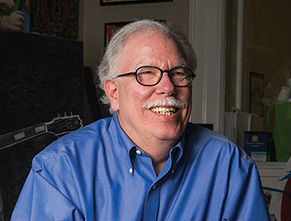 WHAT HE DID:
The executive director of the Urban Ministry Center for 21 years, Mullennix, 62, is the project manager of Housing First Charlotte-Mecklenburg, an initiative to end chronic homelessness in Charlotte by the end of 2016. Housing First—a partnership among two dozen public and private organizations in Charlotte, from churches to businesses to local government to nonprofits—created a registry of chronically homeless people this past January. It included 516 names. By the end of September, 165 of those had been housed.
WHAT HE'S LEARNED
The average guy who walks in here, his life is about survival. He's trying to figure out, How can I stay safe? How do I get something to eat? How do I stay warm, or cool? How do I stay dry? Questions that I never have to ask myself. And yet that's his full-time job.
That's what we don't understand about homelessness. This guy's working his tail off to stay safe, to get something to eat, to do these very basic things that the rest of us take for granted.
When you pity somebody, you're looking down on them. It's a divider. Rather than us connecting, we're now separated, because I see you as pitiful. What I want to do is identify the gifts and the strengths and the capabilities in you. … I can be a guide. I can be an encourager. I can be a helper. But I can't do anything about their suffering and pain by pitying them. I can do it by eliciting from them what they have within them to offer.
I think my job as a leader is first to tell the truth about the way things are; don't sugarcoat stuff. Tell the truth to people who sometimes want to hear it, sometimes don't want to hear it. I think my second job as a leader is to try to create a vision of what could be, and to present that vision in such a compelling way that people want to be a part of it. That's my favorite part, engaging the broader community and trying to figure out, where are they? What's their perspective on this issue, and what kinds of attitudes [do] they have, and how can I make a connection and make them see something more than what they were seeing before?"
I was the youngest of five kids. My brother, two years older than me, was born with heart disease. I watched him suffer for 10 years until he died. That makes an impact on you for people who are suffering. I didn't ask for any of that.
What is providential, that is, part of a bigger plan than me, was that I spent 15 years as a pastor to people of extreme privilege, which gave me this very broad worldview, that ability to see that poor people and rich people are more alike than they are different.
It wasn't an accident that I knew that crowd, was comfortable in that crowd, and then I married my wife, Jane, who was a pastor at Myers Park Presbyterian. Suddenly I got to be a bridge between the privileged folks in our community and the most unprivileged folks in our community.
I got to be this connector of people who probably wouldn't have connected any other way. … When we need to raise money, I've got relationships where money exists. But my own personal experience makes me sensitive to people who are suffering.
---

2015 Charlotteans of the Year Award Luncheon
December 18, 2015
11:30 a.m. – 1:30 p.m.
Tickets on sale now!

---
We've dealt with a lot of deaths, as you can imagine. We've dealt with a lot of tragedy. We have access to a trauma counselor when our staff needs her services.
We had a young guy from Liberia jump in front of the train right outside our gate. It cut his arm off, and he staggered onto our property. I just happened to hear kind of a rumble downstairs. I went downstairs, and he was coming to our gate. I thought, "What's he doing naked?" I thought he was drunk. He collapsed. I go running up there. Fortunately, we have an off-duty police officer here at all times. She was running up there with me. We got there, and his arm's gone.
It took me a while to get over that. I had to get some help to get over that. Because you just don't see somebody's arm cut off and say, "Oh well, that's another day's work."
You get to see lives changed. That's pretty amazing, that every day my team and I come to work, and we have the possibility that we might see something dramatic happen in somebody's life. What other job would I be doing where every single day, I can see something life-changing occur for somebody? It doesn't happen every day, but there's a chance that it could happen every single day. That's just amazing.
One day we went out in the soup kitchen line, and we invited 20 people who we knew were chronically homeless to be a part of a research project. We got 13 of them to sign waivers. Then we went to the county, we went to the jails, we went to the hospitals, and said, here are waivers, we want to get these peoples' records.
What we discovered just blew us away.
Those 13 people, in the previous three years, using [emergency rooms, mental health facilities, hospitals, jails, and detox facilities] had cost our community $1.4 million. One woman had been to the ER 88 times. Her average bill was $1,029, and then she died. Eighty-eight visits to the ER did nothing to improve her health. As a community we had spent almost $100,000, and we couldn't point to any positive outcome. That didn't make any sense at all.
When you divided up that $1.4 between the 13 over the three years, it came up to [about] $36,000 per person per year that it was costing us as a community to have these people on the street. You would think it would cost nothing to have them live on the street. But they were very expensive. That was a mind-blower.
So we did this pilot project [which moved chronically homeless people into housing]. We saw them getting healthier, safer, paying rent, reconnecting with family. And it cost us $10,800 per person per year. Who would have thought? So here's $36,000 to do nothing. We invested $10,800, and their lives were totally transformed. That just made no sense at all. But it's true.
After the pilot project showed us those outcomes, we decided to build Moore Place. It's an 85-unit apartment building [opened in February 2012]. We put the most fragile, vulnerable people we knew in there. In that building we have half a dozen social workers, a clinical director, a nurse, a psychiatrist, an activities director. Then we hired UNC Charlotte to evaluate our work so we'd have an independent voice on how we're doing.
About two-thirds of the 85 residents agreed to participate in the study. Comparing their two years of housing with their last two years of homelessness, we had reduced their hospital bills by $2.4 million. That's just unbelievable to me.
Data makes people believe you; stories make people care. So we always have to provide data, and we have to tell stories about John and Mary and Bill, so it becomes human, and that's what touches your heart. But the data is what gets me in the door.
There used to be a hardware store in Myers Park at the corner of Queens and Providence. I was in there one day. There was a fellow who was a part-time attender of the church I had served [Myers Park Baptist]. He was a doctor. He saw me and said, "Oh, I hear you're down there with the great unwashed."
I was kind of offended by that. So I said, "No, I'm no longer at Myers Park Baptist." I was just being a smart ass, trying to be funny. But as soon as I said it, I thought, "I'm kind of doing the same work."
Here, everybody's pain kind of spills out in front of the whole world. There, we can button it up and keep it to ourselves and be respectful. But underneath, we all want to be loved and respected. We all want to belong. We want to be known. We want to contribute. That's true here. It's true there. What's the difference?
We're an interfaith group, but we don't make anybody listen to a sermon to get any services. We invite a variety of congregations to come down from 12 to 12:30, one congregation at a time, to do a little prayer time or Bible study. It's entirely voluntary.
When we first started these prayer services, I chose to attend one day. We're sitting in a circle. This young woman, a layperson, said, "I'd like for us to pray together." Next to me is this guy who's homeless. He's got everything he owns in a Harris Teeter bag. He says, "Thank you, Lord, for all my blessings."
Here we are, coming up on Thanksgiving, where we're going to thank God for all the stuff we have, this guy has nothing. Not even a roof over his head. And he's thanking God for his blessings.
I wanted to interrupt his prayer and say, "Tell me what those are." You know? That guy knows something I don't know.
I was 10 years old when my brother died. I was sitting there in our church. This was an old-style funeral, where the congregation filed by an open casket after the service.
This is 1963. The first thing that struck me was all these dads that were there. You never saw a man. From breakfast, he was gone until dinnertime. You never saw dads during daytime.
Then, as a 10-year-old, you're so egotistical it's unbelievable. I'm sitting there thinking, "Wow. All these people are here because they love me." It never occurred to me that they loved my mom or my dad or anybody else. They're here because they love me.
All of a sudden it occurred to me that the feeling of being loved was more powerful than the grief I was feeling. That was my first-ever theological conclusion, the first belief system of thought I ever had: Wow, the feeling of being loved is more powerful than the worst grief I ever could have imagined.
That has shaped my life ever since.
If we can create an atmosphere of people being loved here, that's more powerful than the worst addiction and the worst homelessness there is.
Matt Crossman lives in Charlotte with his wife and two daughters. More of his work can be found at mattcrossman.com. He has a Twitter account: @MattCrossman_.
---
This article appears in the December 2015 issue of Charlotte Magazine
Did you like what you read here? Subscribe to Charlotte Magazine »
---