Charlotteans of the Year 2015: David Furman
Architect wants his projects—big and small—to help create a community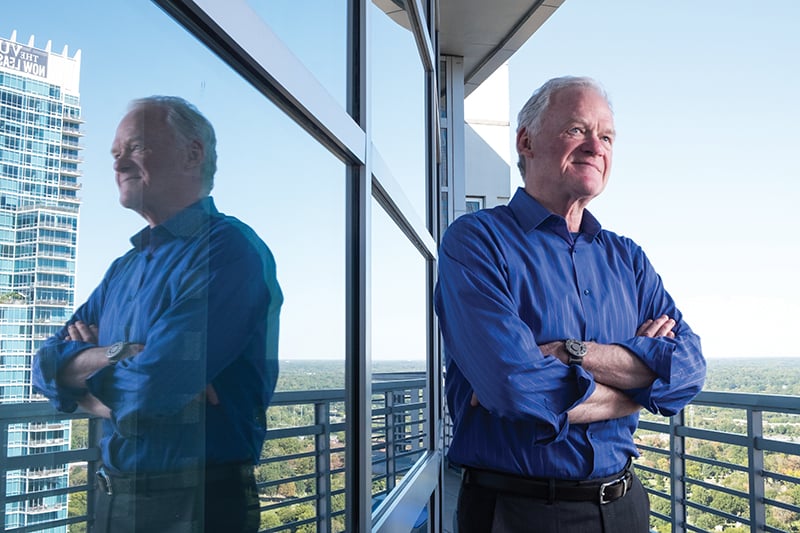 IT'S 2 A.M., and you're stopped at a red light. You're the only car around. The only other lights you see are more stoplights, shining red, green, and yellow to direct vehicles that aren't there. Do you ignore the red light to save yourself a few minutes? Or do you continue to yield the right of way to ghosts?
We don't expect our Charlotteans of the Year to be rule breakers. Yet sitting in his office on Trade Street across from a wall of ideas that still only exist in drawings, architect David Furman says he'd go through the red light every time.
"I guess it's just one of my deals—it goes back to being a kid, hating authority," he says. "I think there are so many rules in this world that are just for rules' sake. My philosophy is: If you live your life by principal, and those principals are morally and ethically substantial, then I don't care about the rest of it."
Principals. Morals. Ethics.
In today's booming Charlotte, new construction is everywhere. Apartment buildings tower over once-quaint neighborhoods in a race toward the next signature on a lease. It isn't an industry that inspires those three words. Yet Furman's buildings are thoughtful, with ground-level retail and a design that's tailored to the space. It's a departure from most construction in the city: massive, squared buildings that take up every inch of a lot. Furman believes these buildings are the results of a lack of inspiration and effort, mostly on the part of the architects hired by developers.
"I was going to get some T-shirts printed out that basically say, 'Just try,' " Furman says. "You don't have to be great. Just try. Just think about it—think about how you would feel walking down that street, and what kind of city you would like to be a part of."
Furman wants to build the city—even when the city might not necessarily agree. One of his first projects with Centro CityWorks, the urban housing development firm Furman founded in 2000, was the Quarterside complex in First Ward. The apartment building is typical of Furman's work: It doesn't look like any other building in the city and includes a wide walkway in front of storefronts on the ground floor, with plenty of community space. It also comes with a story typical of Furman's "guerilla activities," as he calls them, aimed at encouraging community engagement.
Quarterside, which covers a full city block bordered by Sixth, McDowell, Seventh, and Myers streets, sat across from an empty lot owned by the Charlotte Housing Authority that "looked like crap," Furman says. As people were moving into the new building, "I decided I was going to take that lot and make it better."
He hired a team to grade the lot, plant grass, and turn the eyesore into a park, all without telling the city
"The Housing Authority called me when they found out, and started chewing me out. And I went, 'Wait a minute; I just enhanced your property at my expense. What have I done wrong here? Why is that a bad thing? I've created a public park on a piece of property that you guys aren't even maintaining.' "
That was back in 2008. The lot remains green.
---

2015 Charlotteans of the Year Award Luncheon
December 18, 2015
11:30 a.m. – 1:30 p.m.
Tickets on sale now!

---
FURMAN, 67, used the recession of the early 1990s to transform his architectural practice into a development company, creating projects for his firm to design. For eight years, Furman and his business partner in The Boulevard Company focused on infill sites near uptown to produce innovative housing. Then Furman decided to create Centro CityWorks, working exclusively on urban, more adventuresome housing projects. The first Centro venture, Gateway Lofts, was completed in 2001 and was full of condos like Charlotte hadn't yet seen. Furman bought a site that was only 30 feet deep along the edge of a massive parking garage on West Trade Street in the Gateway Village project. In that space, Furman envisioned and built modern condos with sleeping lofts, exposed ductwork and concrete floors. The units sold out in 48 hours, a sign there was a market for what Furman wanted to do.
In the more recent recession, following the economic crash of 2008, things were different. Work dried up completely. So Furman decided to begin building on a much smaller scale, using old wooden objects to create sculptures.
He set up a studio inside of an abandoned car showroom on Trade Street, only a few blocks from where he lived.
"I basically just broke into it," he says. "I got a locksmith down there and I changed the locks. I told the locksmith I owned it. … It's amazing the crap you can get away with." To get temporary power, he told Duke Energy he was doing renovations in the building, and he hired an electrician to hook up his table saws and equipment. One of Charlotte's most prominent architects became a squatter in one of the city's abandoned buildings.
He created art there in secret for three years, until one evening he was found out.
Furman was in his condo on Trade Street that night when he heard sirens. He got out of bed, grabbed a pair of binoculars, and stood in his pajamas watching a police chase unfold. The pursuit, as luck would have it, ended in his makeshift studio. The driver crashed his car and ran into the building to hide. Furman recalls 25 police cars, sirens, rifles, and bullhorns surrounding the space that held his artwork.
"It was awesome," he says.
Until the next day, when the police called. They'd discovered his business card in the space.
"I reverted to being like six years old, when you get in trouble—you know, 'What were you doing?!' 'Nothing. Nothing going on in here.' "
They told him they were shutting off his electricity and he had to get all of his equipment out. But Furman had nowhere to move his equipment to, so he stashed it in another room of the building for three months until he found his current studio space along the light rail trail, diagonally across the tracks from 7th Street Public Market.
***
ON A RECENT weekday morning, South End residents are walking to work, and Furman is standing on the Rail Trail, the pathway he helped design that runs through the heart of South End along the light rail tracks. He's looking across the street at a building he designed on Camden Road, near Price's Chicken Coop. He bought the land and created the designs for a mixed-use office building, called 1616 Center after the building's address. When banks said the design was too unconventional for them to fund, Furman sold the plans to Beacon Partners, a larger development company, to see the building through. Furman stayed on as consulting architect through Axiom Architecture, a firm in which he's a partner, and the building is now fully leased. He points at an exposed staircase and explains that he wants it to be a communal outdoor space, a more social alternative to using an elevator.
About 30 years ago, when he was in his 30s, Furman designed a building pro bono for the first time. He remembers reading a newspaper article on the consolidation of Charlotte's crisis ministry, food bank, and clothing bank. He called one of the sources in the story and said he'd like to create the building. Since then, free of charge, he's been the architect behind McCreesh Place and Moore Place, housing communities for the homeless. He's also worked with his wife, Marilyn, to turn an old apartment building in east Charlotte into a transitional home for homeless men recovering from addiction. Marilyn is a psychologist with a doctorate from George Washington University. During her postdoctorate work, in the fall of 2003, she spent a year in Birmingham, Alabama, studying the variables that lead to substance abuse. The biggest key to staying sober, it turns out, is having a home key. So the Furmans joined with the Urban Ministry Center, where Marilyn works, to found the SABER (Substance Abuse Education & Recovery) Treatment Program, which provides housing and recovery support to the homeless. The Furmans' CentroBono Foundation funded the first few years of the project, until it could be fully integrated into Urban Ministry's budget.
Working on these projects, Furman began to notice that people spend less time in their own private outdoor spaces than sitting in the outdoor hallways with their neighbors. It was small-scale community engagement, something he is passionate about—and the reason he loves the Rail Trail.
Walking along the trail, Furman says hello to everyone who passes him. He points out new projects he has in mind and shows me others that are closer to completion. Each has ground-level retail, and many take into consideration what had to be torn down for the new building to go up. The 1616 Center office building on the corner of West Kingston Avenue and Camden Road is being built where a machine shop factory once stood. Furman found old pieces from the shop to use throughout the building's interior design, and a small display in the lobby will remind visitors of what was. "I guess I felt guilty," he says.
Recently, Furman has been helping Sycamore Brewing build out the piece of the Rail Trail that runs along the edge of its property on Hawkins Street. Eventually, he hopes Sycamore will extend the beer garden to the path.
Furman spends a lot of time walking on the trail. One day last year, he passed the patch of grass in front of a Duke Energy substation, which sits across the light rail tracks from the Charlotte Trolley Powerhouse Museum. This would be a great spot, he thought, if something were there—Adirondack chairs, painted bright yellow. Big, steel ones.
Not long after he had that thought, in April 2014, two sets of chairs appeared.
Then, this past spring, a big, brightly painted metal chicken materialized in the middle of an old fence that seemed to be fencing in nothing but a slab of concrete between the sets of chairs.
"I did get a call that afternoon from one of the people with CATS, and one of the people in the planning department, who were riding the train and saw the chicken. They immediately called me," Furman says of the mystery. "They said, 'David, I just saw this chicken.' And I'm just dying laughing; they're dying laughing. They said, 'Do you know anything about this?' And I went, 'Of course not. I don't know anything about it. I don't know what you're talking about.' "
A ping pong table appeared this past May in the pathway next to the Trolley Museum. It's just like one that Furman played on when he was at a recent conference in San Francisco. The table is hexagonal, with paddles that sit in a box attached to the side. Strangers passing by can become teammates in a heated three-on-three ping-pong match. A month later, a tall table with a set of chess and checkers pieces appeared around the corner. That table, too, just showed up in the middle of the night— as did the "Before I die I want to …" chalkboard that appeared on the Rail Trail back in March.
Today, that chalkboard is a mix of dreams, jokes, and confessions. As we walk past, Furman looks at one and laughs. "Lick Brad's Cat" is sprawled in yellow chalk across the board. His eyes scan the Donald Trump jokes, travel hopes, and secret aspirations.
"I love reading it," Furman says. "It can be proactive and funny, silly, and dramatic all at the same time. I just love the interaction on the chalkboard."
When the blackboard first popped up, the first dream ever written on it soon followed—again, mysteriously. It landed right near the center of the board, on the second line. In white chalk, the dream read: "jump out of a plane… and live." It was written neatly in all caps, purposefully and clearly—as if it had been written by an architect.
Kristen Wile is senior editor of this magazine and editor of Charlotte Home + Garden. Reach her at kristen.wile@charlottemagazine.com or on Twitter: @kristenwile.