Charlotteans of the Year 2015: Howard Levine
One of the most generous donors in North Carolina talks about what he's learned about leadership, philanthropy, and helping the needy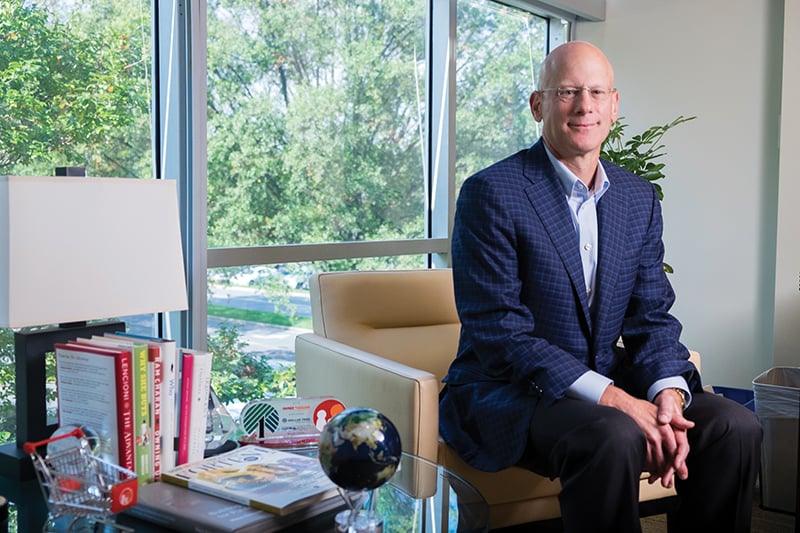 WHAT HE DID
The CEO of Family Dollar, Levine in March funded a $45 million donation to the Howard R. Levine Foundation, which is managed by Foundation for the Carolinas. The donation, which came shortly after Family Dollar shareholders approved a merger with Dollar Tree, brought the foundation's assets to $65 million and helped make Levine and his wife, Julie, among the most generous philanthropists in the region. The Levines intend to treat the donation like an endowment, from which they would donate a certain percentage of money every year. Levine said in October he's still not sure how much that percentage will be, but he intends to focus his giving on nonprofits devoted to providing food and shelter, as well as Jewish groups, such as synagogues, community centers, and camps.
WHAT HE'S LEARNED
… about leadership
Oftentimes I go out for site visits, [and when I] visit a Family Dollar store, the first thing [I] want to do is get to know the store manager. They're running the store. They're in charge of a lot of assets there. They're in charge of a team. They have to take care of their customers efficiently.
When you visit a nonprofit, it's the same thing. The executive director, are they qualified? Are they just as passionate about their charitable organization as our store manager is about our store? They've got people to manage, they've got scheduling, they've got all kinds of challenges that come about.
There are definitely parallels between the two. One is for profit, and one is not for profit, so there's a difference there. Nevertheless, oftentimes in some of these smaller nonprofits, it's about that individual who, for whatever reason, has such great passion for what they do that no matter what obstacle they face, they're going to plow through it. Same thing with the store manager. Someone calls in sick and they've got 1,000 boxes to unload, you've got to figure things out, and you've got to be entrepreneurial in the way you handle some of those things. …
It's nice to see that people dedicate their lives to a cause. That usually resonates in a site visit. It's hard to pick it up in a telephone call. It's hard it pick it up when you read a letter or a pamphlet.
---

2015 Charlotteans of the Year Award Luncheon
December 18, 2015
11:30 a.m. – 1:30 p.m.
Tickets on sale now!

---
… about helping the needy
Having grown up in Family Dollar and served through our business low-income folks, people who are living paycheck to paycheck, it made me feel compelled to help those folks. I see them shopping in our stores, whether it's seeing them put one item up at a time to make sure they have enough money to pay for everything or hearing some of the struggles … To be able to give back to those in need most directly has been a natural thing for me.
… about philanthropy in Charlotte
Our city grew very rapidly. We had some great business leaders, and corporations were important to the growth and success of this city, including Family Dollar, and the banks, etc.
Things kind of fell on their back as we went through the 2008 time period. Those corporations and funds really dried up. Not completely, but everyone's endowments were down dramatically. People were uncertain as to the future of a number of nonprofits at the time.
But one thing my dad [Leon Levine, founder of Family Dollar] did was set an example. He said, "You know, as an individual, what can we do, when others have fallen back?" What I have seen, over time, is now corporations are still a big, important part of [fundraising for nonprofits]. But individuals that have been successful and had the opportunity have taken it up and kind of propped things up.
I don't know if there will be another one of those [recessions]. I hope not. Maybe history will write that story correctly, that Charlotte was able to prosper because individuals were able to help. I hope to be one of those individuals. I think I have been. My family has been as well.
You think back 10 years or 15 years, I think that was a critical stepping stone for our city here—when we were so dependent on the banks. I heard, 'Everything is going to fall off the planet.' And it didn't. Look today: Not only have we overcome that, we're prospering and doing even better.
Matt Crossman lives in Charlotte with his wife and two daughters. More of his work can be found at mattcrossman.com. He has a Twitter account: @MattCrossman_.
---
This article appears in the December 2015 issue of Charlotte Magazine
Did you like what you read here? Subscribe to Charlotte Magazine »
---