Charlotteans of the Year 2015: Skyline Artists in Residence
A developer, two Amys, and a few artists walk into a Goodyear Tire Center ...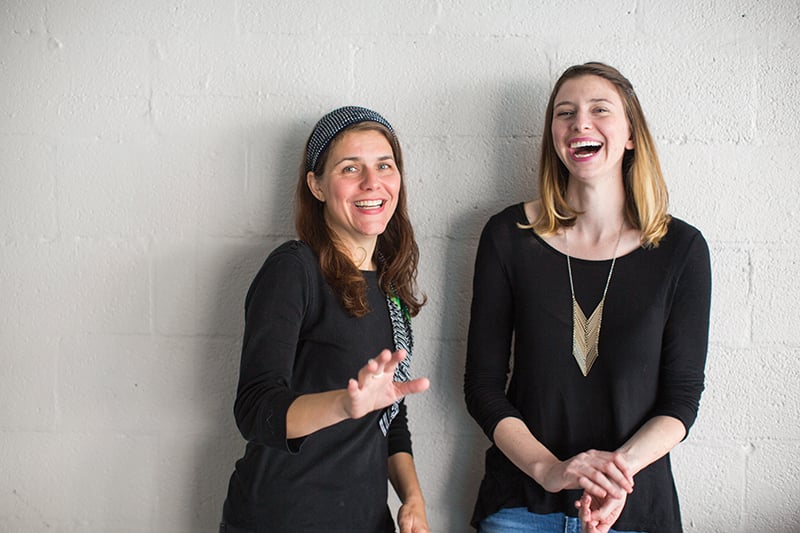 IN THE SPRING of 2015, Crescent Communities was trying to figure out what to do with the old Goodyear store on Stonewall Street. The development company had purchased the property, home to the auto and tire center for more than five decades, and was making plans to demolish it to make way for an office tower. In the meantime, it wanted to do something with the space. Crescent officials set up several meetings with two women named Amy, Charlotte artists who thrive on finding ways to bring people together through culture, and eventually they arrived at an answer: They would launch a monthly residency program that pays Charlotte artists to create whatever they want in a temporary space. They called it "Skyline Artists in Residence."
Leaky ceilings, musty scent and all, the Goodyear building became an arts hub. The performance art group XOXO performed pieces confronting white supremacy. Ghost Trees offered big-band jazz. A 68-foot steel sculpture was erected by Matthew Steele, and garage doors became paintings. Demolition was delayed a few times, and art projects were extended.
The Goodyear building is now scheduled to be gone by early next spring, but the Skyline project it housed may provide a new template for how transitional spaces can be used in a growing city that, at any given time, has hundreds of them. Meet four individuals involved in the project, and what they learned.
---
Amy Bagwell, co-coordinator
What she does outside of the project: Co-founder and director of The Wall Poems of Charlotte (which is the official co-sponsor, along with Herman, for the Skyline residencies), teaches English at Central Piedmont Community College, mixed-media artist
On the Charlotte business community's response: "I shouldn't be surprised, because deep to my core, I think we're all more similar than we are different. And everyone, if given the opportunity, wants to encounter beautiful and challenging things. But it's really encouraging to me [that] people who wouldn't necessarily consider themselves as members of the art community, when presented with this project, would say, 'I would like that in my city. In fact, I would like to pay a little more for that to be my in my city.' I knew that these artists were talented, friendly, beautiful people. I knew that people from around the community would come out to support them. That's just happy; that's just confirmation of the cool-ass people we have in this city."
---

2015 Charlotteans of the Year Award Luncheon
December 18, 2015
11:30 a.m. – 1:30 p.m.
Tickets on sale now!

---
Amy Herman, co-coordinator
What she does outside of the project: Photographer; teaches photography and art appreciation at Central Piedmont Community College; owner of Vintage Charlotte, which hosts pop-up markets; co-founder of #InstaBeerUpCLT
On artists working with corporate Charlotte: "[The artists] and Crescent Communities are actually on the same side. If this was an historic building and we were tearing it down, I wouldn't have been involved in this project. But we wanted to make something special out of this building's last months. We wrote Crescent a proposal. They agreed to it 100 percent, and they let us do whatever we wanted. At the end of the day, we're taking money directly from a corporation and we're giving it directly to artists. For me, that's a huge win. People can call it a PR move. And yeah, Crescent is getting great PR from this. But they're also doing something really cool."
---
Holly Keogh, artist in residence
What she does outside of the project: Painter, works for art and design retailer Slate Interiors
Putting it in perspective: "I haven't seen this much energy around a community arts event since NoDa before the galleries left and gentrification. I feel like the Goodyear building brought that back. The crowds have gotten bigger with every showcase. There is just an overwhelming enthusiasm behind what local artists are doing in that space. Having my own piece as part of that project, and creating something so big in uptown, was special."
---
Matthew Steele, artist in residence
What he does outside of the project: Artist and graphic designer, manager of creative services at McColl Center for Art + Innovation
What he made: A 68-foot structure named Lure, which pierces through a wall of the building at its tip and is the project's defining piece. He made it from steel and bolts from tire racks found on-site.
Why he made it: "I wanted to take advantage of that ephemeral and temporary aspect of the structure. You don't have that opportunity with most residencies. It's not about preserving the space where the art lives; this was the opposite. In this temporary space, I wanted to do something permanent. … How are we going to do what the city's not good at doing, memorializing what was? That's how this project could continue in other spaces in the city, if we save some bit of texture and offer some distilled part of the past. We have to keep some bit of history from our city."
Andy Smith is a freelance writer and editor based in North Charlotte. He covers arts and culture for Charlotte magazine, where he also serves as web editor. Reach him at andysmith.work@gmail.com or on Twitter at @andysmithlol.
---
This article appears in the December 2015 issue of Charlotte Magazine
Did you like what you read here? Subscribe to Charlotte Magazine »
---