Charlotteans of the Year 2015: Tom Hanchett
The retiring Levine Museum historian answers a few questions about the value of history and its meaning to Charlotte, and to him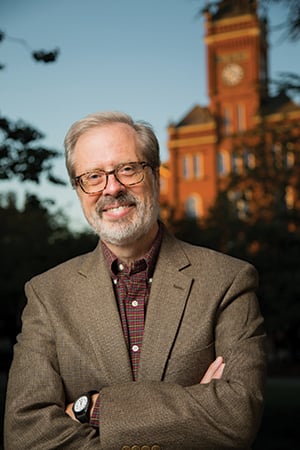 THIS PAST MAY, Tom Hanchett announced his retirement as staff historian at the Levine Museum of the New South, touching off a flurry of media attention. After 16 years of telling the often obscured story of Charlotte's history through talks, tours, and a book, Hanchett was surprised to discover that he was now part of the story. Born in Chicago but raised mostly in Cortland, New York, Hanchett has become this city's foremost "history ambassador," a historian with a wealth of knowledge and a knack for translating it into stories for the public. Thankfully, post-Levine, he'll continue to do community tours and presentations in a city in which history is a precious commodity.
Charlotte magazine: How do you find history in a city that doesn't seem to value it much?
Tom Hanchett: Well, when I came in 1981, the neighborhood resurgence was just beginning. Neighborhoods like Dilworth that had been on the decline—public policy had basically said, 'Eh, let 'em run down, tear 'em down, something better will happen." Even [in] Myers Park, I had people tell me, "You don't want to live in Myers Park. It's not going to be a good neighborhood real soon." But the people who were starting to reinvest in those neighborhoods—people like Sara Spencer and Dan Clodfelter, people who eventually became political leaders—were interested in the history. They loved the old houses. "How did this neighborhood get here? What do you call that? Is that a bungalow?"
So it's little stories like that, and big stories like that, that get people excited about their neighborhoods, and it was my job to collect those stories and get them to people. And it happened in [my] 20s, when my brain was soft and most of what went in there stayed, and it kind of organized itself into stories. Once you've got a master story, it's easy to sort of glue other pieces onto it.
---

2015 Charlotteans of the Year Award Luncheon
December 18, 2015
11:30 a.m. – 1:30 p.m.
Tickets on sale now!

---
CM: So what is the master story?
TH: It's a story of growth. It is the story of a small town that was a farming crossroads but hungry for something more, that figured out how to build its own rail line in the 1850s, and then the state swooped in and built a second rail line, and that meant coincidentally that when Charleston and places like that were wiped out because of the Civil War, this area was primed to grow. And the growth has always included newcomers. … That kind of hunger for growth, willingness to make stuff happen, ability to welcome newcomers—you can see it over and over again.
CM: How does that inform Charlotte's present and future?
TH: I think it's the engine of our growth right now. I think we are, depending on who you're listening to, the second-fastest-growing city in the United States, and that is despite being buffeted by an economic downturn—banking and other problems after the 2008 recession. We don't have a strong national image, but to the extent we do, it is of this place where you can build your dream. And people are coming here from Buff alo and Bosnia and Bolivia, everywhere.
CM: You've been pretty savvy over the years about getting your message out through assorted media. To what extent has any of that—maybe without your even realizing it—been an exercise in personal branding?
TH: I have been absolutely flabbergasted that since word went about my retirement—I assumed that [it] would be a little paragraph someplace in the newspaper, and instead folks are making this big deal. I had not realized until that point that there's a surprising number of people who see me as a community resource. …
I'm sure this feeds my ego. If it didn't, I wouldn't be doing it. I admit that to myself. … It's like Nick at Nick's [Auto Repair] down here. It's been here [on Central Avenue] for a long time, and you know that if you need your car worked on and you don't have a lot of money, Nick'll do you right. The city is full of people like that. I'm pleased to be one of them, and like I say, a little bit surprised that I seem to be well-known.
CM: Why are you passionate about this community in particular?
TH: I didn't know anything about Charlotte. The old "ch" jokes? It's almost true, not quite. I was expecting a beautiful, antebellum seaport city with the University of Virginia in the middle of it. But when I came here, people wanted me to do what I did. …
I've just been so lucky. I went away for awhile, worked in Youngstown, Ohio. They didn't need me. I went to Cornell. I taught graduate students. It was wonderful. But they didn't really need me. There were a lot of people doing what I did. So I came back to Charlotte, and those little networks kicked in. It's just a place where there's a lot of love.
CM: So a lot of it is, this is a place where you could have a measurable impact, whereas in someplace like Boston, you'd be just another historian.
TH: Yeah. This is a city of newcomers, and newcomers want to know where they are.
Greg Lacour is a contributing editor for this magazine. Read his political coverage and other commentary in "The Buzz" section of www.charlottemagazine.com.
---
This article appears in the December 2015 issue of Charlotte Magazine
Did you like what you read here? Subscribe to Charlotte Magazine »
---