Charlotteans of the Year 2016: Cam Newton
The Carolina Panthers quarterback isn't perfect, but neither are we— and it's hard to imagine Charlotte without him now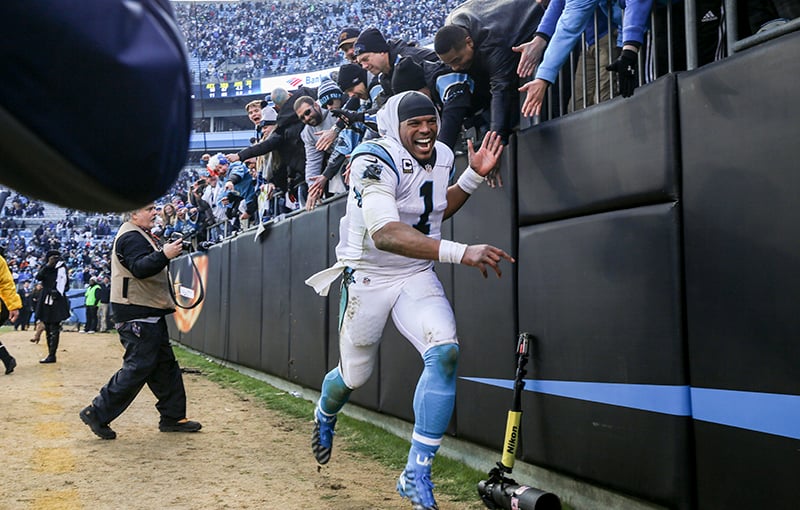 CLOSE YOUR EYES with me and think back to January. Remember how it felt to live here, all that excitement? The "Keep Pounding" banners hanging from construction cranes in uptown?
The casual, "How 'bout those Panthers?" from grocery store cashiers?
It was—apologies to Dickens—the best of times before the worst of times.
Before the embarrassment of the Super Bowl, before HB2, before brain-eating amoebas and police shootings and protests. Before a miserable presidential election and a miserable gubernatorial election and a miserable Senate election hogged our airwaves. Before the ugliness and despair that have come to define 2016 in North Carolina.
Before all that, we had something to believe in: The 15-1 Carolina Panthers and our franchise quarterback, Cam Newton. There he was, riding a hoverboard down Tryon Street on his way to the stadium. There he was, dabbin' on 'em. There he was, handing touchdown footballs to children, a big smile stretching across his face as he ran back to the bench.
I'm a native Charlottean and have been a Panthers fan since the franchise's early days, when the team played home games at Clemson while a stadium rose from the ground in uptown Charlotte. My family has had the same seats in the stadium since the beginning. We were here for the improbable 1996 playoff berth, for the first Super Bowl run during the 2003-04 season. (We were around for the bad years, too, but let's not dwell on that.)
January in Charlotte was different from anything I've ever seen, from anything most of us have experienced in this city. We've had franchise quarterbacks, some of them beloved leaders. But this city has never had a Cam Newton, which is why—despite the team's struggles this season—the Carolina Panthers quarterback is one of our Charlotteans of the Year. Because he makes us happy. It's hard to imagine Charlotte being a better place without Cam.
This city is aspirational, always has been, and for the first time since the booming '90s, people were piling on our bandwagon earlier this year. If Carolina won the Super Bowl, the city expected—conservatively—three-quarters of a million people to show up for a victory parade on Tryon Street. Close your eyes with me and think about that day, about Cam standing on a truck platform, black and blue ticker tape floating to the ground, the Lombardi trophy high in the air.
There was no confetti, of course, just a painful-to-watch press conference and bunch of hungover office workers walking around uptown in a daze the next day.
If you wanted to make a case against Cam as a Charlottean of the Year, you'd start with that post-Super Bowl media session and roll right into an embarrassing loss to the Atlanta Falcons in September, when Cam took his time getting to the end zone and suffered a concussion.
Charlotte has real, significant problems, ones far more important than football, as we've remembered this year. Critics dinged Cam for telling GQ magazine's Zach Baron that America is "beyond" racism. Demonstrators who marched by Bank of America Stadium after the Keith Scott shooting wanted Cam to acknowledge them. The following game, during warm-ups, he wore a black T-shirt that bore a quote from Martin Luther King, Jr.: "Injustice anywhere is a threat to justice everywhere." It wasn't what the demonstrators wanted from Cam, they said, but it was a start.
If you wanted to make a case against Cam as a Charlottean of the Year, you could rattle off all that, and you'd have a pretty good argument.
If you wanted to make a case for Cam as a Charlottean of the Year, though, you'd start with one of the visits he paid to public schools last season, and watch the kids' reactions. Like when Cam hopped the fence at a Davidson middle school and played football with a bunch of seventh-graders. Or when young kids shrieked with joy as he walked onto an elementary school stage and slowly pulled his fists across his chest like Superman. They sat, mouths agape, as he told them to study hard. They ran back to class, dabbing left and right as their teachers tried, hopelessly, to quiet them.
You'd stand in a sporting-goods store and watch Cam, in a Santa hat and goofy Christmas sweatshirt, give 25 kids $200 each to go shopping. You'd show up to his charity kickball game in June, and watch Cam's teammates and other celebrities raise hundreds of thousands of dollars for the Cam Newton Foundation. You'd watch bankers and lawyers and graphic designers lose their minds as Cam scoots across uptown wearing a top hat and Beats headphones.
Y'all, he started a food truck, which is about the most Charlotte thing someone could do in 2016, short of brewing beer or opening an outdoor patio—or both. Smokn' Aces serves fish and chicken and has an enormous caricature of Cam giving a first-down signal airbrushed onto the side of the truck. It also gives all of its proceeds to a Charlotte charity.
As a city, Charlotte is still in many ways the kinda nerdy kid in high school who invites the cool crowd to raid his parents' liquor cabinet while mom and dad are out of town. We want people to like us, to think we're cool. We want to please the crowd.
It'll be awesome! I promise! Come see! I've got a lot!
Isn't that why we like Cam?
For a young city such as ours, having one of our own—someone we know—selling chicken out of a box truck and holding hands with supermodel Karlie Kloss for a photo shoot in Vogue is a superficial sign that, in some way, we've made it.
Close your eyes with me and imagine Charlotte without Cam Newton, without his funny hats, without his scooter. Imagine kids' bedrooms without touchdown footballs on bookshelves and next to beds. Envision charities with smaller budgets. Think about fall Sundays without Superman.
Those scenarios sound like the worst of times—and we've got enough problems as it is.
Adam Rhew is the associate editor of this magazine. Reach him via email at adam.rhew@charlottemagazine.com or on Twitter: @AdamRhew.