Charlotteans of the Year 2016: CMPD's Mike Campagna
'Captain Mike' was the face protesters could trust during the Keith Scott protests. A few weeks later he was promoted to major, raising the obvious question: What do we call him now?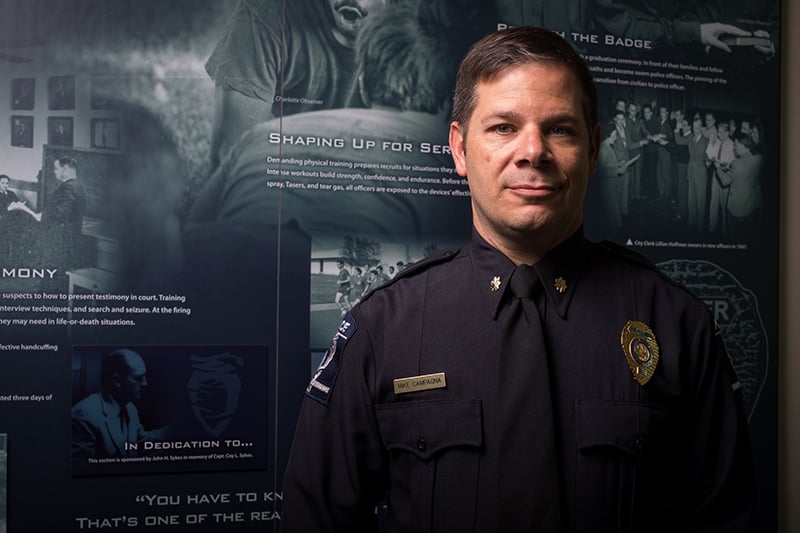 IN THE TENSE DAYS that followed the shooting death of Keith Scott, you could hear whispers among the demonstrators.
"Where's Captain Mike?"
Sometimes, they became shouts.
"Where's Captain Mike? I want to talk to Captain Mike!"
All week, Mike Campagna, then the commander of the Charlotte-Mecklenburg Police Department's Central Division, tried to be there to listen to their complaints. Scott was shot on a Tuesday, and after nights of violence and property damage Tuesday and Wednesday, the protests turned more peaceful on Thursday and Friday, in no small part because Campagna held one-on-one conversations with the demonstrators. By the weekend, Campagna had earned his place as the officer they trusted, the officer who understood them.
Campagna assumed that role briefly in July, too, when a picture with two young Black Lives Matter protesters went viral in the days after the shooting of Philando Castile in Minnesota.
Campagna, a 46-year-old Charlotte native, graduated from Garinger High School in 1988, then spent four years at UNC Charlotte before taking a job with CMPD in 1992. He married his college sweetheart, and they have two kids—one in high school and one in college. And long before any of the events of 2016, he made a pledge to spend as much time working with the homeless as he does in church.
In many ways, this has been one of his best and one of his most difficult stretches as an officer. In August 2015, he testified at the trial of CMPD officer Randall Kerrick, saying that Kerrick's shooting of unarmed Jonathan Ferrell was, by the rules of the department, unjustified. Kerrick was set free after a hung jury, but Campagna knows some officers still aren't happy with what he said in his testimony against one of their own.
In his career, he's directed the department's training programs and become CMPD's expert on use-of-force policies. He was promoted to major in October and will return to the police academy, helping to recruit and train better officers. We sat down for a long lunch in October to talk about his career, family, and that week in September (interview edited for clarity and space).
Charlotte magazine: How did your family handle that week?
Mike Campagna: The first call was from my wife. She thought I was in the command center. But she saw me on TV, breaking news, and I had my helmet on. This was Wednesday night. That was a little alarming for her.
Tuesday night I was in the command center, helping from there. It all happened in the University City area that night. I was anticipating this was coming down to my yard the rest of the week. One of the first engagements (Wednesday afternoon) was the one at the back door of the police station. I walked out the back door and ran into a guy engaging a line of officers. I just listened to what he had to say. As he was talking about, Hey, we want you guys to just see us as people, I recognized, those are the same things we want. We don't want you guys to just see us as people in uniforms, and you don't want us to see you just for the color of your skin.
CM: What happened around the time the protests started at Marshall Park on Wednesday?
MC: There was a big group there. They started to go separate ways, in two groups. I went with the one that went to the EpiCentre. But the tone and the tenor began to change. They went to the third floor and started breaking windows.
CM: Was it your call to bring out the officers with the riot gear Wednesday night?
MC: I should note that we had 16 officers hurt the night before, some of them badly. That's going to affect how we respond the next day. … So yes, at that point I did make the call that we needed to get our civil emergency unit into the EpiCentre to get this group out to prevent them from damaging more. (Editor's note: Campagna made the call over the radio, but in the chain of command, the final decision still fell to his superiors to approve his request, which they did.)
CM: In the moments before (demonstrator) Justin Carr was shot, when the civil emergency unit came through the crowd and went straight to the front door of the Omni, what were they going to do there?
MC: We recognize that the presence of the civil emergency unit does elicit a response from people. We asked them (the officers) to demobilize and keep a lower profile. So they did, and unfortunately the crowd caught up with them and they were in a position where they had to hold that spot.
CM: So they were going to try to get out of view at the Omni?
MC: Yes. But they weren't successful, and that's when people started throwing things at them. There were what I can only describe as explosives. … In one video, you can see a device goes through the air and lands at the feet of the officers and explodes. That's important, because it wasn't just a rock. It wasn't just a bottle. That was something somebody brought with them, solely with the intent of lighting it and throwing it at the officers. That became quite chaotic. … And right around then was when Justin Carr was shot.
CM: What do you say to people who still believe police killed Justin Carr?
MC: I've had that conversation with countless people. I wasn't part of the investigation, so I don't have any insight. But I know that we don't use rubber bullets. And that's the main thing we're accused of, that he was struck by a rubber bullet. And as far as being a firearm, none of the officers that were in that line would've had a firearm out. Even if you can justify using deadly force on a person in the middle of a crowd, you are at risk of shooting anyone. We never train in those situations that deadly force would be appropriate. And even if you don't think that, then you see that they've arrested somebody and he's confessed. (Editor's note: Rayquan Borum confessed days after the shooting). Of course, some people will say they coerced a statement; unfortunately, I don't think there's a lot you can do to convince them.
CM: What's that like for you, a person who's had a long career and is trusted by so many, to not be trusted?
MC: I take that challenge. And I will build that trust, if you'll let me. When I come across someone who doesn't, it bothers me. Maybe that's what drove these conversations—I don't want you to walk away from me without me at least trying. I tell people that I'm OK with outrage, anger, frustration, sadness, and distrust, and even disgust. But what I hate is fear. Because I think if we're afraid of each other, we won't get anywhere. Also, I think it's pretty hard to be afraid of me. I'm not a scary person.
CM: Let's go back to young Mike. You were a child of the '70s and '80s.
MC: Yep, I grew up off Central Avenue, the Windsor Park neighborhood. And my parents still live over there. And so I went to Villa Heights and Windsor Park for my elementary schools. And then went to Eastway Junior High and Garinger.
CM: Where'd you meet your wife?
MC: Karen and I met at a store called Camelot Music on Independence Boulevard. It was a record store. She worked up front. I worked back in the video section with the VHSs. She went to East Meck. She went to UNCC, too. Then went to nursing school, and went to work at Presbyterian. She's still there. She works in the intensive care nursery. She works with premature babies.
CM: You're getting promoted to major and going back to leading training. People will miss you on the streets.
MC: One of the things I've noticed is people are like, "Man, Captain Mike's great. The rest of them are all jerks." That's not really fair. We're full of people who are good at conversations. One thing I'm working on is creating teams of officers who are ready to go and do the same things I did, to listen first. … I want to equip (the officers) with a lot of stories from all across the department. I want us to have the statistics, to be able to say, hey, we went to 417,000 calls for service in 2015, we had 20,000 arrests and we had 425 use of forces. I think we de-escalated a few things.
CM: Had anyone ever called you Captain Mike before this year?
MC: It's always been Captain Campagna. But Patrick Jones, PJ, he's one of the young men (in the viral photo) after the Minneapolis shooting, he's the first one who called me Captain Mike. The problem is Major Mike doesn't sound as good as Captain Mike. (Laughing.) It doesn't have the same ring to it.
CM: What was it like to testify in the way you had to testify against Kerrick?
MC: Back in 1997 when I started at the academy, I started teaching defensive tactics. I am the department's use-of-force expert. … When it came to Kerrick, that was one of the hardest things that I've had to do in my career. And it wasn't because I didn't think it was right. I said, "If they ask me, I'm going to answer honestly." But it's still very troubling. It caused a lot of issues. And I'm sure there's a lot of officers in this department that have negative feelings toward me because of it.
The other hardest thing I've had to do was knock on a door and tell a parent that their child had been killed, a police officer. That was officer Shelton. (Editor's note: Jeff Shelton and his partner, Sean Clark, were killed by Demeatrius Montgomery while on duty in 2007.) I told his father. That was the scariest door I've ever knocked on, and I've knocked on a lot of doors. That took me back to when I was a new officer, and I was on the west side and in 1993 we had two officers killed. They were in my division. John Burnette and Andy Nobles. I went to high school with John. That was a pretty troubling time. It was a dark time for all of us getting through that. Those things, you never really let them go. That was October 5, 1993, and it's something that we think about on a routine basis.
CM: We've pushed a lot of issues to the forefront, instead of letting them sit there. Is it a good thing that we have them out there now?
MC: I understand anger and frustration, but if it doesn't lead to anything, it's just anger; it's just frustration. As a police officer or a black citizen, we all inherited this. It goes back generations. It's not just that relationship in a vacuum. There's education issues, environmental factors, economic factors. Even if we fix that relationship between officers and black people, that doesn't fix everything. That's just one little piece. And that's where the Charlotte community as a whole needs to get involved. People talk about race a lot. But race isn't a police issue. It's a societal issue that we have to deal with on the whole.
It's important for people to recognize that when an officer comes to us and we recruit them and they're hired, we don't give them a new brain, a new personality, a new background. They bring everything with them. All their education, experiences, come into play. So then we have to see, if we find officers who are acting on biases. And that word is important, acting on them. Because we all have biases. The important thing is, what do you do with them?
Michael Graff is the editor of this magazine. Reach him at michael.graff@charlottemagazine.com.