Charlotteans of the Year 2016: Superintendent Ann Clark
After more than three decades in education, Clark earned the title she long coveted only because the previous superintendent was ousted. She was the right person at the right time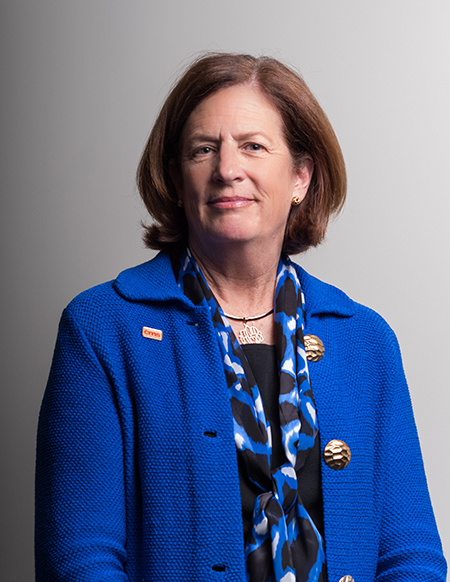 ANN CLARK KEEPS a wide-brimmed wicker basket of neatly arranged children's books on the floor of her office. The 58-year-old superintendent of Charlotte-Mecklenburg Schools, who for years wanted this job she'll give up in June, keeps two books at the top of the pile: Charlotte's Web, her favorite, and, next to it, a golden book with a blue train on the cover: The Little Engine That Could.
In that book, several trains snub their steam-engine noses at taking a tough load up a tall mountain. The job doesn't get done until a small, blue train no one had thought to ask volunteers to give it a try.
Clark is familiar with the plot.
Clark was deputy superintendent in 2012 when she was passed over for the top job in CMS, North Carolina's second-largest school district with an annual budget of more than $1.4 billion and nearly 167,000 students and staff. A year later, she was passed over for the same position in Wake County, the state's largest school district. She rose to interim superintendent here in November 2014, only after her boss resigned amid a district-led investigation into whether he'd created a "culture of fear" and misled school board members about school construction costs. The school board dropped "interim" from her title in January 2015.
After more than three decades as an educator and administrator, all but one year working for CMS, Clark's turn up the mountain had come. Clark knew she was inheriting a challenging district in which superintendents didn't stay long. It's also a district that had resegregated to a degree that it essentially looked like it did in the 1960s, when it was involved in the landmark case Swann v. Charlotte-Mecklenburg Board of Education. The 1969 ruling, upheld by the Supreme Court in 1971, required the system to use busing to desegregate its schools. But in 1999 a federal judge ruled that students could no longer be assigned to schools because of race.
Clark saw the increasing tension as an opportunity.
"When I agreed to stay on, I did it with the full understanding that this was a special moment. It was a special moment for me to lead," Clark says in her office on a sunny October afternoon. "It was a special moment for the community to really think thoughtfully, without a court case or judge telling us how to assign students to schools."
The "special moment" involves the regular review, scheduled every six years or so, of the district's student assignment plan. Since the halt of busing in 1999, CMS has seen, in the words of one Wake County Superior Court judge in 2005, "academic genocide" at some schools attended by low-income students and students of color. A Charlotte Observer analysis of CMS data showed that during the 2015 school year, more than half of the district's black and Latino students attended schools that were 90 percent or more nonwhite.
Under a neighborhood school assignment plan, CMS reflects the segregated housing patterns of the city: White families largely send their children to school with other white families; black and Latino families send their children to school with other black and Latino families. The numbers are hard to dispute: 61 percent of the district's white children attend less than a quarter of the district's schools.
It's a problem Clark and the school system can't fix alone.
" 'It takes a village to raise a child' means everyone has a role in the village. The problem is that people want to relinquish their responsibility," says James Ford, the 2014 North Carolina Teacher of the Year and this magazine's 2014 Charlottean of the Year. "It's not just the school district. They're a big cog, but it's the housing system, the finance system; it's the City Council, Board of County Commissioners. It's the mayor. It's the criminal justice community. Everybody has a role to play."
Inequality in Charlotte has been well-documented in the past two years, starting with the city being ranked last among America's largest cities in economic mobility in 2014. Then, following the events surrounding a Charlotte-Mecklenburg police officer's fatal shooting of Keith Scott, presidential candidates began invoking Charlotte during debates as an example of a city gone wrong, and local and national publications wrote about Charlotte's complicated history with schools.
The frustration wasn't surprising, though, to people who lived or taught in the city's impoverished areas.
"People have been dropping bread crumbs for the longest time, but no one wanted to listen. The ingredients have been there for a long time. After a while, you're gonna start making what everybody else is making," says Ford, a former teacher at Garinger High School, a school that, in the 2015-2016 school year, was 97 percent nonwhite. "It's the same recipe: chaos."
Clark doesn't hide from connecting the events surrounding the Scott case to low-performing schools in north Charlotte.
"I think not just the Keith Scott incident, but incidents across our nation, show us we do still have to deal with racial prejudice. We do still have to deal with individuals who feel a lack of hope that has sustained them through multiple generations through their family," she says. "I do see public education nationally, and certainly CMS locally, as contributors to changing that narrative."
Scott's death hit a little close for Clark.
He was reportedly waiting for the bus to drop his son off from school when officers approached his vehicle. Under the current student assignment boundaries, Scott's son would eventually walk the halls of Vance High School. Clark became Vance's first principal in 1997, just three years after she won the 1994 National Principal of the Year award for her leadership at Alexander Graham Middle School.
"It certainly is very personal when you know the community from which (Scott) comes, when you know the circumstances and conditions, when you have former students who are now adults and parents in that community," Clark said. "Many of the students that were at Vance when I was there are now parents and sending their students through the system, so there's a double level of accountability."
That community connection is, in part, what led Clark and the school board to revise the district's assignment plan for its 147,000 students. She hopes to make sure Scott's children won't attend Vance High School as it performs today (the school received a C grade on the most recent state report card). At the very least, she wants to give parents of children in low-performing schools the option to send their kids to a magnet school.
Clark proposed, and the school board approved, a set of goals for the new student assignment plan in February that, among other things, said CMS would reduce the number of schools with high concentrations of poverty and preserve and expand high-performing schools.
She spent several months engaging in community sessions, workshops, and "superintendent coffees." Around the county, some people, mostly from poor neighborhoods, lament the quality of their neighborhood schools, while others, mostly from affluent neighborhoods, love their schools and can't imagine the idea of sending their kids elsewhere.
Clark went into these sessions knowing she would face criticism. In 2010, she was part of an administration under then-Superintendent Peter Gorman that decided to close several neighborhood schools, most of them in black neighborhoods. One of Clark's most vocal critics is Colette Forrest, a single black mother whose son, Bobby, is in fourth grade at Irwin Academic Center.
"As a person with heart, what have you done to African-American children? They're not learning, the schools are substandard. No one should be satisfied. Ann's leadership and her legacy," Forrest says, "will be one of failure."
Even Ford, a Clark supporter who is also black, acknowledges the rift.
"There's a gaping wound there," he says, referring to Clark's relationship with the black community. "There's a lot of fractured trust there."
The distrust falls largely along racial lines among school board members, as well. In February, when the full board voted to extend Clark's contract, the three dissenting votes came from three of the board's four black members.
But Clark trudged on. After 34 years in public schools (including one in Virginia), after all those times being passed over for the superintendent's job, this was her moment.
"This was an opportunity for us to initiate this on our own and say, 'We're gonna decide. We're gonna decide with tremendous community engagement: surveys, town halls, focus groups, superintendent coffees, whatever way we could. We're gonna decide what's our value proposition,'" Clark says. "Not a court case or a lawsuit and certainly not a judge."
On October 11, Clark and the Charlotte-Mecklenburg school board unveiled a student assignment review plan. Clark believes the plan can propel Charlotte from the bottom rung of the economic mobility ladder by giving low-income students more choice. In Phase 1 of the plan, which as of press time had not been formally approved by the school board, students from state-designated low-performing schools get a priority ranking in a lottery to attend magnet schools. It also gives special priority to students who attend schools that the state has deemed low-performing for three consecutive years.
Currently, six schools match that description. If the board approved Phase 1 in November, after we sent this story to press, Clark and the system were scheduled to start moving toward Phase 2, which will focus on the high school feeder pattern and school boundaries.
Clark won't see the result of this year's work—at least not in an official role. Her contract expires in June, and the school board isn't renewing it.
Jeremy Stephenson, a Clark supporter and a Republican who ran unsuccessfully in a crowded school board race in 2015, says the board is making a mistake by not keeping Clark.
"When you have someone like that and you let them go, and think you're going to find someone better on the streets, it's simply not a smart decision," says Stephenson, who is white. "Who knows what direction (the school board is) going to go?"
Regardless of who's leading the district, changes in education take time, generations, even.
"She's laid a lot of the groundwork for the kids that are just entering into kindergarten," Ford says. "You have to operate with the long game in mind. We don't operate on election cycles. People want to see things change in two years, four years, but that's not how things work in education."
So as Clark prepares to leave the district after more than three decades in the middle of the student assignment plan she helped create, in the middle of a plan to help an entire city rebuild and regroup, she turns back toward The Little Engine That Could.
"We've got to keep our fuel to the engine on this," she says.
We're not up the mountain yet.
Jared Misner is a writer for this magazine. Contact him at jaredsmisner@gmail.com or send him a Tweet, @Jared_Misner.