Charlotteans of the Year 2016: The Kindreds
A day in the life of the husband-and-wife restaurant team that helped bring national attention to Charlotte's restaurant scene— and had several more important accomplishments in their own house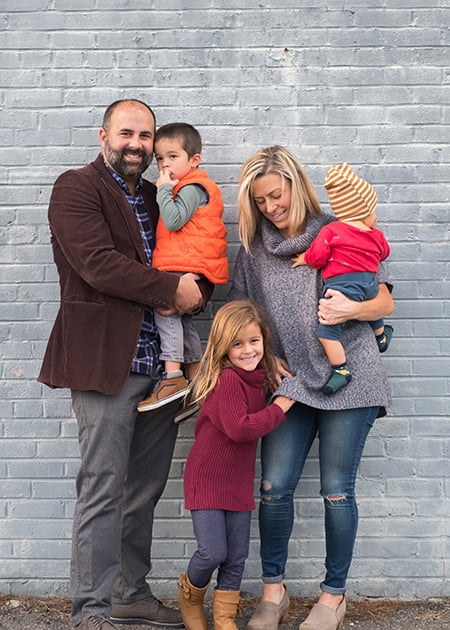 HUNCHED OVER breakfast at his kitchen table, Joe Kindred shouts over to his three-year-old son, Luca, who is crumpled up and not quite awake on the couch, to ask if he wants some eggs. Katy Kindred, Joe's wife, is the one cooking this morning, as she usually does when the couple is at home.
"Luca, you want to eat some breakfast?" Joe asks again.
He doesn't.
"OK, dude," Joe responds.
Never mind that Joe and Katy Kindred are the owners of Kindred Restaurant in Davidson, the restaurant they opened around the corner from their house in February 2015 to high expectations, and that has shattered those expectations ever since. Never mind they serve a lunch dish of an avocado-and-egg sandwich that people rave about. Never mind they led their restaurant to a spot in the top 10 of Bon Appétit's hot new restaurants list, and Joe was named a semifinalist for a James Beard Award for best chef. The kids know about the restaurant, sure, but to Luca, his five-year-old sister, Alba, and eight-month-old brother, Graydon, they're just mom and dad. And no, they don't want any eggs.
Joe and Katy try to spend as much time with their kids as possible before they go to work at 2 p.m., Tuesday through Saturday. To be the mom and dad they want to be, they've had to redefine what it means to be a parent in the restaurant business.
Today, a Friday, Alba sits in the playroom on a small wooden stool. A large tablet is on the table in front of her, and Katy points to sentences on the screen. Joe is with Luca at music lessons, baby Graydon in tow. School started in the Kindred household at 9 a.m., and will continue until 11 a.m.
"The restaurant business is kind of a counterculture anyway," Katy says of their decision to homeschool their children. Neither parent has the option of working days. If the kids went to school each morning, "When would we see our kids?" Katy asks.
The Kindred children wake up a little later and stay up a little later than most kids, to be able to see their parents.
Katy sits on the floor next to Alba, who is practicing reading words such as "owl" and "cow." Every so often, Alba gets to pick something out of the "go-go bucket," filled with slips of paper with energy-burning tasks written on them. Katy came up with the idea for the bucket when she realized her oldest needed breaks in order to focus. Alba reaches her hand into the bucket and grabs a piece of paper that tells her to have a dance party. For five minutes, Katy and Alba hop and twirl around the kitchen to Disney music.
It's hard to tell who enjoys the dance party more.
When Joe, Luca, and Graydon get back from Luca's music lessons, school is over for the day, and it's time for a quick round of tee ball. Joe dons a glove, ready to catch the line drives his daughter, wearing a pink dress with a tulle skirt, drills from the tee down the driveway.
"One more hit, Alba," Joe says.
"Do we have to go to the Y? I hate it," Alba says to her mom after Joe chases down the last home run.
"Hate is a very strong word," Katy says. "Let's not use it."
Alba joins the rest of the family heading out the door, and a little after 11, Joe and Katy get their only quiet time of the day. They drop the kids off at Kid Watch at the Lake Norman YMCA, where exercising parents can leave their kids under adult supervision. Katy puts on headphones for a run, and Joe pops his on and makes his way to the weight room. At noon, the headphones come off, and workout music is replaced by the sounds of Alba and Luca sucking on their takeaway lollipops as they head to the minivan.
Katy and Alba run to Target for a Halloween costume, while Joe, Luca, and Graydon make a Jimmy John's run. The family will meet for lunch at a park. Luca, a little hungry and a little more tired, starts to throw a minor tantrum over wanting more chips.
"Take a deep breath," his dad recommends. "You all better? We done crying? Are you going to make better choices?"
He's not done crying, so Luca goes into a short time-out.
"It's tough, man," Joe says. "How we parent him now shapes the man he'll grow up to be." They want him to be comfortable showing his emotions, but they want to teach him how to control them. Scolding in this household is never a scolding, rather a reminder that although they're young, the Kindred kids have a choice in what kind of people they become.
Joe and Katy try to live by that same advice, even though there aren't many examples of successful parents in the food industry.
"We decided how we wanted to parent, and tried to figure out how we can reconcile that against what we do for a living," Katy says.
It's almost 2 p.m. now, and Luca cries when he learns it's time to leave the park. It's too close to dinner service at the restaurant, and the boys are too tired to be up much longer. The family heads home. Joe and Katy shower and get dressed for work, Joe in his Kindred chef's shirt and Katy in skinny jeans cuffed at the ankle, a tunic, and bright pink flats. The kids' nanny, Nicole, shows up as the boys go down for their nap. Alba, wearing her princess Halloween gown, asks her mom to come home early tonight.
"I always try, you know that," Katy says.
Joe promises to bring home a cinnamon roll if Alba's good, and whispers that maybe they'll light a fire in the backyard fire pit, surrounded by fabric chairs, including one printed with pictures of cars and another with the princesses from Frozen.
Both Kindreds arrive at their restaurant just before 2:30, first answering emails and staff questions and overseeing their restaurant family at the place they've built. At 4:30, they gather the family to go over the evening routine—that night's dishes and how the staff can make the choice to be the best restaurant in town. At 5:30, Katy lingers out front to call and check in on the kids. The boys just woke up from their nap, their nanny says, and before things get too busy, Katy orders a pizza to be delivered to their house at 7:30.
Three hundred and eighteen diners and more than 150 servings of the restaurant's famous milk bread later, Katy walks in the door to make dinner for herself and Joe while Joe wraps up at Kindred. The kids are still up, watching TV in bed, waiting for them.
They've had another successful Friday night at one of Charlotte's most popular restaurants, and, more importantly, another successful day as mom and dad. They've done it all—at least, all they ever wanted to do.
Kristen Wile is senior editor of this magazine. Reach her at kristen.wile@charlottemagazine.com or on Twitter: @kristenwile.
The Kindred Restaurant was also featured this year in the annual 100 Words Film Festival, which celebrates concise, cinematic storytelling. Watch the film below.