Charlotteans of the Year 2016: Toussaint Romain
The "man in the white shirt" put himself in between police and protesters, but that's hardly all he's done in a long career of public service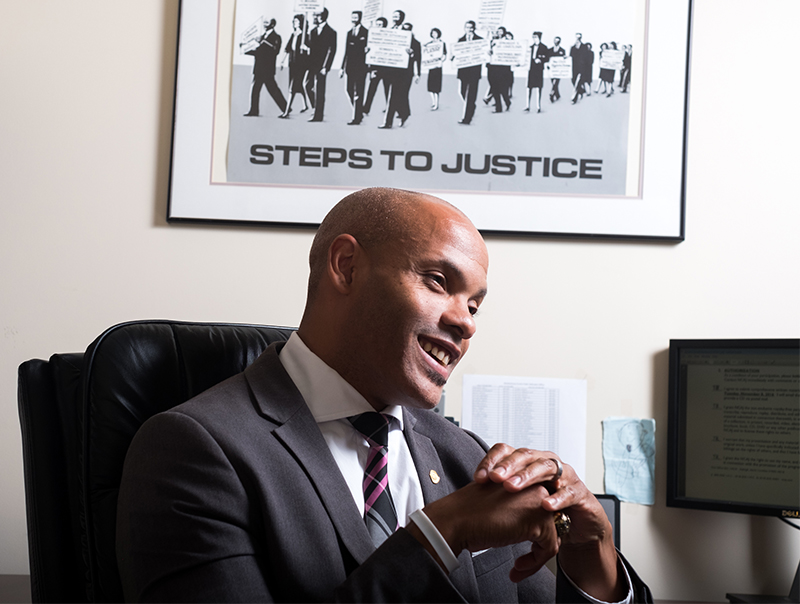 "LET'S WALK THROUGH HERE," Toussaint Romain says, hopping in between idling city buses at the Charlotte Transportation Center.
We're on our way to lunch. Romain, a 39-year-old assistant Mecklenburg County public defender, doesn't have to be in court today. He's dressed in a green-checkered flannel shirt, jeans, and a flat-brimmed ball cap—a look far different from the dress shirt and tie that made him famous during the Charlotte protests.
A former track athlete in college, Romain walks briskly through the fumes of Charlotte's busiest bus station. Lines of people wait for buses with their destinations flashing above the windshield: Central Avenue, Matthews Express, Beatties Ford. They're nurses and janitors, businesspeople and construction workers, white and Latino, black and Asian.
"This is the America we're afraid of," Romain says.
Romain, a father of three, says hello to every person whose eyes meet his. He holds open the door for people, and he bounds up a stairwell and heads toward the EpiCentre, near the intersection where his life changed in September. On Wednesday night during the Keith Scott protests, CNN cameras captured Romain standing in between the shields of riot police and the screams of demonstrators, yelling at both of them to maintain calm. As a public defender, he knew faces on both sides. Still, he wound up getting sprayed with tear gas.
Romain has been doing this work for years. He grew up in New York and California, traveling back and forth between divorced parents. He graduated from a private high school in New York, but after his dad went to prison for failing to pay taxes, Romain found himself without the privileged life he'd enjoyed as a kid. He worked his way through college at UNC Charlotte, then law school at Regent University in Virginia Beach.
He insists he's not a politician, but he's a registered Republican because, he says, "You can't change the system from the outside." He keeps a slideshow on his computer of people he's met and counts as inspiration: Rosa Parks, James Ferguson, Bob Dole, Thom Tillis, Harvey Gantt, Johnnie Cochran, and Barack Obama.
The list of community organizations he's involved with is even longer, from Crisis Assistance Ministry to Big Brothers Big Sisters to Ronald McDonald House to 100 Black Men of Charlotte to the Charlotte Metropolitan Human Trafficking Taskforce. He's also an adjunct professor at UNCC.
He was doing all of that, he likes to point out, before images of him went around the world that Wednesday night, before people were calling on him to run for public office, and before this magazine took notice to name him a Charlottean of the Year.
We spent more than four hours together one afternoon this fall, talking in his office at the government center and walking through the transportation center, then eating a long lunch. He called everybody in the restaurant, from hostess to server to busboy, by name. He blessed the food. And at several points in the interview, he turned the conversation around with questions for me. This is Romain in his own words (edited for clarity and space), starting with me pointing toward the wall in his office, where a white shirt with brown stains hung from the coat rack. "What's that?" I asked:
THAT'S IT. THAT'S THE SHIRT. That's the tie. I got maced that night. So I took it off and left it here because there was still the peppery feel or sensation or whatever that was. It was still pretty strong. I didn't take it home to the kids.
IT'S A REMINDER of the struggle and the cost. And just the pain. Being sprayed with mace was the most painful thing I've experienced. … But this is a reality, man. This happened in our city. People have been affected by it. We've grown too fast and we've left a big population back.
FROM THURSDAY through Sunday (that week), riot gear officers didn't show up, but cops on bikes did. There was not one incident. … To me, riot officers are what made it not peaceful (Tuesday and Wednesday). Them throwing the tear gas is what incited the violence. But because of the narrative, we see that mob as an angry mob looting and stealing. I think I'm in a position to change that narrative. A lawyer, white shirt, tie, black guy, out there between the two. That doesn't add up to what we're used to seeing. The majority of people out there were looking to do it the right way. But all we see, media-wise, is just the angry black man.
THE ONLY DIFFERENCE between the past 12 years and September 22 is the cameras were there.
GROWING UP IN CALIFORNIA, I remember Rodney King getting beat, and seeing it over and over and over again. I think it created some level of PTSD. I'll show you something.
(He opens a folder of pictures on his computer.)
THIS IS ROSA PARKS. I had a chance to live with her, follow her around for a week when I was a teenager. That's me (he points at the young boy beside her in the photo). I was part of a program called Saturday Academy, which was a school where we learned about African-American history. And one of the teachers ran a hotel in Los Angeles. He was Rosa Parks' godson. So he invited us to stay. While my buddies were at the hotel, feet up on the bed, going to the pool or whatever, I was with Rosa Parks.
SHE HATED PLAYING THE PART (of being a celebrity). To be the mother of the movement, and to hate that, really taught me about humility. And that's why I do what I've done without having anyone know about it. The scripture says do it, and don't let your left hand know what the right one's doing.
I HAVE TWO OLDER SISTERS who are about nine years older than me. My parents, being from the islands, education is the be-all, end-all. My father's directly from Dominica. My mother's first generation from Barbados. My parents met in Brooklyn, and they got divorced. (My sisters and I) would fly to New York to spend time with dad for the holidays or the summer, and then go to school in California. My mother worked as a nurse, and she worked third shift. So my grandmother was there to raise us. She's a very strong woman. I'm not sure if you know Caribbean women, but they're very proud. She was just a phenomenal woman.
I WENT TO LAW SCHOOL and I hated it. It just wasn't me. I remember telling my wife (in the fall of 2004), "I quit." But one day I fall asleep and have this little dream. In this dream, there are these rolling hills. And this little church, with a white steeple, one door and three or four windows. Inside this church there's a real decrepit hardwood floor, the kind you step on and it creaks. Sitting in the pews are black men, all ages, young, old, dreads and not dreads, cornrows and not cornrows. Suits and jail suits. And they looked at me and said, "We need you. You can do it."
ON WEDNESDAY NIGHT (of the week of the protests), my wife's sleeping and the kids are sleeping. Her friends call her and say, "Oh my god, turn on the TV. There's your husband on CNN. He's going to get killed." And my phone died. So about 3, 4 in the morning I get in my car and charge my phone, and I see I've missed all the calls from her. I get home, I kiss my kids, and I tuck my tail and go into the room with her. She sits up and says, "I'm going to say this one time and one time only. You have a wife and you have kids, and we need you home. But you've been doing this work since we've been married for 12 years. The only difference between tonight and all those nights was that the cameras were on. So I support what you're doing and I'll continue to support you. But just remember that we need you home."
IF I HAD BEEN SHOT and killed Wednesday night, we would see real change. I don't have a record, didn't have a gun, positive community member, loving father, pay my taxes, college educated. Had I been killed, they would not have been able to spin the narrative in a way that justifies them killing me. If one of the president's daughters gets killed, America will be up in arms. But as long as we're killing the poor, black, dangerous thug, America remains silent. And I would hate to have to lose my life before folks decided to stand up for our country. Because at the end of the day, I'm just an American.
IF YOU SEE TWO BLACK BOYS walking up the street, you tend to fill in the blanks with negative images. Look how we define black: black plague, black death, black cloud. Versus white lie, White Christmas.
WORDS AND IDEAS SHAPE THE WORLD. And when we apply the word black to black people or race or cultures, it's always something bad or evil. And we apply the term white, it's good.
IF YOU AND I WERE TO walk in a store right now, I'm going to get followed.
(Note: From here to the end, the words in italics are the editor's.)
I think about that a lot. … I'm white. I will never understand what that's like.
But you do. You take a fish out of water, that fish will know it's out of water. If I were to tell you you're going to prison for a year, all the apprehension and fear and psychological troubles, you'll get it. It's just like being black in America. To understand white privilege, put yourself in a place with only big, scary black folks.
May I play a dumb game with you? It's called "Rename that thing." I want you to point to different objects and say something that it's not. I'm going to give you 30 seconds. When I say, "Go," you go, and when I say, "Stop," you stop.
OK, ready?
Yes.
Stop.
Huh?
You already have a list of things in your mind that you're going to say, right? Our minds are made to think. Our minds are made to fill in the blanks. As dumb as this game is, you're already trying to get ahead of it. When it comes to things that are more important, when you see a black man walking down the street, are you aware of the things that go through your mind?
Because, brother, besides my skin color, there's nothing different between you and me. We hurt the same way. We bleed the same way. We're not as divided as we're made out to be.
Now, is there anything that I just said that you didn't understand?
No.
But I'm black. And I thought you said you couldn't understand.
Michael Graff is the editor of this magazine. Reach him at michael.graff@charlottemagazine.com.