Charlotte's 5 Best Places to Eat with Kids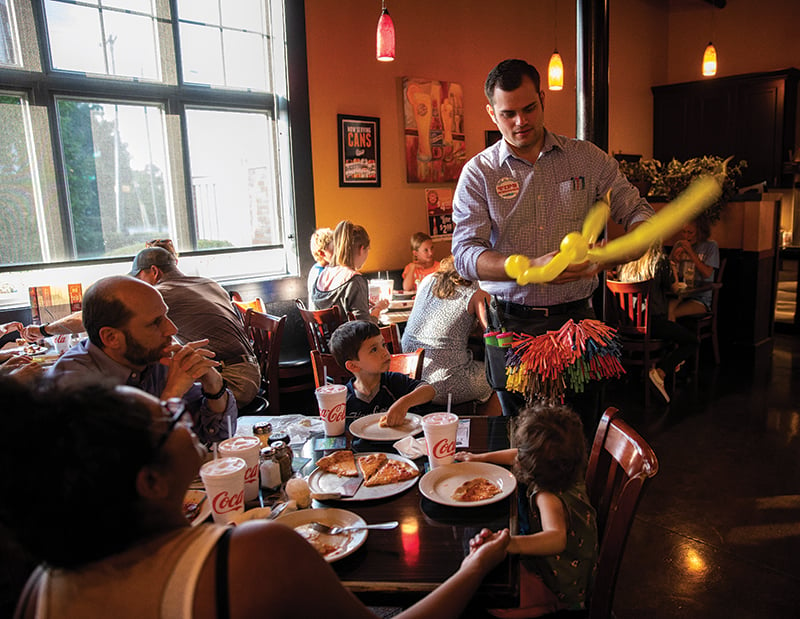 AS A PARENT, you know the story. Maybe it's Friday after a long week or Tuesday night after swim lessons. Whatever day, whatever time, one thing is certain: Your kids went from zero to starving in a matter of seconds, and you're now in the car facing one of life's most pressing questions—where do we eat? Here are five safe bets for eating out that are sure to please parents who also have tiny taste buds in tow.
---
Hawthorne's New York Pizza & Bar
The pickiest eaters can usually find common ground when pizza is involved. At Hawthorne's, kids eat free on Tuesdays at its many locations in the area. The Rea Road Hawthorne's even has a balloon artist on Kids' Night who goes from table to table assembling balloon creations. Each location also provides a tiny ball of dough at the table so kids have something to play with while they're waiting for food to arrive. For adults, the menu has a well-picked selection of wine and beer.
Multiple locations, hawthornespizza.com
---
From salads to seafood, parents will have no problem finding something to please their palates at this casual American restaurant. But the kids' menu also has fun options that will keep the smallest patrons happy. "We look at traditional dishes in other restaurants, like peanut butter and jelly or macaroni and cheese, and then ask, 'How can we make it different?'" chef Scott Wallen says. Insert peanut butter and jelly sushi. "The peanut butter and jelly sushi at Harper's is fun, and it's interactive. And calling it sushi makes small kids feel like a big kid."
6518 Fairview Rd., 704-366-6688, harpersrestaurants.com
---
OMB serves beer, and it's family-friendly. What else do you need? The menu includes bratwurst, sausages, salads, grilled cheese sandwiches, and sauerkraut. The patio has cornhole boards and fire pits, and it's even dog-friendly. Sit outside and enjoy some beer with friends while the kids play.
4150 Yancey Rd., 704-525-5644, oldemeckbrew.com
---
Pike's Old-Fashioned Soda Shop
Pike's serves exactly what you would expect from a diner-style restaurant: burgers, fries, sandwiches, salads, soups, and more. The 1950s-inspired atmosphere and colorful décor keep the kiddos engaged until they get their food, and the dessert menu, complete with banana splits, milk shakes, sundaes, and pies, is bribe-worthy. Pike's serves a Sunday brunch, too, from 8 a.m. to 2 p.m., with special prices for kids: Children 2 and younger eat free, children 3 to 6 eat for $3.95, and children 7-9 eat for $6.95. The adult buffet is $13.95.
1930 Camden Rd., 704-372-0092, pikessodashop.net
---
Mert's Heart and Soul was featured on Diners, Drive-Ins & Dives, and it's listed in pretty much every article ever written about the best places to eat in Charlotte—for good reason. The food here is flat-out delicious: shrimp and grits, seasoned red rice, Southern fried chicken, barbecue, and, of course, macaroni and cheese. Parents will come back for the comfort food, and kids will join the clean plate club.
214 N. College St., 704-342-4222, mertscharlotte.com