Charlotte's Best Bites: Delis and Markets
See which markets are serving up the best sandwiches at their deli counters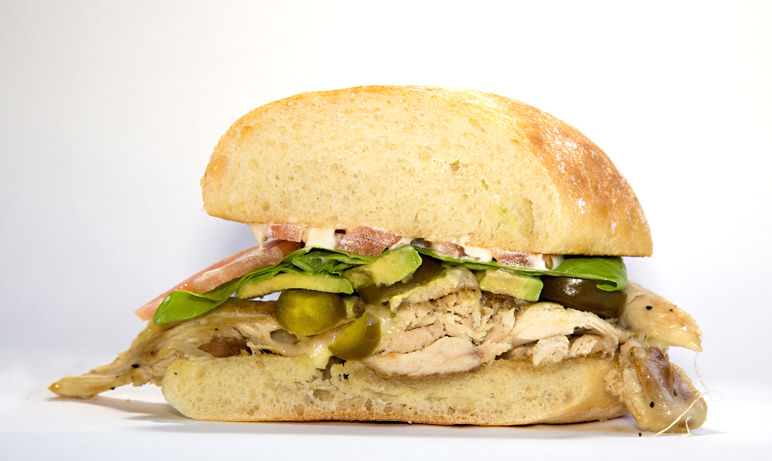 THE DELI/MARKET combination: perfect for a grab-and-go lunch and road trip essentials. Everyone has his or her own take on what makes on-the-go eating great, and Charlotte is dishing up just about every option and atmosphere, regardless of which side of the interstate you're traveling.
---
Rhino Market And Deli
Why: The newest player on Charlotte's expanding deli list
Rhino Market is bringing the Common Market feel to the up-and-coming Wesley Heights neighborhood. The chicken torta sandwich is a staff favorite, with pulled chicken highlighted by avocado, jalapeños, and provolone. Step up to the classic-looking counter and order one of the menu specials—or make your own from a list of breads, meats, cheeses, vegetables, and toppings—then grab a seat at a booth and enjoy one of the local beers on tap. 1500 W. Morehead St. Ste. E, 704-348-1428
---
​NoDa Bodega
Why: This place is a hidden gem—blink and you'll miss it
It's a simple concept: a small local grocery with a deli counter. But the addition of indie music and a wide selection of beer and wine to peruse while you wait add to the experience. An everday menu includes sandwiches from grilled cheeses to a classic Italian, but it's the daily specials, like Tha Rasta Mon (jerk turkey, pimento cheese, avocado, and caramelized pineapple salsa on a baguette) that keep you coming back. 800 East 35th St. 704-375-8704
---
Laurel Market
Why: It's earned a loyal following
Those who have enjoyed Laurel Market's deli and sandwich offerings often proclaim them some of the best in town, and for good reason. The market, which opened in 1991 and has a mom-and-pop feel, creates extra-large breakfast sandwiches—including the popular breakfast torta with chorizo, havarti, and cilantro—and other creative made-to-order bites. A favorite among customers is the addition of two different types of lettuce on every sandwich. 114 Cherokee Rd. 704-347-4989
---
Common Market
Why: It's a blend of old general store and eclectic hangout
Offbeat and alternative vibes come together to create an awesome atmosphere here—not to mention the sandwiches. Most are classics with a little twist, such as the Jack Kennedy, made with egg salad, bacon, and horseradish mayo; or the Old Scratch, with turkey, havarti, carrots, cucumbers, and red cabbage. The best part? Most of them—including the several vegetarian and vegan selections—cost $7 or less. 1515 South Tryon St. 704-332-7782
---
Earl's Grocery
Why: It's gourmet, but approachable
The brains behind Carpe Diem brought Earl's to life in order to help shoppers create a satisfying and creative meal at home or grab one on the go. Fresh juices and soda without high fructose corn syrup line coolers, and you can sit and eat your sandwich or take it home with you. If you're heading here to pick up beer, milk, produce, or eggs (along with other staples available at the grocer), you can grab a fresh-made banh mi sandwich and some cheese cut to order, as well. 1609 Elizabeth Ave. 704-333-2757
Specialty markets
Pasta & Provisions
Homemade pastas, sauces, cheeses, oils, spices, and prepared foods dot the cases at this tiny shop in Myers Park, and an old secondhand pasta maker, used during the store's first few months, sits in the front window. Since 1992, owners Tommy and Debbie George have made a name selling all things Italian, and you won't want to cut out the carbs once you have a taste of their cuisine. 1528 Providence Rd., 704-364-2622.
Block & Grinder
Chef Ben Philpott is running the restaurant side, but don't miss the splendid array of meats in the case by the door. You can find anything and everything from pork to beef to poultry, and if you don't see what you're looking for, they'll source it for you. Feeling wild? Antelope, ostrich, and kangaroo have graced the menu. 2935 Providence Road. 704-364-2100.
Owen's Bagel & Deli
A decent bagel outside New York can be difficult to find, but Owen's is churning out the good stuff. Plus, sandwiches are assembled, then steamed in their foil packages to melt all your flavor combinations into one gooey, delicious mess. 2041 South Blvd., Suite G. 704-333-5385.
Orrman's Cheese Shop
Specializing in all things cheese (and Charlotte's first cut-to-order cheesemonger), owner Rachel Klebaur knows her curds. It's the grilled cheese, though, that has its own band of loyal followers. Combinations such as gouda, preserved walnuts, and shallot confit made while you wait are helping more Charlotteans embrace the old classic. 224 East 7th St., 980-226-3025.