The Results of Our 2020 Charlotte Beer Bracket
Thirty-two brews. Twenty-one breweries. Thousands weigh in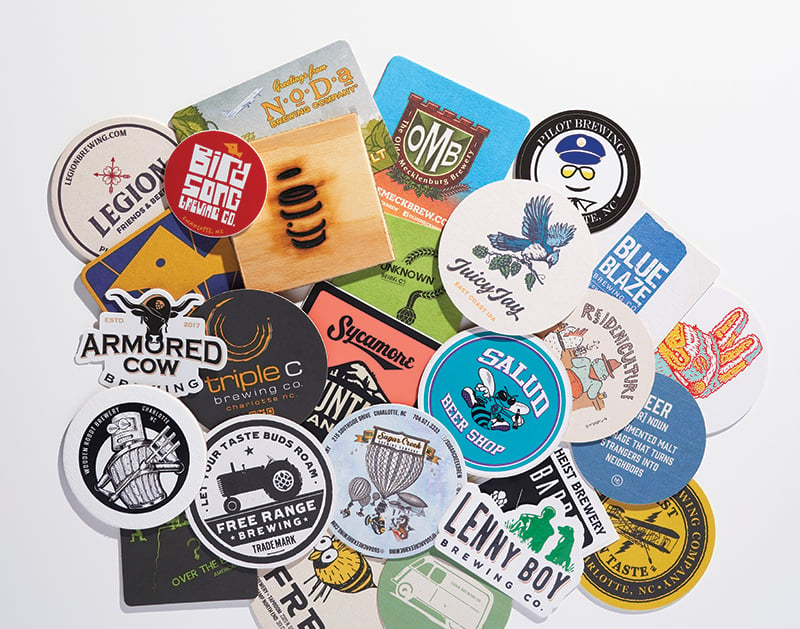 ABOUT THE METHODOLOGY
It began as a short exchange in a Slack thread: People miss sports during this pandemic. Can we create a friendly-yet-competitive tournament-style bracket out of something else?
The recent Stay-at-Home order had placed "uh, beer" at the top of the short list of our common pastimes. And the timing was right: We hadn't ranked Charlotte brews since 2017, a lifetime in "local beer years." So, in the absence of a 2020 March Madness, we appointed ourselves members of a "selection committee"—hey, it's our magazine—and scanned the field.
The Methodology:
» The four "regions" couldn't be geographic, as breweries aren't equally distributed throughout Charlotte. Instead, we opted for types: India Pale Ales, Darks, Lights, and Sours.
» For this first edition, our 32 would be selected only from breweries native to Charlotte and within city limits. To keep it diverse, a single brewery couldn't have more than two products in the bracket and no more than one per type.
» Seeding: Strictly speaking, there's no formal power-ranking system for Charlotte beers based on strength of schedule or the learned assessment of Jay Bilas (an attorney with the Charlotte law firm of Moore & Van Allen in addition to his ESPN analyst gig). We considered other factors for matchups, like breweries' opening dates and BeerAdvocate and Untappd grades.
Our Guest Committee Member:
For an outside perspective, our editors asked Michael Brawley of Brawley's Beverage to join the selection committee. His Park Road bottle shop opened in 2007, two years before Charlotte's first brewery opened. Michael added invaluable insights throughout.
---
BUZZ CITY LIMITS
For this first edition of the bracket, we kept our selections within Charlotte proper
LEGEND
---
MEET THE CHAMPION
Legion Brewing Company's Juicy Jay is the new king of Charlotte beers
Legion Brewing offered a drop of hope during the early, uncertain days of spring. On April 2, an announcement hit social media: Juicy Jay cans are here. It seemed serendipitous that the beloved IPA, which has made best-of lists since Legion's first location opened in Plaza Midwood in 2015, hit grocery stores as taprooms closed. The real story was one of quick decisions and sleepless nights.
Legion Brewing Company co-owner Phil Buchy says the company had always planned to sell Juicy Jay and other beers in cans. "We were always so busy just trying to keep up with our draft sales that we never had the capacity to sell cans," he says by phone in June. "We were selling every drop we could make."
That reality came to a halt in March, when COVID-19 forced a statewide Stay-at-Home order. Legion's sales dropped to zero overnight, from its own taprooms to the 400 Charlotte-area restaurants that sell its beer.
But grocery stores remained open. Legion already had the branding finalized, retail connections in place, and Juicy Jay in the tanks. In just a week and a half, they pulled off the rest: cans, labels, coordination, filling, packaging, and distribution of thousands of Juicy Jays to stores across the region. Buchy's team finally had time to can their beers. The brewery's survival depended on it.
"The moment was absolutely life-changing for us," Buchy says. "It was a great surprise to us just how popular our cans have been and how embraced our packaging has been."
As of June, Legion Brewing sells more Juicy Jay in cans in a day than they had sold on tap in a week. Legion has added other beers to the canning list: dry Irish stout Sláinte, hibiscus pale ale Mind Ya 'Biscus, the lager Penguin Pils, American wheat ale Flicker Daze, the Berliner Weisse Carolina Sparkle Party, and, most recently, the East Coast IPA Next Chapter.
As restaurants and taprooms reopen, head brewer Scott Griffin and his crew are making "as much beer as we possibly can," he says. They'll need the expanded production facility they plan to open early next year on Morehead Street on the west side. It'll be Legion's third site, the company having opened a taproom in SouthPark in 2018. Legion plans to open a brewery and restaurant at Atherton's Trolley Barn in South End around the same time.
In 2015, Griffin was an assistant to Alexa Long, Legion's former head brewer and the creator of Juicy Jay. At the time, Legion produced 1,000 barrels a year. In 2019, it made 7,000. "She did an incredible job with that recipe," Griffin says. He's had to tweak it over the years as production expanded and new hops became available, but the essence remains: an easy drinker with a tropical tinge and a "distinct, dry finish."
Juicy Jay's name reflects the familial, in-jokey culture that grows inside small breweries. Juicy J is a founding member of the Memphis hip-hop group Three 6 Mafia, which the Legion crew was listening to "a lot during those days," Griffin says. Legion's flagship IPA might not have kept the name if its owners had realized the connection and glanced at his lyrics. "But by the time Phil found out," Griffin says with a laugh, "we were kind of married to it." The happy, hoppy marriage endures.
---
THE OTHER THREE IN THE FINAL FOUR
The dark, sour, and light that rose to the top of their "regions"
NoDa Brewing Company's Coco Loco
Coco Loco wouldn't exist if Maui Brewing Company sold beer in North Carolina in 2007.
Todd and Suzie Ford vacationed in Hawaii that year and loved the brewery's Coconut Hiwa Porter. At the time, Todd was an airline pilot who had just returned to his homebrewing hobby after a break when his kids were younger. (Just after he and Suzie married in the mid-2000s, she ventured downstairs and asked, "What are all of those pots and pans you have in the basement?")
When they returned to Charlotte, they were dismayed to find that the Maui Brewing porter wasn't available locally. So Todd set out to reverse-engineer it. The future brewery owner made one change: Some cacao nibs were "laying around," and he added them to the concoction. Coco Loco was born, and the Fords kept making it in their house. Todd brewed; Suzie "became the official coconut toaster."
Four years later, Todd and Suzie, a former banker, left their careers and founded NoDa Brewing Company. Before they opened their first site in Optimist Park, Maui Brewing Company's founder, Garrett Marrero, gave them a tour of his facility and was delighted to learn about Coconut Hiwa Porter's influence on their new careers.
Coco Loco was one of three original beers at NoDa Brewing, along with Ramble on Red ale and NoDaRized, an IPA. Eleven months later, it was one of four beers Todd and Suzie entered at the Great American Beer Festival. The porter won the silver medal in its category, and the first table the Fords visited after they won was Marrero's. (He wasn't there yet, but they talked to his mom and found Garrett later that day.)
"This beer is inspirational to us because of the good times we had in Hawaii, plus the collaborative nature of brewers and how they help each other out," Ford says. When we talk by phone in June, Ford briefly mentions that he just changed his vacation plans due to COVID-19 and was headed to the North Carolina coast instead.
Where had the Fords plannedto go? Back to Hawaii, of course. They'll return when they can.
Wooden Robot Brewery's Good Morning Vietnam
Charlotte magazine commenters are smart folks. A few beer enthusiasts prophesized in Round 2 that Good Morning Vietnam would face Juicy Jay in the final. They were right.
This "coffee vanilla blonde ale" breezed by every competitor until the championship round. Its placement proves it's more than a novelty, but coffee in a light beer still surprises. "Brewers have been combining beer and coffee for a while now, typically by adding it to a stout or porter-style beer," writes Dan Wade, co-founder and head brewer at Wooden Robot, via email. "I was doing more research on this process and started reading how different roasts affect the coffee taste. I had the idea to brew a blonde beer by using blonde roast coffee. I thought this would be a great way to let the brighter coffee notes shine through in a beer."
Wooden Robot opened in 2015, and Good Morning Vietnam was one of its first beers. The name comes from the 1987 film that stars Robin Williams as an Air Force radio deejay who opens his shifts with the trademark wail: "Gooooood morning, VietNAM!" When you think of morning, Wade notes, you think of coffee.
At first, Wooden Robot acquired the coffee beans from its then-neighbors at Common Market. But as the beer became popular, and CM relocated, "(we) knew we needed to go directly to the source." The brewery turned to Enderly Coffee on the west side, which already sells a light Ethiopian coffee to match the blonde beer. Wade regards the combined team as ideal partners, both parties being "flavor architects." "The fermented beer rests on the Ethiopian-grown coffee overnight, and the cold extraction creates a smooth, full character," Wade says.
The result is a light beer that stands above its peers, with just a bit more perk.
Triple C Brewing Company's Rainbow Sherbet
You know Rainbow Sherbet when you see it. The sour streams bright red from the tap, as enticing as the frozen treat that inspired its name. "When people say you eat with your eyes as much as anything else—drinking's like that, too," head brewer John Rankin tells me in May.
Rankin was only a couple of months into the job when Triple C released his new sherbet-inspired fruited sour as a small batch last summer. The response was so ecstatic that the company re-released it in cans last March. Rankin says Rainbow Sherbet succeeded here in part because the market hadn't seen much like it. Tampa, where he was head production brewer at Tampa Bay Brewing Co. before working at Triple C, was rife with fruited sours. (Before his stint in Florida, Rankin worked for Thomas Creek Brewing in Greenville, S.C.)
Rainbow Sherbet gets its reddish hue primarily when brewers add raspberries to the tart Berliner Weisse base,Rankin says. The sherbet flavor comes from pineapple, lime, vanilla, and being brewed with lactose. It's a reminder of what drew Ranking to work at Triple C: a spirit of experimentation. "The Barrel Room," a new space across the street that Triple C added in 2017, added possibilities, Rankin told Brewer Magazine last year: Its "pilot system, along with (its) barrel storage capacity and a couple foeders."
"And really, it takes a whole team to make great beer," Rankin tells me in May, "so I'm just part of a bigger, great team."
Triple C's founder, Chris Harker, tells us that the entire team was excited to see Rainbow Sherbet in the Final Four alongside three year-round Charlotte mainstays. Don't worry if you missed it in March: They're bringing it back this month for their 8th anniversary and might add new fruits to the mix.
---
MEET THE OTHERS IN THE ELITE EIGHT
The road to the Final Four went through these heavy hitters
IPAS
Heist Brewery's Citraquench'l
The Story: In 2017, writer Matt McKenzie ranked Charlotte's 50 Best Craft Beers and put this New England IPA at the top. It has the rare rating of 100 on BeerAdvocate, which labels it "World-Class." It's also the platform's number-one beer for North Carolina. Surprisingly, Juicy Jay trounced Hop Drop in the first round of our bracket. Citraquench'l was its closest competitor, and the Legion brew won by only a few dozen votes out of hundreds.
Heist, which opened in 2012 as the city's first brewpub, is known mainly for fruited sours and stouts, a shift from the German- and Belgian-style beers it sold under another head brewer in its early days. But Citraquench'l is a perennial, beloved and traded among enthusiasts to this day.
Behind the Name: Citraquench'l contains only one type of hop, Citra. Heist had named it "Citraquential," but it was hard to resist an alternate spelling when the "quench" pun was … av-ALE-able. (This shame is a terrible burden.)
What They're Saying on Untappd: One user's review: "Oh yeah! Tasty!"
LIGHTS
Sycamore Brewing's Southern Girl
The Story: Sycamore has poured the blonde ale Southern Girl from the tap since it opened in 2014, and it's also part of the brewery's core lineup of popular cans. Sycamore's distribution continues to expand: Cans, including Southern Girl, recently made it to Virginia stores from its 31,000-square-foot production brewery and cannery in the North End of Charlotte. Sycamore had previously expanded to South Carolina and was headed to Georgia prior to COVID-19.
Owners still plan to move to a new, larger space in the 250-foot tower that Atlanta-based Portman Holdings is building next to its original South End location. Expect Southern Girl to make the journey, too.
Behind the Name: With its biscuit-like aroma and flavors—along with honeydew melon and strawberry—the beer fits its moniker. But Southern Girl is actually named for Sycamore's "American-made brewhouse," owners say.
What They're Saying on Untappd: "Nothing better than a good southern girl."
SOURS
Resident Culture Brewing Company's Illegal Smile
The Story:From its fully formed, wild branding to across-the-board quality in any style, you would never know Resident Culture is only three years old. Illegal Smile is the best of its sours: The kettle sour ale carries the fruitiness of blackcurrant and the tartness of key lime.
The pour is a rich red, and as you can see in the Final Four of this competition, red was a motif in the sours category. This was another tough Elite Eight battle, which Triple C's Rainbow Sherbet won by 30 votes.
Behind the Name: "Illegal Smile" acquired its name from a 1971 tune by the late, great John Prine. It's the opening track on his self-titled debut and includes the lines, "And you may see me tonight with an illegal smile/It don't cost very much, but it lasts a long while." The brewery name has drawn questions, too: Co-founder and head brewer Chris Tropeano says it refers to the Plaza Midwood community it inhabits and the regional yeast it uses to brew the beer.
What They're Saying on Untappd: "Interesting. Almost a cinnamon-like, Rhubarb taste."
DARKS
Blue Blaze Brewing Co.'s Black Blaze Milk Stout
The Story:Blue Blaze is a West End mainstay, the first tenant of the century-old Savona Mill project. Its Black Blaze Milk Stout belongs in the "elite" category: For a stout, it's a surprisingly smooth, creamy brew. The blend of espresso and chocolate is welcome at any time of day (including, we've found, weekend mornings). Black Blaze Milk Stout is one of the brewery's year-rounders, but its brewers traffic in dark ales, too, including Double Blaze Black IPA, Muddy Waters Brown Ale, and Ripped Corduroy Imperial Stout.
Behind the Name: It's a play on the name of the brewery, explained across its branding and website: "Paint stripes—called blazes—of different colors are used on the Appalachian Trail to serve as waypoints and indicate points of interest. Side trails that lead to water, relaxation, and camaraderie are identified by a blue blaze."
What They're Saying on Untappd: "A perfectly made milk stout. Rich and creamy in every sip. Subtle chocolate notes, but I didn't taste the espresso. That would have sent it to the top!"
---
MEET THE OTHERS IN THE SWEET 16
They made it past the first round but got bounced in the second. Picked one of these for the championship, did you? Tough.
IPAS
Birdsong Brewing's Higher Ground
This West Coast IPA is Birdsong's best seller.
ABV *: 7%
IBU *: 65
BeerAdvocate Score: 88% (Very Good)
Rookie Year: 2011
Fun Fact: Birdsong's Squirrels on Geese is a Chardonnay barrel-aged version of Higher Ground.
Lenny Boy Brewing Co.'s Citraphilia
The flagship IPA for the South End spot.
ABV: 6.4%
IBU: 65
BeerAdvocate Score: 87% (Very Good)
Rookie Year: 2016
Fun Fact: Citra, Amarillo, and Ekuanot hops are used to craft this Lenny Boy staple.
LIGHTS
Sugar Creek Brewing Company's Pale Ale
Balances pine, grapefruit, and citrus flavors.
ABV: 5.2%
IBU: 40
BeerAdvocate Score: 87% (Very Good)
Rookie Year: 2014
Fun Fact: Despite its plain-Jane name, it won the silver medal at the national Alltech Commonwealth Cup in Lexington, Kentucky.
The Unknown Brewing Co.'s Pre-Game Session
It's light. Very light. But that's helpful when the game hasn't even started.
ABV: 4.5%
IBU: None
BeerAdvocate Score: 81%(Good)
Rookie Year: 2014
Fun Fact: Technically an American pale ale, a style represented most famously by Sierra Nevada's Pale Ale, often credited with kicking off the American craft beer phenomenon.
DARKS
Birdsong Brewing's MexiCali Stout
Habaneros give this cold-weather beer a touch of heat to complement its chocolate and coffee tones.
ABV: 5.8%
IBU: 35
BeerAdvocate Score: 87% (Very Good)
Rookie Year: 2013
Fun Fact:Habaneros fall between 100,000 and 350,000 on the Scoville spiciness scale. The Carolina Reaper and police pepper spray? Those would be 1,500,000 to 3,000,000.
Pilot Brewing Co.'s Dunkel Bock
This Plaza Midwood original is inspired by dark German lagers.
ABV: 6.3%
IBU: 24
BeerAdvocate Score: None
Rookie Year: 2018
Fun Fact: Won the bronze in the "Bock" category at the 2019 Great American Beer Festival.
SOURS
Wooden Robot Brewery's Raspberry Swirl It
This sour ale, inspired by raspberry-vanilla swirl ice cream, was made in collaboration with North Street Beer Station in Raleigh and spun off of Wooden Robot's Swirl It! series.
ABV: 6%
IBU: None
BeerAdvocate Score: None
Rookie Year: 2019
Fun Fact: Raspberry Swirl It! is brewed with 500 pounds of raspberries.
The Unknown Brewing Co.'s Bright Ass Tank Top
Unknown describes this sour as a "rum-barreled key lime gose."
ABV: 4.1%
IBU: None
BeerAdvocate Score: 88% (Very Good)
Rookie Year: 2016
Fun Fact: Unknown used 15-year-old Nicaraguan rum barrels to store this gose.

* ABV=Alcohol By Volume
* IBU= International Bitterness Units
---
MEET THE OTHERS IN THE ORIGINAL 32
These brews didn't make it past the first round, but they're still Charlotte staples
IPAs
NoDa Brewing Company
Hop Drop 'N Roll
It was a tough draw for one of Charlotte's most decorated and well-known IPAs. Regardless, the legacy of this hometown hero is cemented—and will be canned for years to come.
Triple C Brewing Company
3C IPA
3C's name comes from the three hops used in the West Coast-style IPA: Citra, Chinook, and Centennial. It took gold at the NC Brewers Cup in 2019 but was the second decorated league veteran to fall in our bracket.
Divine Barrel Brewing
Forty Dollar Bill
The only beer on this list to pay homage to Frank Zappa. We can't print the full lyric—Google "Dinah-Moe Humm" if you dare—but we can recommend this old-school West Coast IPA for its boldness and orange-y edge.
Resident Culture Brewing Company
God Complex
In contrast to its West Coast counterparts, this New England IPA is creamy, smooth, and, most notably, not bitter. The DIPA (Double IPA) reigns as the Plaza Midwood brewery's juiciest and hoppiest take on the style.
LIGHTS
Olde Mecklenburg Brewery
Copper
The flagship beer from the city's oldest and largest brewery. OMB stores the ale, technically a "Düsseldorf-style Altbier," for several weeks at freezing temperatures after its primary fermentation to give Copper its lager-like crispness.
Divine Barrel Brewing
The Lightest Thing We Have
A common question at any brewery: "What's the lightest thing you have?" Divine Barrel responded with this lager's name. The most common descriptors on the Untappd beer platform: "crisp" and "easy drinker." On this list, it's also … you know.
Free Range Brewing
Cream of the Crop
This cream ale has the consistency of a glass of milk. (It doesn't taste like milk, though; that'd be weird.) This style is underrepresented in Charlotte, but Free Range's version stands up against the nationally known Creole Cream Ale at Abita Brewing Company or the smooth Session Cream Ale from Full Sail Brewing.
Protagonist Beer
Over the Rainbow
This blonde ale was made for summer. The citrus peel notes are expected, but the brewery's self-described "laboratory" also injected flavors of Hawaiian Punch (!) and peach candy flavors (!!).
DARKS
Sugar Creek Brewing Company
Dubbel
This rich Belgian dubbel is surprisingly easy to drink considering its kitchen-sink roster of flavors: banana, clove, raisin, brown sugar, cherry, chocolate, plum, and spice. It's the brewery's most expensive beer to make, and you can taste the production costs.
Lenny Boy Brewing Co.
Burn Down Brown
This creamy brown ale with chocolate and toffee tones lends itself to other uses: Lenny Boy uses it in the cheese dip that comes with an order of pretzels.
Town Brewing
Flutter Tongue
This "region" needed a robust stout. It's strong but playful, as the flavors of blueberries and Madagascar bourbon vanilla beans dance on the palate.
Armored Cow Brewing Co.
Porter of the Phoenix
Harry Potter fans will float on air to this porter, whose name plays on the title of the fifth installment of the series. It's the kind of beer that gets too heavy after one or two. But if you're in the right mood, it's magical.
SOURs
Salud Cerveceria
Funky Drummer
Now, here's a versatile Foeder-aged sour: Salud Cerveceria makes different versions of Funky Drummer with different fruits. Past versions have included raspberry, paw paw, elderberry, plum, peach, sumac, and more.
Legion Brewing Company
Entmoot
Part of its Cellar Series, Entmoot is Legion's prestige farmhouse ale, with notes of oak and toasted pineapple. The oak flavors explain the name, inspired by the tree-like Ent creatures inLord of the Rings and their gatherings.
Free Range Brewing
Burn Barrel
The peachiness and smokiness of this beer form a dynamic team. Free Range describes Burn Barrel as a "Carolina smoked wild ale," and this tribute to peach farmers reflects the Villa Heights brewery's rusticity.
The Suffolk Punch
Daydream Sour Sessions
The ingredients scream enlightenment: "soursop fruit, khorasan (Egyptian Wheat), lime peel, coriander, pink Himalayan salt, and small amounts of turmeric root, long pepper, and fenugreek." Daydream is ideal for a serene Saturday afternoon on the patio.
---
THE FINAL BRACKET