Charlotte's Best Movie Cameos
A map of the city's Hollywood moments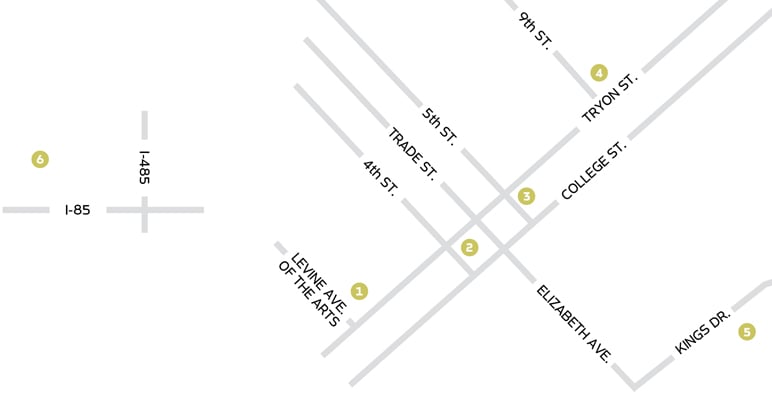 SINCE CHANGES TO North Carolina's film incentives program have prompted some production crews to leave the state, we're looking back fondly at our brush with Hollywood. This map shows spots where Charlotte made some of its most famous cameos.
1. KNIGHT THEATER
The Hunger Games (2012)
There was plenty of neon and garish makeup to be seen around the Levine Center for the Arts in 2011. Hundreds of costumed extras were on set at the Knight Theater for the filming of the Capitol scenes for The Hunger Games. Caesar Flickerman (Stanley Tucci) conducted his "girl on fire" interview with Katniss Everdeen (Jennifer Lawrence) in the theater, flaming dress and all.
---
2. SOUTH TRYON AT FOURTH STREET
Homeland Season 2 (2012)
When Nicholas Brody's daughter and her friend attempt to escape the Secret Service in Season 2, they drive out of an alleyway here and accidentally hit a woman. Police made sure real-life traffic was much safer: "The police have been working with the film business for many years, so they're skilled in doing roadblocks," location manager Jason King says.
---
3. HEARST TOWER
Paper Towns (July 2015)
This film is adapted from John Green's novel about a teenager's search for a missing friend. Crews filmed a scene in the lobby of Hearst Tower last fall. We don't know which one, because the location manager didn't want to spoil anything about the forthcoming movie. But knowing Green, it probably involved a lot of teenage yearning and angst.
---
4. DAYS INN
Nell (1994)
Jodie Foster was nominated for an Oscar for her role as a backwoods hermit in this film. Scenes in which she spends time hiding in a grungy hotel room were shot in the former Days Inn that used to stand at the corner of Ninth and North Tryon streets. The building was demolished in 2014 to make room for the second of two SkyHouse Uptown apartment buildings.
---
5. MEMORIAL STADIUM
Leatherheads (2008)
The climactic face-off between the Penn and Princeton teams in this George Clooney and John Krasinski comedy about 1920s football was filmed in Memorial Stadium in 2007. A large fake brick wall was erected in the end zone to block the view of the very un-1920s Charlotte skyline.

---
6. WHITEWATER CENTER
Vacation (July 2015), Max (June 2015)
In October 2014, the U.S. National Whitewater Center was used to film scenes for Vacation, a new twist on the National Lampoon's Vacation comedy series that's slated to hit theaters in July. The center will also appear in the upcoming movie Max, about a K9 unit that returns to the U.S. from Afghanistan after working with the Marines.