Charlotte's Best New Restaurants: 2015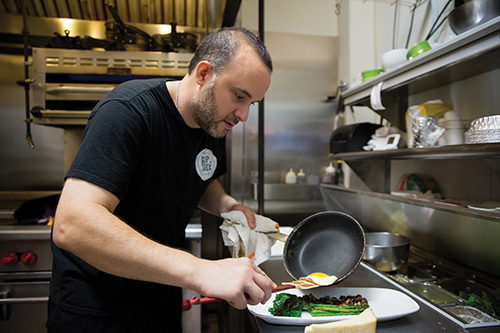 For our 2016 list of Charlotte's 50 Best Restaurants,
CLICK HERE.
Note: For more great coverage of Charlotte's restaurants, check out our Restaurants Guide and Food + Drink section.
WHILE CITIES LIKE Charleston and Atlanta still receive more recognition for having the South's top restaurants, Charlotte's food scene simmers. In the past year, the city's tastes have expanded with French and Italian and German restaurants, along with plenty of new farm-to-fork options. The 13 restaurants on the pages that follow are helping to make Charlotte the most exciting food city in the region.
---
PHOTOGRAPHS BY PETER TAYLOR
Clark Barlowe's foraging spoils include acorns, which will be blanched and used in dishes at his Charlotte restaurant, Heirloom.
Heirloom: The Story of a Meal
A raw nut, a chef, and a vision that could transform Charlotte's food scene
It started as a game. A challenge.
A riddle. Clark Barlowe's penchant for identifying plants took root because, when he was a child, his father regularly took him into the woods. As they walked the uneven terrain of Caldwell County, Barlowe's father put his hand against tree trunks, prodding: Can you name this one?
Barlowe would then call out: White Oak! Maple! Dogwood!
Now, he estimates he can name about 90 percent of the trees he encounters in North Carolina. "It's always the gums that get me," Barlowe says, shaking his head. But when it comes to edible species on the forest floor, hardly anything escapes him.
The 27-year-old chef and owner of Heirloom in Charlotte believes that a chef is only as good as his pantry. And if that's the case, you'd be hard-pressed to find a chef better than Barlowe. As a forager, his pantry has no walls. It is bound only by the state line and Barlowe's pledge to use North Carolina ingredients—with a level of dedication that necessitates sea salt from the Outer Banks.
Read more about Heirloom here. Continue reading for more of Charlotte's best new restaurants.
---
EARL'S GROCERY

Tamales with mole rojo chicken at Earl's Grocery.
As I wait in line to order lunch, an employee appears at my elbow and offers me a bite-sized sample of shortbread made in South Carolina. The buttery cookies are for sale on a shelf behind her.
Beyond that shelf are brightly lit, refrigerated cases of gourmet meats, cheeses, and other essentials: chicken sausage with truffles, gluten-free rigatoni, Nye's ice cream sandwiches, made-in-Iowa prosciutto. There are pots of dry pasta and a dessert bar serving pumpkin-spiced almond frozen yogurt. How I can focus on lunch?
I settle on the quiche lunch special ($7.49), which the server delivers to my table in a foldable, brown takeout box. The egg filling is hearty but not heavy, the crust flaky but not too sweet, and it's all paired with a side item that conjures memories of Paris: salad greens tossed in a spicy mustard dressing. Now I know why every table at Earl's is filled by 12:30 on a weekday. This restaurant is serving a delicacy Charlotte has sorely missed: elegant, affordable, grab-and-go lunch. —L.R. 1609 Elizabeth Ave., 704-333-2757
---
PASSION8

Passion8's mushroom consommé with truffled parsnip, mushroom cream, and quail egg.
The heavy equipment has moved on. The noise and dust and blocked streets? Gone. The construction of the Gold Line trolley seems to have taken longer than the building of the Western railroads, but for the restaurants and owners on Elizabeth Avenue who endured, it's a new day.
Now they also have a new neighbor, Passion8.
Owner and chef Luca Annunziata brings an inventive twist to local meat and produce. He flash fries leaves of Swiss chard and pickles the stems. He bathes short ribs in a ginger braise, highlighting the best flavors nature gives the Carolinas.
Passion8 moved to the neighborhood in October after serving a loyal following in Fort Mill for eight years. The new venue is less cramped, but with a delicate intimacy.
It's a fine, fun addition to Elizabeth Avenue. "People call this 'Eat Street'," co-owner Jessica Annunziata says of her new home.
Get there — by car, bike, or someday, trolley. —C.S.
1523 Elizabeth Avenue, 704-910-3161, thepassion8.com
---
LUMIERE

Lumiere's Texas wild boar chops with choucroute, pork belly, and gratin of truffled macaroni.
In a room of hushed voices, tinkling glassware, and richly scented food, Matt Pera and chef Tom Condron bring their passion of fine dining to life. They've owned and operated The Liberty, a gastropub in South End, for five years, but in early 2014, they opened Lumiere as a tribute to their early days in the kitchen. "This is what we always wanted to do," Pera says.
The menu changes every week, but if you can catch the Duck a l'Orange, you'll find yourself biting into savory and rich meat accented by hints of citrus. These are the types of dishes that Condron, who trained under the late Jean Louis Palladin, and Pera, who worked at the former Charlotte French restaurant Marais, have been waiting to serve. "To him, French is first nature," Pera says of Condron. "He's been cooking this stuff since he was 15 or 16 years old." —S.N.
1039 Providence Rd., Charlotte, 704-372-3335, lumieremyerspark.com
---
THE ASBURY

Chris Coleman has a few twists on Southern traditions. The "chicken and dumplings" comes with herbed potato gnocchi and baby root vegetables.
Chris Coleman grew up in the Mountain Island Lake area, where his whole family gathered around the table every night for dinner. His mother, who is from Mississippi, served the Southern flavors of her youth—chicken and dumplings, skillet-fried chicken—plus some exotic additions, such as beef stroganoff.
So when Coleman became executive chef of The Asbury last winter, he brought that family tradition with him. He took recipes his grandmother gave him and put them on the menu, including her biscuits: "Flour and milk and butter—a lot of butter." He added his own twist, a jam made from bacon, onions, sugar, and vinegar, but for the most part, he let the biscuits stand. That's intentional. "We're trying not to reinvent the wheel," he says.
Taking over the spot where Harvest Moon Grille once stood, he wants The Asbury to honor the Southern food that's been passed down through generations, while blending it with modern techniques and flavors from the many cultures that have flocked south from somewhere else. You may taste Cajun spices in his dishes, a dash of Lowcountry soul, or a spike of savory Korean. But he hopes you will always taste good memories, like the ones he found at home. —L.R.
235 N. Tryon St., 704-342-1193, theasbury.com
---
FAHRENHEIT

Fahrenheit's wood-grilled rack of lamb and Merguez lamb sausage.
Building a restaurant on a roof requires patience. Last winter, Rocco Whalen watched workers stuff each board, each table, and each box of martini glasses into a freight elevator at Skye Condos and punch the button for floor 21.
Looking out from Fahrenheit's rooftop location now, you're more likely to admire the view than wonder how the restaurant got here. But it happened because Whalen, a celebrity chef from Cleveland, was determined to see what Charlotte could offer. The answer surprised him. He expected to sell mostly steak, but instead Charlotte demanded fresh fish. He thought he knew local beer—his Cleveland restaurant is minutes from Great Lakes Brewing Company—but then he tasted Birdsong's Jalapeno Pale Ale, his favorite Charlotte beer.
Charlotte didn't receive much credit for food last year, with several noteworthy "best-of" lists excluding the city's restaurants. But Whalen believes national attention will come with time. When he talks to friends around the country, he says he brags as much about the overall Charlotte food scene as he does about Fahrenheit.
"I come from the land of no-credit in Cleveland," he says. "There's a lot of great things going on here. If I need to scream it from the top of my lungs, I'm going to do that." —M.G.
222 S. Caldwell St., 980-237-6718, chefroccowhalen.com/fahrenheit-charlotte
---
OLDE MECKLENBURG BREWERY

Food options abound on Olde Meck's new brauhaus menu. The fresh-baked soft pretzel (top) goes best with Captain Jack's beer cheese. The best würste platter (bottom right) allows you to pick your favorite three sausages. The German potato salad (bottom left) is a second-generation family recipe. And the German-style braised red cabbage (middle left) comes with apple and onion.
Here, where the würste is the best, there's a Stiglmeier brat, Stiglmeier Nuremburger, Stiglmeier Gyulai, kielbasa, knockwurst, and there's a Hoffmann German Frank, "but that's really just a hot dog," the waitress says.
The Olde Mecklenburg Brewery introduced Charlotte to local beer in 2009, when John Marrino opened a small brewery in South End. A few hops later, Charlotte has about a dozen breweries with more on the way, and people are calling this town a beer town.
This summer, Marrino again started something. His was the first of Charlotte's breweries to upsize, moving into an $8 million, 25,000 square-foot facility just down the street. Rows of garden-style tables run parallel to each other, and the beer glasses twinkle on the shelves behind the bar, their OMB labels all facing out. Outside, there's a German-style biergarten, American-style cornhole boards, and, on busy days, a Charlotte-style food truck that sits on the grounds permanently and serves up the restaurant's pretzels and beer-cheese dip.
It's local and it's German, it's beer and it's food, and there's no place like it. —M.G.
4150 Yancey Rd., 704-525-5644, oldmeckbrew.com
---
HERITAGE FOOD & DRINK
Heritage chef Paul Verica has changed Waxhaw's food scene with such dishes as duck breast with risotto.
He has sweat stains on his ball cap. It's a Philadelphia Eagles cap, and it's about the only thing inside Heritage that's not from around here. The walls are covered in photographs of area farms, and the tables are dressed with flowers picked from a nearby sweet bubbie bush.
We could talk about what chef Paul Verica served one night last fall: The fish was amberjack, caught off the North Carolina coast. One appetizer was sunchoke chips and hazelnut goat cheese dip, and another was the last squash blossom of the season. But what he served that night is of little consequence, because at Heritage, what was here isn't what will be here.
Verica imagines a new menu every day, depending on what his farmers deliver. He knows how to adapt. He grew up in Philadelphia and worked at restaurants and resorts in Washington and France before coming to Charlotte. He has three children now, and he's tired of moving, so in late 2013, he opened Heritage in downtown Waxhaw. He does everything here, down to answering phones. But there's comfort in knowing he's rooted now, a chef and his sweaty hat and his restaurant that never stays the same. —M.G.
201 W. South Main St., Waxhaw, 704-843-5236, heritagefoodanddrink.com
---
STAGIONI

Stagioni chef Ashley Quick turns making angel hair pasta into an art form.
The guests, men in white ties and women in their best gowns, stare at the camera and smile from the long banquet table. Tall taper candles burn next to extravagant bouquet centerpieces. Wine and champagne glasses are full; china waits for an entrée.
The scene is more than 70 years old, captured in a black-and-white photo hung in a gold frame. It is from a 1954 wedding celebration. The groom in that wedding was the son of Blanche Reynolds Gormajenko, the original owner of the 1926 Tuscan Revival villa on Providence Road that today houses Stagioni.
The wedding photo hangs only a few feet from the open kitchen. Chefs move swiftly but quietly past it, generating heat and aroma but hardly any noise, adding to the space's intensity. Stagioni feels warm, the kind of slow warmth that comes after a glass of good red wine. Crimson accents dot the dining room, which is cozy enough that reservations are always a good idea, even on weeknights.
Stagioni means "seasons" in Italian, and the restaurant's menu changes to reflect each season's character—think root vegetables and braised meats when it's cold, seafood and citrus in the summer. The autumn menu featured a pumpkin and butternut squash agnolotti with wild mushrooms and a sage brown butter. It was fall on a plate. —A.R.
715 Providence Rd., 704-372-8110, stagioniclt.com
---
FORK!
From the roasted Wild Turkey Farms pork belly to the poached egg on a cheese and herb biscuit crouton, you'll want to try it all at Fork!
Chef and owner Tim Groody lists his friends at the bottom of the menu.
His friends happen to be farmers and suppliers to his farm-to-table restaurant in Cornelius, Fork! Groody has led the locavore movement in the Charlotte area since moving here 15 years ago, and if Fork! demonstrates anything, it is Groody's expansive network of local producers.
There is turkey from Lee and Domisty in China Grove, and chicken raised by Jonathan and Jan in Huntersville, and at one point there were herbs grown by a guy from Matthews appropriately named Rosemary Pete.
When dinner arrives, it comes in portions designed to be shared. We eat family style, passing plates of vegetables to the person across the table, making connections in a way we couldn't with plated dinners.
By listing his farmer friends on the menu, Groody hopes we'll consider them as we eat, and afterward, as we shop for our kitchens at home. It's a subtle recognition that the relationships built around the table don't end when the dishes are dirty and the food is gone. —A.R.
20517 N. Main St., Cornelius, 704-655-7465, forkrestaurantcornelius.com
---
THE SUMMIT ROOM

The Summit Room's brie and truffle butter stuffed cornish hen, with butternut squash fondue and golden beet/Brussels sprout hash.
After climbing Mount Kilimanjaro in October 2013, Deedee Mills flew back to Charlotte, and the next day, she created a plan for The Summit Room. She opened the restaurant on East Boulevard just six months later. Chef Brent Martin puts together a mostly Southern menu. For a period last fall, that menu included crawdad fritters, in which he dumped the mudbugs in batter, fried them, and topped them with powdered sugar. The Summit Room also offers up more eclectic options, such as chicken liver mousse over waffles.
The bar menu includes specialty cocktails that are named after the Seven Summits—the highest mountains on each continent—serving as reminders of the owner's mantra as she walked toward the top of Kilimanjaro: "Never quit." —S.N.
1531 East Blvd., 980-237-2227, thesummitrm.com
---
LITTLESPOON EATERY

Tamales with mole rojo chicken at Earl's Grocery.
I am a Pop Tart connoisseur.
When I was a boy, I ate them for breakfast almost every day. Strawberry. Brown sugar cinnamon. Cherry with frosting and sprinkles. If my mom was out of town, my dad and I would put them in the toaster oven and sit on the carpet in the family den, eating Pop Tarts in front of the TV. It was about as close to perfect as an eight-year-old's life could get.
All of this ran through my mind as I sat at a wooden table inside littleSpoon one rainy weekday this fall. In the middle of the breakfast menu was a seasonal Pop Tart, complete with flaky piecrust and a warm fruit filling.
My dad was with me, and we couldn't resist. The pumpkin-ginger filling and the nutmeg grated over the hot vanilla icing were more refined than the pastries of my childhood. Otherwise, the experience was exactly how I remember it: the gooey center, the slightly burnt corner pieces best saved for last, the sugar rush.
We sat in chairs this time, two grownups and our grownup Pop Tarts. —A.R.
2820 Selwyn Ave., 704-496-9908, littlespooneatery.com
---
After commuting to uptown for years, Chef Jon Fortes now works in a kitchen that's just three minutes from his South Carolina home.
The Big Flip
Why champion chef Jon Fortes left a shiny restaurant in the city for one in a strip mall in Fort Mill
On his last night as Mimosa Grill's executive chef, he was named the top chef in Charlotte—again. On September 29, Jon Fortes won the Fire in the City title for the second year in a row. His Pepsi-braised pork belly with a pomegranate glaze and sweet potato bread pudding with salted caramel wowed the professional and amateur judges in the dining room, completing his weeks-long run through a bracket of 16 of the city's best chefs to win the Iron Chef-style competition. And then he left.
He didn't go far. About 13 miles and a state line separate the uptown dining destination that is Mimosa Grill and the 42-seat strip mall cafe where Fortes now spends his days.
The Flipside Cafe opened in Fort Mill on December 12, 2013. It combines the local-foods movement with a small-town, regulars-at-the-counter atmosphere. So why did Fortes—who served as the corporate chef for the Harper's Restaurant Group's six locations, who helped increase revenue at Mimosa Grill five straight years, and who beat out the who's who of Charlotte's culinary elite in back-to-back competitions—decide to come here?
It has something to do with a woman.
Read more about the Flipside Cafe here.