Charlotte's Best Restaurants for Chips and Salsa
You don't go to a restaurant for its freebies, but they can certainly make the experience better—especially when it comes to Mexican restaurants. Here are our five favorite servings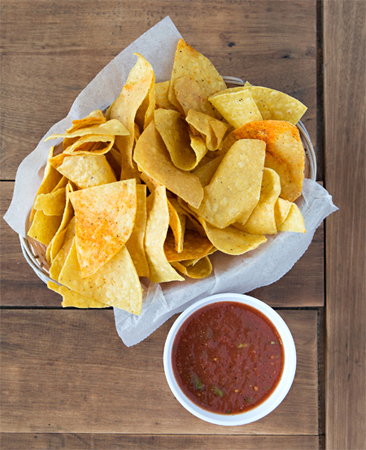 Cabo Fish Taco
Why: Corn is the star
The most popular restaurant on NoDa's main strip, Cabo Fish Taco makes its salsa stand out by adding fresh corn kernels to the usual mix of cilantro, jalapeños, tomatoes, and red onion. The result is a cool, summery salsa that fits with the restaurant's vibe. Yellow corn chips are fresh-fried to order and complement the sweet corn and the zing of the peppers. Regardless of whether your meal is on the table, you'll keep dipping. 3201 N. Davidson St., 704-332-8868.
---
Azteca
Why: Two separate and very different salsas keep everyone happy
At the Woodlawn location of this restaurant, two salsas plus a warm basket of fresh-fried chips arrive just as you're sitting down. The first salsa is a traditional smooth blend. The second is closer to a slaw you'd see at a barbecue joint, but tastes more like a ceviche. Cabbage gives an extra crunch to each chip you top with the mixture. Many diners combine the two salsas for a crunchy, sour, sweet, and spicy taste. 116 E. Woodlawn Rd., 704-525-5110.
---
Three Amigos
Why: They're auténtico
Upon arriving, you'll be greeted with a warm basket of yellow corn tortilla chips dusted with chili powder, salt, and paprika. The salsa is a bold red and almost smooth in its consistency. It's fresh and mild, with bits of cilantro. If you're a bit more daring, add some of the Valentina hot sauce to the salsa to enhance the spice.
Multiple locations.
---
Paco's Tacos
Why: A distinctly Southwestern taste
The influence is Tex-Mex at Paco's—all the way to its tortilla supplier. The once-soft tortillas are fried, salted, and brought to you alongside a very Southwestern salsa. Chef Phil Carter says the concoction gets its Texas flair with a recipe of roasted tomatoes, roasted garlic, roasted onions, cilantro, cumin, oregano, roasted habanero peppers, lime, chipotle peppers, and salt. 6401 Morrison Blvd. #8a, 704-716-8226.
---
Cantina 1511
Why: The effort they put into it
Chef Vincent Giancarlo says the salsa and chips at Cantina are great because "they're simple and straightforward." Every night, the team at Cantina roasts fresh, sweet tomatoes to be combined with roasted habanero peppers, lime juice, cilantro, oregano, cumin, and salt to form salsa. The chips—sourced from a Texas tortilleria—are fried fresh all day and dusted with salt. Multiple locations.
---
* Fiesta Tortillas
Fiesta Tortillas, a small, family-owned tortilla operation in Austin, Texas, supplies only three restaurants outside of Texas with its soft tortillas made using fresh ground corn. All of those restaurants are in Charlotte. Paco's Tacos and the Park Road and Stonecrest locations of Cantina 1511 are the lucky recipients of the white, soft, pliable corn tortillas that will soon turn into chips.