Charlotte's Black Chefs Redefine Soul Food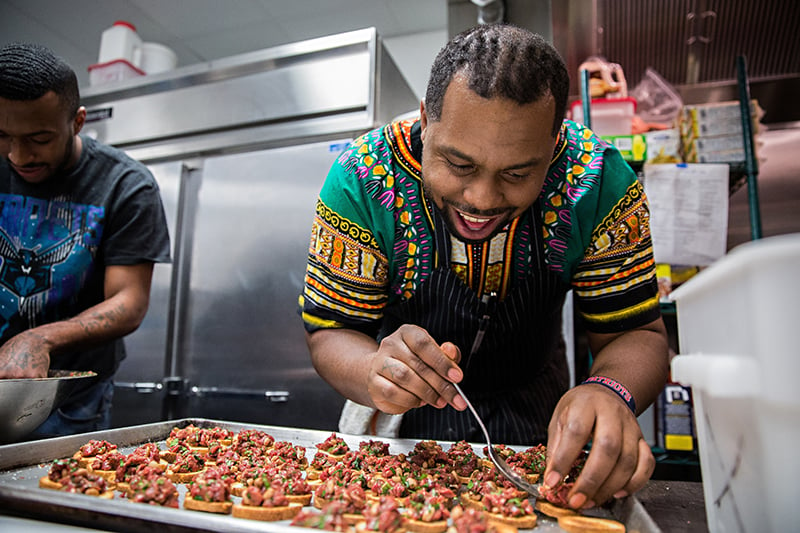 SOME GUESTS, bellies tucked up against long tables at Luca Modern Italian Kitchen, are here to support their favorite chefs. Others made a reservation to dine this Monday night in February to learn about African cuisine, many knowing it's the cuisine of their heritage but not much else. I decided to attend because, despite being food editor at this magazine, I realized I hadn't eaten food from several of the chefs cooking tonight.
The chefs, too, have many reasons for inviting people to their second Soul Food Sessions dinner. As the dinner's theme, Journey through the African Diaspora, suggests, the chefs wanted to explore African food. As six African-American chefs working in the South, they wanted to cook together, for once enjoying a kitchen where everybody looks like them. They also wanted to support a charity that helps African Americans; tonight's money goes to sickle cell research.
They knew, as black chefs, they would be stereotyped, and guests would expect them to cook soul food. They decided to do that, but with one rule: No fried chicken. The classically trained chefs, most Johnson & Wales graduates, from Tennessee, Africa, New Jersey, South Carolina, and Virginia, would cook dishes that reflect their personalities, pasts, and definition of soul food. They share many similarities, but their souls—and their soul foods—aren't one.
---
Course 1
Gregory Collier, owner, The Yolk
Beef tartare on cocoa bread
Anytime he's in the kitchen, the sound of Greg Collier's laugh is as frequent as the screams of sizzling pans. Cooking was always easy for him; his wife and co-owner of their restaurants, Subrina, believes he can stir up the best stews. Becoming a celebrated chef was not easy.
To pay for culinary school in Phoenix, Arizona, he worked from 6 p.m. until 4 or 5 a.m. at a pharmaceutical warehouse. He went home, showered, drove the 45 minutes across Scottsdale to school, then slept in his car in the university parking lot until lessons began at 7 a.m. The only black student in all of his classes, Collier says even his friends thought he was just there to learn how to cook hot chicken.
He chose to attend culinary school in Phoenix to experience something different from his hometown. Collier grew up in Memphis, Tennessee. Near his home, there was a community center with a basketball court. The easiest way to get there was to pass through a rough apartment complex. Collier took the long way around.
"I wasn't in the game; I didn't sell drugs. I had a 4.6 GPA in high school, but I couldn't go through there," he says. "And that's real simple. I didn't go through what the people in those apartments went through."
He and many kids in his neighborhood always felt as though they were on the defensive. Check them before they check you, he says. That does something to a young person.
"It creates something in you where, when you go to culinary school, the first time the chef yells at you, you're like, 'What?' It's automatic," Collier, now 36, says. "You're like, 'There's a problem. You can't yell at me, sir.' You are no longer Chef dah dah dah, you are now an enemy. Not even an enemy—you are an opponent."
In kitchens, where chefs balance high-pressure environments, tight working spaces, and expectations of perfection, the instinct to battle others is a problem. The Colliers use their own experiences growing up in the South to guide younger chefs down the path they've made for themselves.
"It's important to me to teach every black chef that comes into my kitchen, you think I'm supposed to be cool with you because we look the same, but I gotta be hard on you," says Collier, who still fears well-meaning neighbors will call the cops on him as he tries to open his restaurant in the early morning hours. "I have to spend more time with you; I have to think more, because I know where you're coming from. I can't react as fast as I would react normally, because I can see you're struggling and I can see you don't understand certain things or whatever. But it's on us to change that."
When he comes out to the dining room to introduce his dish—beef tartare with jerk seasoning, an aioli, and pickled peanuts served on cocoa bread—Collier is wearing an orange-and-green dashiki shirt. A taste of the amuse bouche, a French description for the small portion designed to start off a meal, is bright, acidic, raw. It's served by a 6-foot-3 black chef who punches one hand into the other as he talks. It's a bite to wake you up, in palate and in mind.
---
Course 2
Sam Dotse, line cook, Luca Modern Italian Kitchen
Ghanian waakye
As the firstborn daughter of African parents, Sam Dotse, who was born in Ghana, was expected to learn to cook and clean. The family moved to Georgia when Dotse was three, and her mother worked nights as a nurse while her dad taught at Georgia Tech. She began making rice and eggs when she was five or six. The family moved to the Triad of North Carolina when she was 11, and by then, she was a pretty good cook. On top of the Advanced Placement and honors classes her parents expected her to take, she enrolled in cooking classes her junior and senior years of high school.
Her parents pushed her to work in science or medicine in college, so Dotse applied to Duke and UNC Chapel Hill. She also applied to Johnson & Wales, the Art Institute of Charlotte, and the Culinary Institute of America in New York. All five schools accepted her, but she started to realize that when she was no longer expected to cook, it was all she wanted to do. She told her disappointed parents she would attend Johnson & Wales for a degree in the culinary arts.
They've been trying to get her to change her mind about cooking since.
She graduated from JWU a term early, in February 2012. While many of her classmates have since moved on to become executive chefs, the 27-year-old is still a line cook, moving from restaurant to restaurant, waiting for promotions that never happen. She's been told her attitude was a problem, so she fixed it. Now, she says, her attitude is no different than that of many chefs she works with. But she's still a line cook.
Collier has taken on the role of mentoring Dotse since they met at the debut Soul Food Sessions dinner in October, when Dotse helped out in the kitchen. She didn't realize how many emotions she was holding back until that first dinner, working in a kitchen with other chefs who looked like her. Knowing Collier allows her to have the conversations she can't have in kitchens that are mostly white, male, and straight.
"With my parents, they always tell me you have to work twice as hard because you're a minority twice. You're black, and you're a female," she says. "I would say I'm a minority three times, if not four times, because I'm black, female, and I'm gay. And I was born in Africa. So the cards are already stacked against me."
At tonight's Soul Food Sessions dinner, Dotse is cooking her own course, a cold one, based off an everyday Ghanian dish. She used local ingredients—farro from Anson Mills and black-eyed peas, traditionally used in the dish in Ghana. The spices are bold, foreign—including a seasoning frequently used in Western Africa called Suya.
The dish, at its core, is rice and beans. It's Hoppin' John, with a new spice to it. It is a Ghanian dish—food there is often eaten with the hands—turned fine dining. It impresses even Dotse's bosses, Jessica and Luca Annunziata, owners of tonight's host restaurant.
"I've always just been in the background, always been in the kitchen, so when people tell me, 'Wow, Sam, that dish!' it just blows my mind," she says. "There are some days when it's like: Am I really doing the right thing? I'm still just a line cook, I'm 27, my parents don't support this. Do I really, really want to do this? This dinner, it gave me that boost of confidence that I've been needing for the past year."
---
Course 3
Gregory Williams, co-owner, What The Fries food truck
Beef marrow and pork dumplings with red lentil puree
Greg Williams says he grew up eating "Southern stuff": stewed chicken, tomatoes and rice, pork chops, broccoli casserole.
Missing from that list are the items that come to mind first when someone says "Southern stuff": fried chicken, collards, okra. Sure, Williams enjoys chicken now and then, but he doesn't eat it as often as people think.
"It's just, again, a stereotype thing—just from looking at people, from what you hear, instead of actually talking to people and getting to know people," he says.
The stereotype doesn't just apply to what he eats. People routinely show that they have preconceived notions about what he can cook, too. Williams grew up in Columbia, South Carolina, and got his first job in a kitchen washing dishes at a Charlotte bar called Cans. He asked the chef if he could try cooking. He started at the fryer and made his way up to overseeing the grill. He attended Johnson & Wales until 2004, then worked in restaurants across the city, including Zinc, formerly in SouthPark, and Savannah Red's, which used to be at the Marriott City Center. In 2012, he opened his own deli in Columbia. When that failed, he launched What The Fries food truck with his Johnson & Wales roommate, Jamie Barnes. Williams has never held an executive chef title in a restaurant, despite once being up for the job against a chef who repeatedly had steaks sent back for being overdone.
"It puzzled me a little bit—I know that I've never had any steaks sent back, why am I not getting looked at for this job?" he says now. "I felt like I had all the same qualities as him, you know?"
With their own business, Williams and Barnes don't worry about proving themselves among other chefs in their kitchen, but they still feel the need to remind people they can cook. His course for tonight's dinner, beef marrow and pork dumplings, has rich, pan-fried circles paired smartly with an acidic vinaigrette and brightened by a lentil purée. It isn't unlike a dish you might see on a Southern menu; in fact, Williams has done similar purées in many restaurants in Charlotte. Yet the Ethiopian spices add a delicate trace of cumin, cardamom, and tumeric—just in case you thought this food truck chef couldn't stand up when he's not cooking on wheels.
---
Course 4
Greg Collier
​Ceviche with candied daikon radish, charred Chinese cabbage, and berbere spice
This is the crowd's least favorite dish of the night, Collier says, and he's fine with that. At least they'll remember it.
The dish is bold in flavor, with berbere spice seasoning pieces of acid-cooked rosefish, though it tastes as though it marinated for a bit too long. Still, Collier will claim one of the crowd's favorites with his pre-dessert course later in the evening; he volunteered to do the three smallest dishes to help pace out the meal, including an ice cream.
"I want to stand out," he says. "I want to be different. I'll be the dude that cooks the dessert in a room of all savory chefs. I'll be the dude who cooks the vegan dish when everybody else is using pork. I want to be different because I want my differences to be celebrated."
At one point in Greg's career, his wife Subrina says, he was obsessed with standing out. He refused to cook anything that would reinforce a stereotype about a black chef. No collards. No chicken and waffles. He still doesn't often cook collards, but the chicken and waffles dish he now serves is so good, he once ate it for a week straight.
"I fought it for a while. Now it's just like, I'm not fighting; it's a part of me," he says of cooking Southern classics. "Why would I fight it? I'm not fighting the stereotype; I'm not fighting Paula Deen. I'm fighting me. I'm really going through and saying nope, no gumbo, no rice. Why am I looking to French food for my identity?"
Instead, he focused on changing the stereotype of the black Southern chef through his food. Tonight's Soul Food Sessions is part of that. His hope to help train young black chefs such as Dotse and help put them in other kitchens.
"I know so many kinds of white chefs," he says. "There's no stereotypes that come with a white chef, because there are so many of them. There are stereotypes that come with every other one, because when you're walking in the door, you're trying to break open the door. Every good or bad thing you do stays with the next person that comes in, because we're often seen as groups of people and not single people."
---
Course 5
Jamie Barnes, What The Fries food truck
Whole fried smelt with Jollof rice cake, red bean puree, and pickled collard green stalks
Southern food is resourceful. Slaves cooking on plantations had little to work with when cooking for themselves. It's clear that Barnes, co-owner of What The Fries food truck, thought about this when selecting his dish.
He wanted to cook African street food to play off his food truck, and came across a recipe for whole fried smelt, wrapped in newspaper and typically sold on the streets in Nigeria. He recreated this dish using pickled collard green stocks to counter the grease and a seared Jollof rice cake. Jollof rice seemed appropriate—it's known as a party rice, and tonight's dinner is a celebration. And although the heritage we're celebrating is African, this dish, like several others, could certainly be mistaken for Southern. Jollof rice, prevalent throughout West Africa, birthed jambalaya.
It's easy to call Southern food ours, until face to face with its forbearers.
In his research, Barnes found that African cooking, like Southern, uses a lot of stocks, and braising meat is quite popular. Marinades were familiar. And, of course, the fried fish.
As the whole smelt hits the table, guests look at one another to determine whether the bones are safe to eat. They are, and the guests are rewarded with flaky, salty bites, the skin crisp enough to mask the bones.
"They're called Soul Food Sessions, but we're doing the exact opposite of what you think soul food is," Barnes says.
Barnes and his fellow chefs share an opinion on what soul food is. It's nothing, or everything. It's anything that you cook from the heart, cooked with love to be shared with the people you love.
---
Course 6
Michael Bowling, personal chef and former owner of Hot Box food truck
Five-bean and peanut stew with seared lamb belly
"It's spooky, it's chilling, it's heartwarming, it's all these things to walk the path that your ancestors walked," Michael Bowling tells me about cooking with the African runner peanut, which a heritage farmer is trying to cultivate once again. "Eating a peanut that hasn't been modified, hasn't been crossbred with anything else; it's true to form—to me, that's kind of spooky. From when I first smelled them, it was like—I know this sounds corny—but it's almost like smelling home."
This peanut was brought to the United States just as the people who cultivated it were—stolen, and brought to a foreign land on slave ships. For centuries, it was replaced with more commercial varieties, and people thought it was extinct until the seed was found in North Carolina State University's archives in the 1930s. The farmer agreed to send a bag when he learned the purpose of tonight's dinner.
Bowling grew up in Chattanooga, Tennessee. When he was eight years old, his mom's cooking was published in the Fannie Farmer cookbook. The local newspaper came by to take photos of her; in one of them, Bowling is sitting on the counter, cleaning greens. Many of his childhood memories are from the kitchen, where family gatherings took place. His parents both worked, so he and his sister started making spaghetti and chili at around 10 years old.
His mom wanted her kids to be cultured, so Bowling took ballet and ate seafood. He went to a mostly white school until he moved to Roanoke, Virginia, but he still wasn't prepared for the discrimination he'd face in the food industry.
In kitchens and elsewhere, it's called the "black tax," Bowling says.
"Early in my career, I felt like I had to pay the tax, because there were no black kitchen managers, there were no prominent black chefs," he says. "Every time I'd walk into a kitchen, the black guys were cooking, but they weren't in a leadership role."
He moved to Charlotte in 2011, taking a job as executive chef at a restaurant that quickly closed due to poor management, he says. He was able to find new jobs for his entire kitchen staff—except himself.
"It didn't matter how many resumes I sent out, how many job applications I sent out, I could not get a job," he says. "I hate to say it, part of it I believe is because I was black. I mean, I cooked at the Beard House; I was in all the magazines, blah blah blah, and I couldn't get a job to save a life."
So he started his own business, becoming a personal chef and opening a food truck called The Hot Box. He's been successful at both.
Still, he's been looking for investors to open a brick-and-mortar restaurant for two years.
---
Course 7
Greg Collier
Pre-Dessert maduros ice cream with cilantro sea salt
Collier wanted his dishes to infuse flavors from Africa on their way to America. The plantain ice cream, a crowd favorite, is inspired by Cuba, an island on the route that brought many into slavery.
---
Course 8
Jamie Suddoth, pastry chef, Bonterra
Liberian rice bread with ginger custard and caramelized banana compote
"Why didn't the black guy go to the hoedown?" a white chef in the kitchen with Jamie Suddoth once joked to another white chef.
"Because he was afraid his sister had been shot."
The only African American in the kitchen at the time, Suddoth reported the incident to her employer's human resources department and safety officers. The chef who made the joke was asked only to apologize.
She buried the incident, focusing on doing what she loved. Suddoth started baking cakes as a 10-year-old kid and called her business "Rainbow Bakery," writing out business cards on index cards and drawing a rainbow with different colors of highlighter. She baked a neighbor's wedding cake at that age, too, and used all of the money she made to buy more baking equipment.
She went to Johnson & Wales in Rhode Island, graduating with a four-year pastry degree in 2003.
Joining Soul Food Sessions brought her into an environment where she could talk about incidents such as the hurtful and racist jokes to people who understood.
"I had to cut off my feelings and struggles just to work two jobs and do what I love," she says. "I think a big part of Soul Food Sessions is healing that for me."
The New Jersey native's desserts are often classic comfort dishes, modernized and reinvented. When local photographer Jonathan Cooper, who's Liberian, gave Suddoth his mom's rice bread recipe, she added a little flair to it. Tonight, Suddoth tops it with bananas and pairs it with a ginger custard. The dessert tastes like an ancient relative of banana pudding.
She's also been working to heal outside the kitchen. Her father passed away two years ago, and Suddoth traveled back home to be at his hospital bed. It was one of her most painful times, with little to hold onto.
"In that broken space, I really started to seek and find a faith of my own—not my mom's or my sister's," she says. She was raised a Jehovah's Witness, but after returning to Charlotte, she was lured by food trucks and an evening service to try out a local nondenominational church called Mosaic. Once she was there, the message kept her coming back.
"Knowing that there's a plan for my life to be happy, joyful, prosperous—I didn't know that. And just to know that God loves me," she says. "I wasn't taught that. It's so amazing."
As Suddoth ends tonight's journey with the last touches on her dessert plates, beers are clinking and Collier's laugh bounces down the hallway to the dining room. Wu-Tang and Nas play a last encore over the restaurant's speakers. The guests have eaten dishes from Nigeria to Liberia, some possibly enjoying the dishes of a heritage that's lost to them.
Subrina Collier recently looked into her own lineage, tracing birth certificates and deeds back through Virginia to learn her family's story. But as it does for many people who look like her, the story is interrupted when she runs into the country's slave history: Africans lost their names as they came here. Stripped of their birth names, slaves were listed under their plantation owners' names. Stuck, Subrina and Greg took DNA tests. She learned that she's mostly of Congolese and Cameroonian heritage; Greg was surprised to learn that he's 25 percent British. His great-great-grandfather, he suspects, was probably a British-born plantation owner.
With the exception of Dotse, the other chefs don't know where their families came from. Their culinary heritage has been replaced with what African slaves could recreate in America, using Southern ingredients and crops brought over with them. That heritage has evolved to include the bond of eating as a family, the generosity of those around you, and the memory of taste.
"Soul food to me is happy food. It's truly just comfort food," Bowling says. "I believe that everybody's soul food is different. Right now? Right now my comfort food is my sister's spaghetti. It tastes so much like my mother's.
"And Greg's grits," he adds. "Straight up, I will drive across the earth to get a bowl of those grits, and he knows it."
Tonight's dishes, with touches of purées, coulis, and compotes, aren't fried chicken and mac-and-cheese. They're soul food, cooked with love in a kitchen of friends, served with thanks to the guests in their home for the evening.
Soul food isn't a type of food; it's a belief.
"I'm cooking from a place that you can't cook from," Greg Collier says, "because it's not your soul."
Kristen Wile is senior editor of this magazine, where she covers food. She's also editor of Charlotte Home + Garden. Reach her via email at kristen.wile@charlottemagazine.com or find her on social media: @kristenwile on Twitter or @kristen_wile on Instagram.