Charlotte's Center City 2020 Vision Plan Lacks Hometown Charm
If we really want an interesting, dynamic center city, it's time to stop thinking big and start thinking small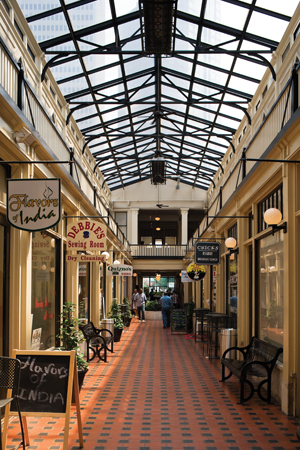 It's not that I don't like baseball. I think a minor league stadium near the middle of the city could draw plenty of new fans to the beloved summer-night ritual of baseball and beer.
I know the value of a convention center in the middle of town. After all, I've seen the spectacle of dozens of sixtysomething women in knee-length crinolines being squired down the sidewalk by seventysomething men in bolo ties and pointed-toe boots during a square-dancers' convention. And I've walked through throngs of Baptist church ladies in great hats hugging other ladies in other great hats. Conventions add revenue and zest to the city.
And I've yearned for years for better shopping uptown, though I'm not sure an "uptown shopping center" is the way to proceed.
But when I saw a stadium, a convention center expansion, a new convention center hotel, and an "uptown shopping center" all recommended in the Charlotte Center City 2020 Vision Plan (which the City Council was expected to adopt on September 12) I admit that I was disappointed. What uptown Charlotte needs more than another large new sports venue, more than another dead-wall chunk of convention center, and more than SouthPark at The Square, is what planners call "fine urban fabric," and what laymen would just describe as interesting streets for window shopping, walking, and living.
Can you walk easily to stores selling things you need and want? Are buildings close enough to one another so that getting from one to the other on foot is comfortable? Do the sidewalks have a lively feel, presenting possibilities, encounters, discoveries?
Uptown Charlotte lacks that fine fabric. And the dirty secret about development in the area is that building more large-footprint "catalyst" projects will make it all but impossible to create any.
This "fabric" I'm talking about doesn't have to be as quaint as the famous "ballet of the good city sidewalk" that Jane Jacobs so memorably describes in The Death and Life of Great American Cities. She details "the rituals of morning" on her block of Hudson Street in Greenwich Village: "Mr. Halpert unlocking the laundry's handcart from its mooring to a cellar door, Joe Cornacchia's son-in-law stacking out the empty crates from the delicatessen, the barber bringing out his sidewalk folding chair … ." As the day passes, the ballet becomes more and more intricate. "Character dancers come on, a strange old man with strings of old shoes over his shoulders … ." In late afternoon "the ballet is reaching its crescendo. This is the time of roller skates and stilts and tricycles, and games in the lee of the stoop with bottletops and plastic cowboys … teen-agers, all dressed up, are pausing to ask if their slips show or their collars look right." The ballet requires a lot of people living on that block, amid multiple small businesses.
In uptown Charlotte it's all but impossible now for new small-scale things to happen.
I lived for a year near a not-very-glamorous corner in Cambridge, Massachusetts, one that offered, within two blocks, a pizza joint, an upscale Italian bistro, a convenience store with a small restaurant, a yuppified bakery, an antique shop, a trendy housewares shop, a real estate office, a dry cleaner, a gas station/garage, a Catholic church and school, an orthodontist, a dentist, and even—thankfully we did not need this—a funeral home. These were all in small, old buildings, set close to one another in a neighborhood made up of housing across a range of sizes, ages, and architectural styles: old wood-frame triple-deckers split into condos, ramshackle houses and expensive historic homes. Things were close, convenient, and interesting. The fabric was finely woven.
Urban fabric, to be strong and sustainable, needs to be more like silk than burlap—fine threads pulled tightly together, not big chunky strands that, once broken, unravel the whole weave. It needs some large projects and buildings, yes, but it needs small things even more.
In uptown Charlotte it's all but impossible now for new small-scale things to happen. In other cities, small old buildings get refurbished. In Charlotte, almost all of them have been demolished, for a bunch of reasons I won't detail here. (One lovely exception is Latta Arcade/Brevard Court, but it contributes little to the sidewalks in the area because it's inside a midblock passageway. If you don't know to slip through the double doors next to the chain restaurant Salsarita's and the chain drugstore Rite Aid, you'll miss it.) Uptown is a collection of too many big-footprint things: Bank of America Stadium, NASCAR Hall of Fame, a huge arena, a large bus station, Charlotte Convention Center, large office towers, large condo buildings, two large libraries, multiple museums, multiple government office buildings, a huge performing arts complex, and on and on. None of those alone is a bad thing; most add to Charlotte's quality of life. But positioning them so near one another has hurt the chance for smaller things to grow up between them and knit them together. And anyway, too much of what lies in between is either parking decks or surface parking lots that replaced demolished old buildings.
Because of that, downtown Charlotte has little hope in our lifetimes of resembling the beloved downtown Asheville, or, to look at larger examples, Back Bay Boston, Georgetown, San Francisco, or many other loved and well-visited cities. Even downtown Raleigh—with its preserved buildings and revitalization that inches, block-by-block, rather than gallops—has a better chance, long term, of providing the authentic urban feel that distinguishes a city from a collection of development projects.
The 2020 Plan, like the 2010 Plan before it, was written by urban planners who almost certainly understand the need for small-scale shops and what they call "well scaled" development amid the behemoths. But neither plan addressed in detail how to bring about that "well scaled" development. It's a conundrum caused by those big-footprint projects that were intended to catalyze development. The mega-developments, whether bank towers or stadiums or museums, have the effect of pushing up land values, because the property owner next door decides his slice of dirt could be the next winner of the mega-project lottery. So he holds out for the big bucks instead of opting to refurbish or restore whatever older buildings are on his land. And in the interim he scrapes away those inconvenient existing buildings and installs a parking lot to bring in some income.
Another complicating factor is that lenders today—those that are lending at all—want to see retail spaces leased to businesses with a clear track record of success, which is to say that small, locally owned mom-'n'-pop shops are likely to be barred from the development—as if they could have afforded the high lease rates the large, new developments command.
Uptown is a collection of too many big-footprint things: Bank of America Stadium, NASCAR Hall of Fame, a huge arena, a large bus station, Charlotte Convention Center, large office towers…
Given those realities, it's disappointing that the 2020 Plan doesn't address the incongruity of recommending a new skyscraper at a redeveloped Charlotte Transportation Center and the impact that would have on land prices a block away along South Brevard Street, which the plan simultaneously recommends as a "shopping and entertainment" street. (Bars on the ground floor of huge condo towers might be in the cards eventually, but don't hold your breath waiting for the uptown condo-tower market to revive very soon. And nothing akin to the College Street bars that blossomed in old buildings in the 1990s is likely.)
It's not unusual for the city's leaders not to recognize the ways their decisions can undermine their own goals. Note how the multistory EpiCentre, welcomed by the city, has effectively sucked a huge amount of the restaurant and bar market into a one-block multistory development. That's another reason why the Brevard Street idea—which city planners have been pitching for several years—seems unlikely. (Compare the EpiCentre to Raleigh's Glenwood South area, where multiple blocks along Glenwood Avenue have been animated by similar restaurant/nightlife development.)
The 2020 Plan has a lot of feel-good words like "green," "sustainable," "diverse," "vibrant." It also has many good suggestions that, if adopted, would help uptown Charlotte. It's welcome, and important, that the plan emphasizes that "center city" isn't just inside that freeway noose and that we need to think of the area as, well, the center of the city, including a ring of neighborhoods just outside the freeway loop. It calls for putting a roof atop a below-grade section of I-277 and using the newly created acreage for a large park. It calls for more emphasis on bicycling and pushes for better transit connections, stronger links among higher-education institutions, and an Applied Innovation Corridor from South End to UNC Charlotte. Indeed, some planning insiders have told me off the record they would have preferred a plan with fewer goodies and more strategic, creative thinking on ways to surmount hurdles the planners already recognize.
Is it possible to re-create the smaller-scale urban fabric wiped away by center city's macho, size-matters developments of the past thirty years? Today's development and financing norms would seem to make it impossible, unless some entity not driven by a need for profits (the city? Some yet-to-be created nonprofit land trust?) can devise a creative strategy. For instance, what about divvying up large-block land holdings into compact, narrow-frontage lots that are cheap enough to entice owners to put up small buildings and lease space comparatively inexpensively?
At every public workshop I attended for the 2020 Plan, among the things people said they wanted uptown were the interesting shops, galleries, ethnic restaurants, and stores that make daily living convenient and provide urbanity to center city life. But the way to create an economic ecosystem in which those small businesses can survive isn't to build huge stadiums, vast convention centers, or more enormous office and condo towers. Maybe we'll have to wait for the 2030 Plan before we get some truly creative ideas for how to weave that fine urban fabric.
Mary Newsom is associate director of urban and regional affairs at the UNC Charlotte Urban Institute. She wrote about regional growth and urban design for more than fifteen years as an op-ed columnist, editorial board member, and blogger at the Charlotte Observer. The views expressed in this commentary are the author's and don't necessarily represent the views of the UNC Charlotte Urban Institute, its staff, or the University of North Carolina at Charlotte.