Charlotte's Dynamic Hip-Hop Scene Struggles to Find a Stage
Why do local artists of the most popular music genre in America have trouble finding venues?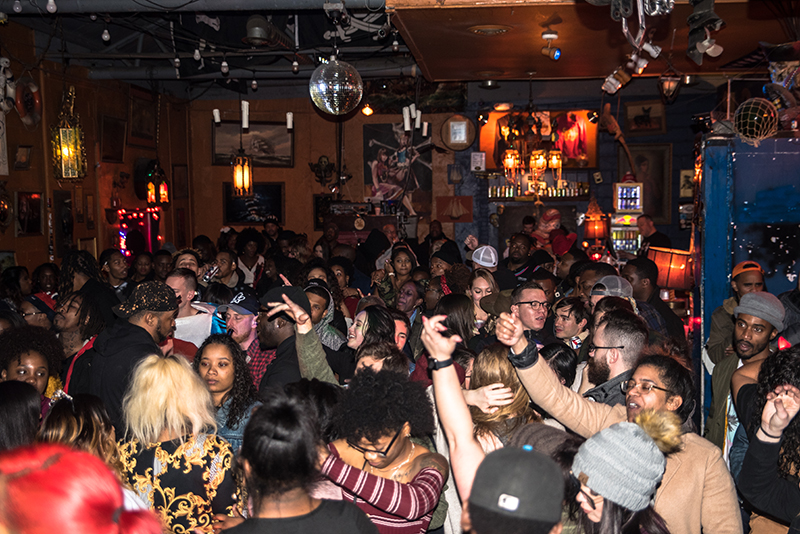 AT SNUG HARBOR, you hear Player Made before you arrive. Let's say you've come to Plaza Midwood to check out the monthly party, a Friday night tribute to Southern hip-hop, for the first time. People hang out on the club's front patio, laughing and hugging friends in line over the fence. The music—a blend of hip-hop and R&B, united only in its Southernness—lures you through the door into a diverse crush of people. As you weave through the crowd to the bar, you see college kids and couples and maybe your neighbor. You watch a local rapper while you wait for your drink, and as she finishes her set, her friends scream in support. The opening notes of "Swag Surfin'" blare from the speakers. Almost everyone in the room tosses their arms over the shoulders of the people next to them, whether they know each other or not, creating rows that span the room, bouncing left to right, left to right. You bounce along, too, even though you've never heard this song. You feel like you belong.
Not long ago, celebrating Southern hip-hop was a subversive act. In the first decade or so after the genre's birth in the Bronx in the late 1970s, hip-hop culture generally emerged from one of two places: New York or California. Southern artists modeled themselves on East and West Coast rappers and struggled to break into the industry. But in the early 1990s, Southern rappers began embracing their region, letting it infuse their flow and lyrics. The hip-hop establishment thought they were backwards and country, more concerned with having fun than advancing a cause.
At the 1995 Source Awards—the Grammys of hip-hop—everything started to change. Southern duo Outkast won Best New Artist. "The South got something to say," Andre 3000 declared over a loud, booing crowd. After the ceremony, Outkast and Goodie Mob, another Southern group, made a promise to each other: "One day, they're gonna have to fuck with us."
They made good on their word. In the 24 years since, Atlanta has become the hip-hop capital of the world, and New Orleans and Memphis have developed their own thriving scenes. The genre's popularity has grown nationwide, too. In 2017, Nielsen's annual report on the music industry found that hip-hop surpassed rock as the most popular genre in America. Eight of the 10 most popular musicians that year were hip-hop artists. Last year, one-third of all songs streamed in the country were hip-hop. Hip-hop is the epicenter of popular music, and the South is the epicenter of hip-hop.
After bouncing at Player Made, you may think Charlotte is no different. This city, like New Orleans, Atlanta, and Memphis, is majority-minority. But hip-hop artists here tell a different story, one in which events like Player Made are an aberration. "The rap scene in Charlotte is like a bastard stepchild," says Dammit Wesley, fine artist and co-owner of BlkMrktClt, a studio, gallery, and community event space in Camp North End that examines the intersection of hip-hop with other art forms. "They're some of the hardest-working entrepreneurs in the city, they put up with a lot, they do their best to be creative and find new spaces, and the city rejects them at every turn."
In Charlotte, it still feels like 1995, except the city's artists aren't facing down the rap establishment but the city's entire establishment. Dave Butler, who photographs Charlotte's hip-hop scene, argues that Charlotte has always valued the appearance of progress more than progress itself. Look at this city's shape-shifting commitment to affordable housing. Look at economic mobility here, where it's nigh impossible to escape poverty despite booming growth. Butler's point reminds me of Goodie Mob member Big Gipp's impression of the Source Awards that night: "Don't nobody even give a fuck about us folk."
***
SUCCESS STARTS WITH BOOKING VENUES. Elevator Jay, the rapper who started Player Made and has hosted the event for the past three years, feels fortunate to have found a supportive partner in Snug Harbor. "They took care of me and gave me a big platform to do my thing, and they believed in me," says Elevator, who grew up on Beatties Ford Road. "So ever since then, they're my spot." Snug Harbor, along with other Plaza Midwood venues, consistently supports young black artists in Charlotte. But when I ask Elevator Jay which other venues have been welcoming, he just sighs and lets out a long whistle.
Many hip-hop artists acknowledge that several local venues, including Amos' Southend (which recently reopened), Tremont Music Hall, and The Chop Shop, have closed in the last few years, and fewer venues mean fewer opportunities to perform. But local R&B singer Autumn Rainwater is still mystified. "Being in Plaza Midwood or NoDa, you see these people there embrace mainstream rap, but when it comes to local things, they kind of turn their nose up," she says. "And it's really, really weird, because it's all relatively the same content. I don't understand it at all."
Why do local artists who play the most popular music genre in America struggle to find venues? Why do artists who have experience, an audience, and cash in hand get turned down almost, as they describe it, automatically? Why do young soul and R&B artists have trouble finding places to perform? Autumn reflects the view of every artist I spoke with when she says, "I don't always want to make things a racial issue, but I kind of think that's the nucleus of where the problem is."
On a humid Friday evening in August 2017, Autumn was getting ready to perform at The Rabbit Hole, around the corner from Snug Harbor. Charlotte rapper Deniro Farrar headlined the show, and the lineup included several other local acts, including Indigo Jo, a conscious rapper; Nige Hood, a folk rap artist; and DJ Fannie Mae, a hip-hop DJ and singer-songwriter. Autumn says she felt uncomfortable during the soundcheck because the venue staff walked past without talking to or even acknowledging her. Autumn found the attitude baffling for a place of business. "It gives you an uneasy feeling," she says, "especially in your hometown."
Club owner Robert Nixon attributes Autumn's discomfort to a bar manager who no longer works there: "He was rude to everyone." Nixon points out that his venue has booked seven hip-hop parties as part of CIAA and All-Star Weekend, and he regularly hosts a jazz and soul night. After our phone call, he sends me a list of black promoters who, he assures me, will speak well of him and the venue.
But Nixon also runs through a familiar list of concerns about hosting hip-hop shows. His top priority is the safety of his staff and customers. He says hip-hop audiences spend less money because they're more likely to smuggle in their own liquor, come in high, or both. Shows are more unpredictable, and audience members are generally younger. "They don't act in a rational way," he says. He watches artists' music videos. If their tracks contain language about killing cops or gratuitous use of the n-word, "I don't want their music in my place."
Nixon veers confidently from one topic to another, but he also seems aware that he's walking a tightrope. "Some genres are more conducive to violence," he says, before correcting himself. "I don't want to say violence." He considers his word choice and finally says, "Thuggishness."
***
DESPITE THE SALES and streaming numbers and the runaway success of Hamilton, hip-hop to many represents sex, drugs, and violence—a trifecta, many local rappers point out, not exclusive to hip-hop. That characterization, fed by racist stereotypes, focuses on the genre's predominantly black artists and ignores the genre's vast range. These stereotypes can influence whether a venue hosts hip-hop shows, but profit is typically the most important factor. "As a venue and a business, you want bodies in the room, so my biggest thing obviously is: Are you going to attract people, work hard to get people in the room?" says Chris Akavi, a talent buyer at Live Nation Entertainment, which includes The Fillmore and The Underground. "That's just the bottom line."
Akavi doesn't hesitate to book hip-hop shows. "It's definitely our best genre, at least our most consistent genre. I usually do really well with hip-hop here in Charlotte," he says. "From arenas to smaller venues, it just seems to be the strongest genre." Akavi characterizes hip-hop audiences as groups who are looking for a good time, just as likely as any other audience to buy drinks and bring in profit for the venue.
Neighborhood Theatre has capacity for around 1,000 people, which puts it on par with The Fillmore and The Underground. But Gregg McCraw, owner of MaxxMusic, which books talent for the theater, and Nixon both tell me safety and liability concerns outweigh making money. They diligently check artists' backgrounds and prior shows before they book them. McCraw notes that every year, his insurance company asks for a breakdown, by genre, of shows the venue hosts. If the percentage of rap shows rose, he suspects, his premium would, too. Nixon has the same concern. For him and other venue owners, he says, it comes down to fear: fear of violence, fear of losing money, fear of a lawsuit that might drive him out of business.
Safety has long been a convenient scapegoat for exclusionary policies, and it's difficult to unravel to what extent the concern is legitimate. Akavi and Snug Harbor general manager Chris Burns say hip-hop acts haven't caused any more problems than other notoriously raucous genres, including rock, and McCraw says rock, which includes metal, is Neighborhood's top genre. Several hip-hop artists specifically mentioned Charlotte's metal scene, wondering why that genre, with its frequently violent, misogynist lyrics and aggressive mosh pits, can thrive here. Nixon, for his part, is equally skeptical of hosting metal shows: "There's nothing worse than a mosh pit." The vast majority of Charlotte hip-hop shows go off without incident. "We're not trying to be violent," Autumn says, resigned, as if it's a point she shouldn't have to make. "That's not why we do music."
Several years ago, Autumn performed one of her first shows at Neighborhood Theatre, at a community event put on by local brand F4mily Matters. The theater was lined with vendors, selling T-shirts, crafts, and homemade desserts. The audience wasn't just the same old crowd; plenty of people were new to the scene. Autumn recalls tension between the staff and the community of performers and audience members: "You could tell they had hesitation and were acting accordingly." Despite the chilly reception, her experience was memorable for other reasons. "It was probably one of the first times that some underdogs, some kids that are just passionate about what they love, put something beautiful together. You had R&B singers, you had rappers, you had spoken-word poetry," she says. "It felt like, 'I'm finally a part of something, and people recognize it.'"
But around that same time, in 2013 or 2014, a hip-hop show there left a side stage damaged and a front window broken. Since then, Neighborhood Theatre has booked far fewer hip-hop acts—although, for example, Bone Thugs-N-Harmony performed there in 2017. During a phone call with me in early January, McCraw treads lightly. He tells me Neighborhood Theatre has a policy against renting the venue to hip-hop acts. Seconds later, he backtracks. There's no policy, he says. Which is it? "It's very delicate," he tells me, repeatedly. (He later says via email that MaxxMusic has "a very short list" of trusted hip-hop promoters he's willing to rent Neighborhood to: "This is to ensure that every event in the venue is handled professionally.")
***
WHEN ESTABLISHED VENUES blanch at hip-hop shows, local artists create spaces for themselves. Bunny Gregory's the Underground (different from the Live Nation venue) has given many artists a home—sometimes literally, if they need a temporary place to stay. Dammit Wesley has organized events like last year's Durag Fest, which attracted a crowd of more than 1,000 and garnered national media attention. Dave Butler's photographs have documented and memorialized a vibrant, young community in showcases like Don't Wait Til It's Cool, a traveling exhibit focused on North Carolina's hip-hop scene. That exhibit and the Durag Fest both took place in part at Camp North End, which has become something of a haven for black artists.
Player Made also showcases up-and-coming talent. "I use that platform to push my music and push other acts in Charlotte," Elevator says, explaining his goal to make his own backyard pop off. But he admits that these grassroots efforts aren't enough. "We need more support from—and we're not going to beg for it—from these media outlets," he says. "There's only so many people we can reach out to when we're doing everything by ourselves."
Part of the challenge of taking on Charlotte's establishment is that the city constantly evolves, and newcomers arrive every day. In a sense, part of Charlotte's "establishment" is its tendency to reinvent itself, sweeping aside its homegrown culture. Elevator grew up on the west side, and he's seen the city change. "A lot of people and a lot of the culture of Charlotte is being wiped out and moved," he says. "A lot of key neighborhoods that have that rich history, that culture, a lot of that stuff is being torn down. When you do that, the transplants come here, and it's like a blank canvas to them … Charlotte is known as a banking city, but I don't really know people that bank.
"It's a joke, but it hurts me to be the unicorn. Why do I have to walk around my city and be the unicorn?" You can hear the pain in his music, he says, where he keeps Charlotte's history alive.
In 1995, the South had something to say, and today, so does Elevator Jay—to me, at the end of our phone call, from the stage of Snug Harbor every second Friday, and on his twangy Southern rap tracks, whose lyrics read like the atlas of a disappearing Charlotte.
"If you a transplant and you moving into the city, you gotta have respect for what was already here." Despite the struggle to carve out a space for his music, and despite Charlotte's reputation as a city that values superficial progress more than the real thing, Elevator Jay isn't going anywhere. Moving four hours down I-85 to Atlanta, hip-hop capital of the world, would be taking the easy way out. "Charlotte has a lot of work to do," he says. "That's why I'm still here."