Charlotte's Most Unconventional Tacos
Celebrate National Taco Day (Oct. 4) with these offbeat choices.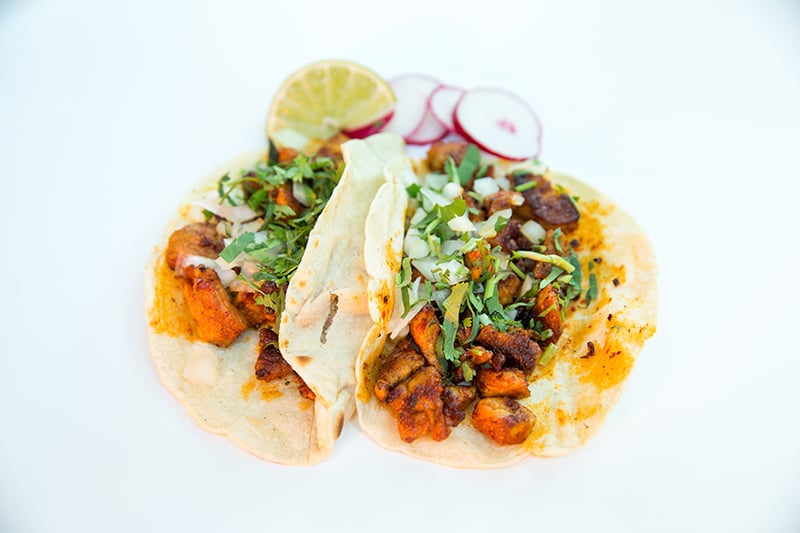 OCTOBER MAY BE the month of Halloween, of pumpkin spice lattes, of ghouls and goblins. But October is also the month in which National Taco Day falls. As such, we must celebrate accordingly. While we're not vouching for the authenticity of all of these dishes, if you're looking for something a bit more eccentric, might we recommend one of these folded masterpieces?
Tin Kitchen
The popular food truck serves a trio of uncommon tacos among its larger menu: buffalo cauliflower, garam masala and chicken tinga. The first is a vegetarian version of buffalo chicken tacos and comes with bleu cheese crumbles. The latter two are a bit of Mexican-Indian fusion, an ingenious combination of cultural flavors.
Cabo Fish Taco
The Diners, Drive-Ins and Dives-featured restaurant offers a few specialty tacos that are a bit out of the ordinary. Our favorite, though, is the Thai chili tofu tacos, which wraps crispy beer-battered tofu with a sweet Thai chili sauce for a delicious Mexican-Thai fusion flavor.
Cantina 1511
The zucchini and cactus taco here, topped with avocado and tomatillo salsa, is divine. If you're more in the mood for the continuing theme of fusion fare, try the Korean barbecue beef taco, served with kimchi and lime. Cantina also puts a Southern spin on its tacos with its "Low Country" taco, smoked chicken accompanied by pimento cheese and pickled jalapenos.
Taco Green-Go
This colorful food truck serves tacos three ways, and the latter two are particularly noteworthy. "Island style" comes with, among other toppings, a mango salsa and a pineapple guava aioli. "Southern style" comes paired with guava barbecue sauce, chili-lime coleslaw, cheddar and chipotle Ranch.
Krazy Fish
As the name would imply, many of the entrees at this Plaza Midwood spot are a bit "krazy." Some of the taco options here include a spicy potato cake filling with blueberry tamarind chutney, Szechuan salmon, bulgogi beef, and lemongrass tofu.
Vida
The smaller cantina-style neighbor to Vida in the EpiCentre offers a BLT taco, a fried chicken taco, and a Philly cheesesteak taco. Good luck choosing between them.
While this list doesn't and couldn't account for the entire culinary creativity of a city, I'd also suggest celebrating at local, smaller Latino-owned restaurants. Some of our favorites include: Las Lupitas, El Pulgarcito de America, and Tacos El Nevado.
Jared Misner is a writer for this magazine. His work has also appeared in The Chronicle of Higher Education, The Knot and Logo.