Charlotte's Patrick Cannon Scandal: Stupid, Paltry, Slimy
The pettiness of Charlotte's biggest political scandal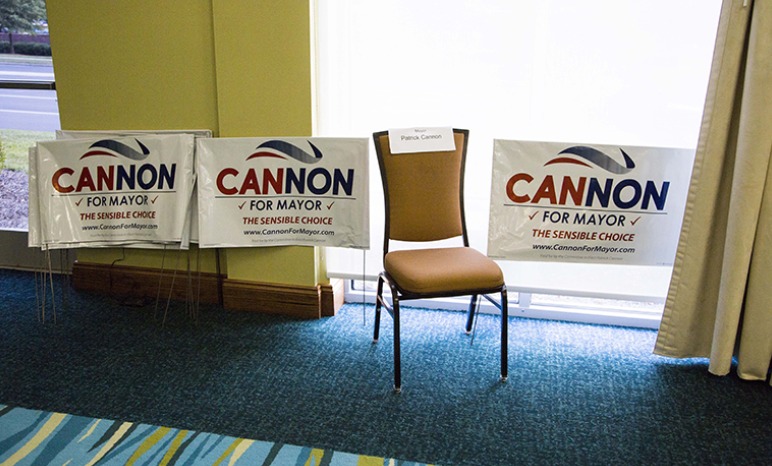 And now, the final indignity in the biggest political scandal in Charlotte's history: It involves quid pro quo on behalf of a strip club called "Twin Peeks."
It might as well. From the start, the Patrick Cannon affair has lent itself to both mourning and mockery, serious discussions about its effects on Charlotte's newborn national image and guffaws over its profound silliness (and hey, I'm as guilty as anyone). Cannon sold his credibility for $50,000? He wanted to market a feminine hygiene spray? That's how he flows? Seriously?
But this latest—Cannon's solicitation and acceptance of $2,000 to help a businessman with a strip club in the path of the light rail line, according to the U.S. Attorney's Office Bill of Information in the case, unsealed this morning—is just a bit too much. Or too little: What stands out again and again in this scandal is just how paltry the payments and payoffs were, and how little had to be dangled in front of a public official in this town to entice him, and it, into disgrace.
The businessman in question is David "Slim" Baucom of Charlotte-based MAL Entertainment, which operates a string of strip clubs in the Carolinas and Ohio, including five in Charlotte. Until recently, MAL operated six. But last June, MAL tore down Twin Peeks on North Tryon Street in the University City area, and made plans to rebuild on the same lot.
But the property lies in the path of the LYNX Blue Line Extension, phase two of Charlotte's light rail system. In January 2013, federal prosecutors allege in the Bill of Information, Cannon accepted $2,000 "in exchange for the use of Cannon's influence in relocating the club away from the proposed BLE alignment so that it could remain open as an adult club."
Because, I guess, the thought of a Charlotte without Twin Peeks was just unimaginable. I drove by numerous times when I had to go to University City (I never went in, in case you were wondering).
It seemed like an especially forlorn representative of the species, even for Charlotte: small, about midway between a Burger King and a Taco Bell, lacking even the lowest-of-the-low-grade grandeur of, say, Uptown Cabaret, where you can at least see guys in suits pull up in Lincoln Town Cars. Twin Peeks seemed like more of a Chevy Citation kind of joint. I wondered what kind of people the regulars might be.
I still don't know, and I'd really rather not, and it doesn't help that I know the man who would be mayor was willing to accept a miniscule bribe to help save that. Did it never occur to Patrick Cannon, who'd been a public official in Charlotte for most of his adult life, to tell Slim Baucom to just hang onto his two grand and be happy with the five strip clubs he already had?
Some kind of explanation from Cannon would be nice. Otherwise, we'll have to be thankful that the guilty plea will at least prevent this from dragging on any longer than it has to. Better to let it die the death it's earned, as was the case for the now-notorious Twin Peeks, whose management posted a music video to its Facebook page on June 21, 2013, demolition day.
The poster explained that the tune was the last one played at the club before it closed: "Tear the wall down…. and the new shall arise!!!" The song? "Comfortably Numb."