Charlotte's Rockin' Eve: Eight Shows to Ring in the New Year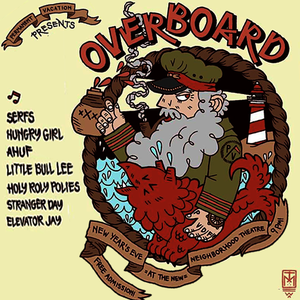 Sure, there are a few notable events happening throughout the week, like Gregg Allman's Fillmore show. But Tuesday evening steals the show, with several live entertainment opportunities to mark New Year's Eve. Let's take a look at eight of those options, which vary in price and genres. Which one (or ones) will you be attending? Sound off in the comments section below.
AVETT BROTHERS
There are countless ways to ring in 2014, but few celebrate both the region and the folk rock genre like the Avett Brothers' New Years Eve performance. The celebration comes just a couple months after the release of their eighth studio album, Magpie and the Dandelion. $39.50-$59.50, 8 p.m. Time Warner Cable Arena, 333 E. Trade St.
OVERBOARD: NEW YEAR'S EVE
Rapper Stranger Day and rock group Little Bull Lee are just a couple acts slated for the Neighborhood Theatre's celebration. Other local acts include Serfs, Hungry Girl, AHUF, Holy Roly Polies, and Elevator Jay. Free, 8 p.m. Neighborhood Theatre, 511 East 36th St.
JOHN TOSCO'S 4TH ANNUAL NEW YEAR'S EVE VARIETY SHOW
Tosco's parties may be known for their musical performances, but this variety show also features a magician, dancers, and even a puppeteer. And, of course, there's plenty of music, too. $14.50 and up, 8 p.m. Knight Theater at Levine Center for the Arts, 430 South Tryon Street.
HAIR NATION
Ring in the New Year in '80s style, with three tribute bands. Hair Nation is joined by Ozzy-homagers Blizzard of Ozz and Slave to the Grind, a Skid Row tribute act. $10, 8 p.m. Amos' Southend, 1423 South Tryon Street.
DROP !T NYE, FEATURING MAT ZO AND MORE
Electronic music producer/composer Mat Zo, who specializes in the trance, house, and dubstep genres, is highly regarded in clubs across the world. Damage Control, the London native's latest, was released last month. $25, 9 p.m. The Fillmore, 1000 NC Music Factory Blvd.
UNKNOWN HINSON
This North Carolina-born comedic country singer speaks with an oversized Southern drawl, wears sideburns that appear glued to his face, and wears sequins on his jacket. He's Unknown Hinson, and he's the alter ego of musician and voice actor Stuart Daniel Baker, also known as the voice of Early Cuyler on the animated TV show Squidbillies. $20, 9 p.m. Visulite Theatre, 1615 Elizabeth Ave.
NEW YEAR'S EVE WITH SIMPLIFIED
Simplified headlines this event, a few doors down from the the happenings at The Fillmore. Limited-time tickets include drinks and an all-night buffet. $50, 8 p.m. The Saloon, 1000 NC Music Factory Blvd.
NEW YEAR'S EVE WITH BENJI HUGHES, THE FAT FACE BAND, DJ SCOTT WEAVER
Benji Hughes, heard recently on a country effort from Jeff Bridges, is joined by the Fat Face Band and DJ Scott Weaver. Hughes plans on releasing multiple albums in 2014. $10, 10 p.m. Snug Harbor, 1228 Gordon Street.