Charlotte's Top Spots for Charcuterie
Anyone can slice up a stick of supermarket pepperoni, which is why these local chefs are getting clever with spices and focusing on technique (smoking, salting, and waiting) to create their own charcuterie options.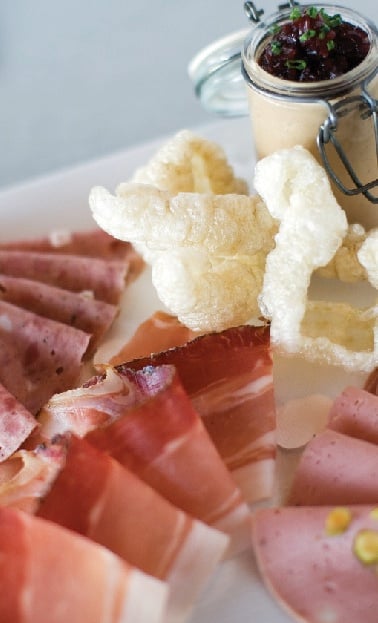 Good Food on Montford
That delightfully salty bite in the fettuccini carbonara can be accredited to chef Kerry Moffett's house-made pancetta, which is cured with juniper berries, garlic, pink salt, and thyme before resting in the fridge for three weeks. In that same cooler, you just might find pistachio-spiked mortadella and fresh fennel sausage. 1701 Montford Dr., 704-525-0881
Georges Brasserie
A French restaurant wouldn't be worth its salt if it didn't have a serious charcuterie program. Here, lamb sausage is enlivened with harissa, dried for five days, and served with couscous or as a slider. The country pâté gets a dose of freshness from onions and parsley, and the crowd-favorite duck ham is brined, air dried, and cold smoked. 4620 Piedmont Row Dr., 980-219-7409
Zink American Kitchen
Diners can find creative combinations like black pepper and pistachio, or cherry walnut lamb links. The tasty duck sausage is often sliced and used as a topping on flatbread along with sweet onion, goat cheese, and arugula. 4310 Sharon Rd., 704-909-5500
Mimosa Grill
The Old Spots and Berkshire pigs that chef Jon Fortes gets from nearby Rock House Farm are why the meats here are first rate. Cured, smoked, and aged offerings such as soppressata, Spanish chorizo, and country ham are found on the local antipasto plate, while the just-stuffed and spiced andouille and linguica are served on the sausage sampler. 327 S. Tryon St., 704-343-0700
Rooster's Wood-Fired Kitchen
Chef Jim Noble heads to Jerry Foster Farms in Mocksville for the whole hogs, which get turned into his charcuterie platter. Red chilies, fennel, star anise, chipotle, and ginger are just a few of the flavors mixed with ground lamb or pork before being aged in the refrigerator
for about a month and a half. 6601 Morrison Blvd., 704-366-8688
Mimosa Grill's Chef Jon Fortes shares how to create a mouthwatering meat dish:
1. Mix 2 pounds of ground lean pork with 1 pound of pork fat. Fold in 1 pound of diced lean pork.
2. For spicy sausage like andouille, fold in diced onions, garlic, allspice, cayenne pepper, dried thyme, cloves, mace, marjoram, kosher salt, white pepper, and milk powder (which helps to bind).
3. Rest in refrigerator overnight.
4. Rinse natural or synthetic casings. Fill casings with a sausage stuffer or a pastry-piping bag outfitted with a tip. You can keep it in one roll or twist it to make links. The most important thing is to eliminate air bubbles, or else the sausage will break, so prick with a sausage pin or needle as needed.
5. Leave the sausage uncovered in the fridge overnight, or freeze until ready to use.
6. Smoke until internal temperature reaches 160 to 165 degrees Fahrenheit. Or put woodchips in your grill, smoke to get flavor, then finish in a 325 degree oven.