Chatting with Miss Sprint Cup Monica Palumbo
Palumbo looks good in a race suit and knows more about NASCAR than most guys named Bubba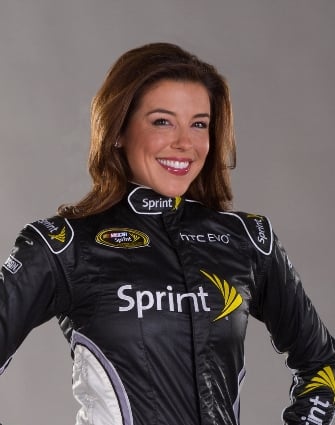 If you're watching a NASCAR race on TV, you might spot her at the end, congratulating the driver in victory lane. But if you attend a race in person, you'll likely see Monica Palumbo interacting with fans. As one of three Miss Sprint Cup representatives, Palumbo, a Charlotte native, looks good in a race suit and knows more about the sport than most guys named Bubba. (The other two Miss Sprint Cups are Lancaster, S.C., native Paige Duke and Kim Coon, from Orlando.) She travels almost as much as a flight attendant, and she shows off Sprint products with the grace of Vanna White. Here, Palumbo discusses her fast-paced job and why May is such an exciting month in Charlotte.
How did you become Miss Sprint Cup?
I started working in NASCAR in 2007 for another sports marketing company. I sent in my résumé for the program, and after about three interviews, they offered me the job. This is my fourth year. A lot of people think there's a pageant involved because there's a "Miss" in Miss Sprint Cup. But really we're ambassadors for the sport.
Why are there three of you and what are your roles?
Because there's so much to do at the tracks and with sponsor commitments—one person can't do it all. Our job is to be the fan's friend on the inside. We're able to have access to all the tracks and travel every weekend. We bring the fans closer to the sport through our social networking sites, facebook.com/misssprintcup and twitter.com/misssprintcup. We're able to let them know what's happening around the track, in the garage, on pit road, and also what's happening outside the track. So it's really to bring fans closer to the sport, and also to introduce Sprint's latest products.
What's your typical week like?
It changes week to week depending on the track. But usually we'll fly in on a Wednesday or Thursday. If it's a Sunday race we'll spend Friday, Saturday, and Sunday at the track. We spend a lot of our time at the Sprint Experience. It's a Sprint display at the track, and it's free for fans. We hand out free stuff like shirts and koozies, drivers make appearances, Sprint's latest products are there. We have racing simulators. There's just so much to do. When a driver makes an appearance, we'll moderate the Q&A.
How much did you know about NASCAR before you got this gig?
Being born and raised in Charlotte, you kind of have to be knowledgeable of NASCAR. And since I've gotten involved, my knowledge has grown leaps and bounds, and I've become such a huge fan. Once you work in it, it sort of gets into your blood and you get embedded into the sport. You live it.
What's May in Charlotte like?
It's our biggest time of year with Charlotte being the hub for NASCAR. I feel like for three weeks in May, there's nothing but NASCAR in Charlotte. The Pit Crew Challenge is on May 19 at Time Warner Cable Arena. It's a night where the pit crew guys can show off their skills, and it's not about the drivers. We're actually doing a cool deal out there. The first 100 people who show up to the Sprint tent and recycle an old cellphone, we're going to give them two free tickets to the NASCAR Sprint All-Star Race that Saturday night, May 21. And we have the Rev'd Up concert, which basically kicks off everything. We're going to give out free tickets out there too for the first fifty people who recycle their phones. The All-Star Race is the biggest night out because it's a race for $1 million and it's happening in NASCAR's backyard.
Are you a fan of any other sports?
We're PSL ticket holders for the Carolina Panthers, so I'm a huge Panthers fan, even though we haven't been doing so great. I'm a huge football fan, and a Steelers fan, actually.
How would you compare attending a NASCAR race to an NFL game?
For NASCAR, it's really fan friendly. Fans can go get up close and personal with the drivers. Whereas at an NFL game, you're just in the stands or on the sidelines. In NASCAR, fans can walk around the garage and on pit road, and drivers always make appearances at the track and are very accessible. And I'm a huge tailgater—I went to East Carolina. I always tell people I majored in tailgating. The atmosphere at a NASCAR race, they start tailgating the week before. They camp out, they bring their RVs. In football, they might start in the morning before the game. In NASCAR, it's like a weeklong party. And it's a family event.
The racing season is probably the longest in all of professional sports. When it starts, the weather's cold, but then you run through the hot summer months.
The heat is pretty unbearable. We have to put ice packs in our suits because we're out there eight to ten or twelve hours sometimes. And it can be 100-plus degrees. We drink a lot of water and try to stay hydrated. And try to stay perky and upbeat at the same time. Our suits are an actual race suit, lined and everything.
How did you feel when you were selected as one of "NASCAR's Most Beautiful People," by Sporting News?
I was very surprised, and thought it was sweet. I was humbled by it.
To see a comprehensive list of NASCAR events being held in the Charlotte area in May—from Speed Street to Charlotte Motor Speedway—as well as interviews, profiles, and photos, go to www.charlottemagazine.com/nascar2011.
Click on a photo below to begin slideshow.