Chaupaati: Indian Street Food, and Much More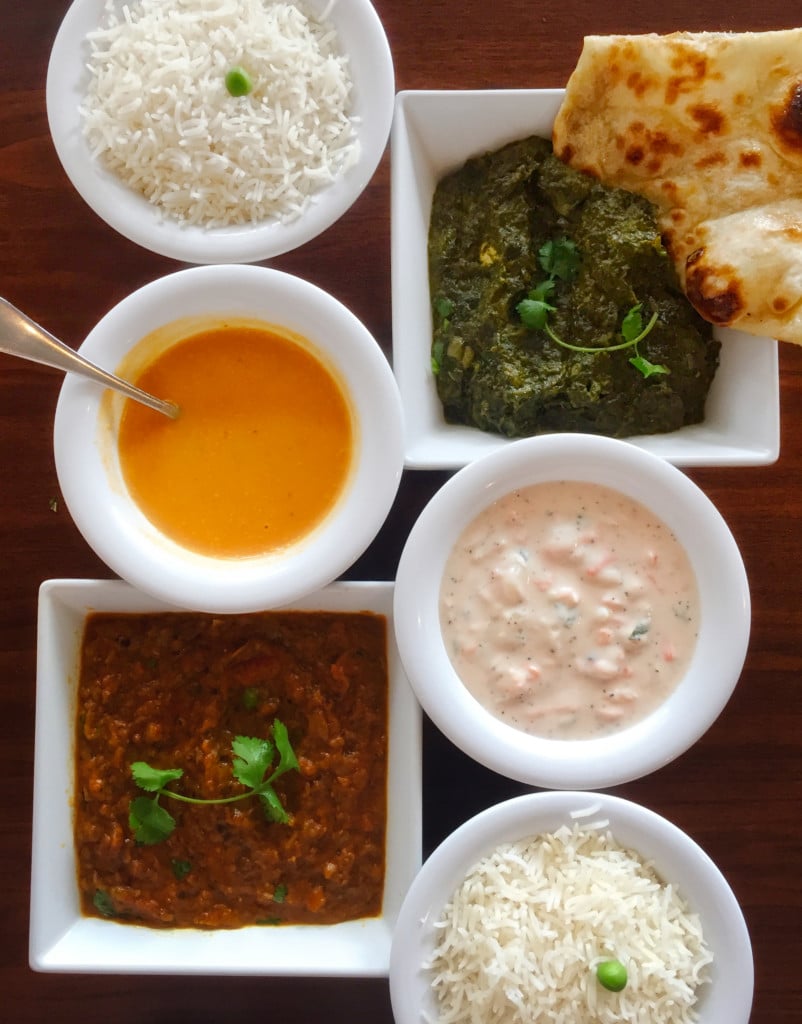 The first time I enjoyed food from Chaupaati was last Thanksgiving. The office in which I work was holding a special potluck lunch before everyone disappeared for the holiday. Unexpectedly, the front half of the spread was Indian food. Some of the dishes were homemade, but most of them were catered, huge trays of curries and rice lined up side by side. The second half of the spread offered standard Turkey Day fare.
The Indian food disappeared first. All of it.
After a few pesky inquiries I found out who was behind the catered dishes. Turns out, a co-worker is married to one of the business partners who started Chaupaati, a casual Indian cafe at the center of a shopping center where Pineville-Matthews Road and 485 meet.
It took me months to make it down to the restaurant. I should not have waited so long.
Chaupaati is named after one Mumbai's most famous beaches and takes its cue from the many street food vendors feeding hungry crowds there day and night. The first half of the menu, which is extensive, is called "Chaat," or Snacks. This section includes familiar items like samosas and dosas. But it also includes less familiar ones like dabeli, a savory potato patty stuffed inside a bun and topped with spicy peanuts, sliced grapes, and crunchy noodles called sev.
During my most recent visit—a day in May where the temperature struggled to beat 60° and the rain fell listlessly, as tired of itself as we were—the dabeli and the tomato coconut soup could not have been more satisfying. This little sandwich is the stuff of late night cravings.
That same visit required a repeat order of the baingan bharta, a smoky, tomatoey cousin to baba ganoush that is best mopped up with slices of hot naan. (More on the naan in a minute.) We also tried the saag paneer, a classic Indian dish made with fresh cheese and spinach, and the Goan curry. Rich and creamy from coconut milk, slightly sweet and well-spiced, this curry can be ordered with goat, lamb, or prawn.
Chaupaati offers three version of naan: butter, garlic, and bullet. All of them have that crispy, chewy texture you want from the tandoor-baked bread, but the bullet naan is something else. The wedges comes spiked with fresh, chopped green chilies. Heat-seekers will have a hard time putting it down, even if their eyes water as they eat.
The naan is made by Ram Bhatarrai, one of the three kitchen staff members and the one who mans the tandoor oven. The team is a mix of home cooks and trained chefs and their food, comfortable and polished all at once, seems to reflect this.
In fact, everything about Chaupaati maintains this duality. The décor is uncomplicated but thoughtful, its cheerfully colored elements chosen to give diners a glimpse of life on or near Chaupaati beach. The service is personal and attentive; if you order bottled water, you'll be asked whether you want it cold or room temperature. The menu is displayed on flat screens, ordering is done on an iPad, and delivery is available through the Doorstep app. This much technology in a casual, independent eatery is a likely reflection of the two owners, Prab Dahal and Sameer Patel, both of whom hold MBAs from Wake Forest.
You know you're onto something when you leave a restaurant planning what to order the next time you come back. For me, it will be the Indo-Chinese hakka noodles and the Manchurian cauliflower. Or maybe the masala dosa. Or the goat curry…
Chaupaati
Open for lunch and dinner every day of the week except Tuesday.
980-498-1555
chaupaatirestaurant.com
9101-I Pineville Matthews Rd., Pineville, NC 28134